In a town that's currently consumed with baseball fever, Pittsburgh Penguins GM Ray Shero may have just hit a home run of his own.  With his back against the wall in regards to the club's salary cap situation, Shero managed to find a way to sign Chuck Kobasew to a one-year, $550,000 contract.
While signing the veteran forward didn't necessarily garner the same attention as the return of stay-at-home defenseman, Rob Scuderi, it was the latest in a long line of shrewd moves made by the savvy Pittsburgh executive.  Given Kobasew's performance to this point in the young season and his developing chemistry with Brandon Sutter, though, it appears Shero may have found himself quite a bargain.
A Question Mark Entering the Season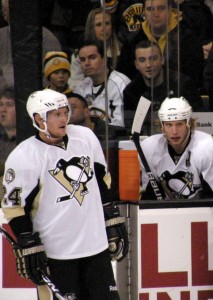 A flashback to the Penguins' 2009 Stanley Cup championship will evoke memories of a Penguins' third line (comprised of Jordan Staal, Matt Cooke and Tyler Kennedy) that was arguably the best bottom-six unit in the entire NHL.  But with the departures of Cooke and Kennedy in the off-season, all three have now moved on either via trade or free agency.  As a result, what was once a strength quickly transformed into a perceived weakness.
Consequently, one of the most significant question marks surrounding this year's Pittsburgh club appeared to center around whether or not the bottom-six forwards could provide enough depth for the Penguins to be successful, particularly once the playoffs begin.
Sutter was a virtual lock to center the third unit but the rest of the bottom-six seemed to be up in the air as training camp approached.  Yes, either Beau Bennett or Jussi Jokinen (whoever didn't round out Evgeni Malkin's unit) would likely flank Sutter but, beyond that, it appeared preseason performances would serve to establish the balance of the Pens' forward lineup.
And while the competition that uncertainty created was healthy, there were those that worried players such as Tanner Glass, Joe Vitale, Dustin Jeffrey and Craig Adams may not provide enough depth for Pittsburgh to excel once the club reached the postseason.  Sure, Adams is an important cog on the penalty kill, Vitale is great on draws and Glass provides a physical element but the trio combined for just six goals during last year's campaign (and only one more in the playoffs).  What's more, of the Pens' 49 postseason tallies, only eight came from bottom-six forwards; with the loss of both Kennedy and Cooke, would this group really be capable of chipping in enough offense to supplement the big boys and allow the Penguins to march to their fourth Stanley Cup?
Brandon Sutter, Chuck Kobasew and the Pens' Early Success
Admittedly, Pittsburgh is only two games into the marathon that makes up a full NHL campaign.  What's more, in Buffalo and New Jersey, the Penguins haven't exactly faced anyone likely to find themselves among the NHL's elite upon the season's end.  And if we're really going to suggest that anyone is, without question, destined for success this year based on two strong performances, we may as well declare Marc-Andre Fleury the Vezina Trophy winner thanks to his 0.50 GAA and 0.979 GAA and Craig Adams the Rocket Richard Trophy recipient as a result of his 82 goal pace.  That, however, would just be silly.
That being said, one can't deny the chemistry that Sutter and Kobasew seem to be developing with one another.  They've already combined for two goals (both game-winners, by the way) and look to be more than capable of taking some of the offensive pressure off of the Crosby and Malkin units:
And this 12/16 combo seems what Sutter's been waiting a year to find in Pittsburgh. They're clicking.

— Pens Report (@pensreport) October 5, 2013
For his part, Sutter appears to have benefitted from a full training camp and looks much more comfortable in his second year with the Penguins.  Meanwhile, Kobasew's ability to provide the club with energy, physicality and scoring depth has the Penguins' faithful thrilled with the veteran's addition:
https://twitter.com/InterSkateJoe/status/386636092759232512
Once everyone up front is healthy, it appears Bennett may join the emerging duo on that third line.  Given the skill and hockey IQ that Beau is already displaying regardless of who he's on the ice with, a unit that sees Sutter flanked by Kobasew and Bennett may provide the Pens' with a more lethal combination than many anticipated, as illustrated by the squad's first tally of the season:
If the trio can further develop that chemistry and sustain success throughout the year and into the postseason, the Penguins will become an even more formidable foe than most would have anticipated.  And that's bad news for the rest of the league.
The NHL regular season schedule was released on Friday. Check out our partners at TiqIQ for the best deals on Pittsburgh Penguins tickets for all 2013-14 games.