There was a lot to dislike about the Philadelphia Flyers' 2016-17 roster. Pierre-Edouard Bellemare and Chris VandeVelde were overused throughout the year by coach Dave Hakstol and even-strength scoring just wasn't where it needed to be. Brayden Schenn was expected to be one of the key pieces to the future but was dealt to the St. Louis Blues on the night of the draft. Considering the subtractions, the Flyers should have a better-looking roster this season with the young talent coming up.
A Balanced Offense
Out of the core players, Schenn was the one that needed to go. His inconsistent scoring and failure to drive play at even-strength were irritating to watch. With that move, a spot on the left wing opens up for promising young winger Oskar Lindblom. Throw Nolan Patrick into the mix and that is a very good group up front.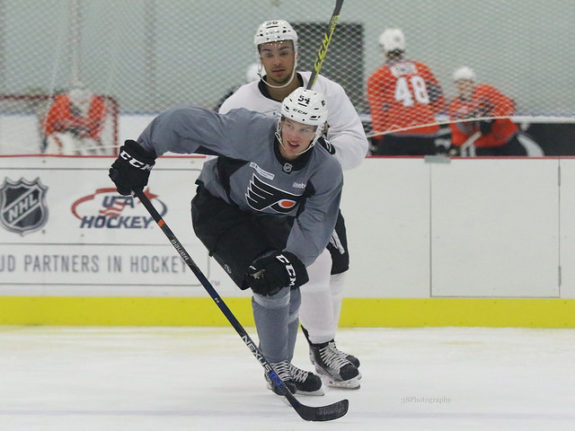 The losses of Bellemare and VandeVelde provide some openings on the fourth line that will improve the team's depth. Jordan Weal is attracting the eye of many teams and the Flyers may not re-sign him, but this roster prediction is based on the assumption that he will be back in Philadelphia.
Here is what the four lines could look like:
Travis Konecny – Claude Giroux – Jakub Voracek
Oskar Lindblom – Nolan Patrick – Wayne Simmonds
Jordan Weal – Sean Couturier – Dale Weise
Michael Raffl – Valtteri Filppula – Jori Lehtera
Matt Read
With the departure of Schenn, some of the young guys will have more ice time, which is great for Travis Konecny. Konecny was a healthy scratch at times last year and it would be a disaster if his talent went to waste for another handful of games this season, he is arguably the most creative forward they have.
A line of Lindblom-Patrick-Simmonds would combine a lot of skill and grit. Lindblom and Simmonds can work the boards and win puck battles, creating space for the second-overall pick. If the second-line center role is too much for Patrick, it wouldn't be shocking to see Filppula come in.
Sean Couturier on the third line seemed to work well at the end of last season, so why not keep it together? Dale Weise will be in the second year of his contract and is expected to put up better numbers than he did last year. Weal on that line adds an extra element of skill, he could probably be interchanged with Konecny on the first line.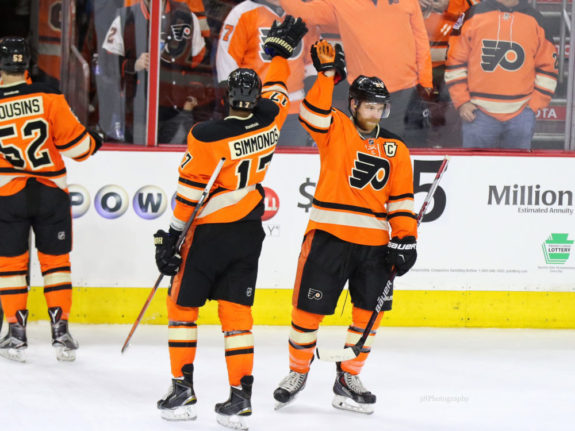 The fourth line, while not dominant, is an upgrade over the VandeVelde-Bellemare-Lyubimov line from last year. Raffl is underrated with the puck, Filppula is a good playmaker who would fare well against other teams' fourth lines and Lehtera is the throw- in that can still contribute in with a limited role. The 5-on-5 impact of this fourth line should already surpass last year's. Scott Laughton could be a call-up or make the team if he has a good training camp.
The addition of Patrick and Lindblom in this lineup is crucial to the balance of the team. Rather than opt for a top-six, the Flyers should be going for a scoring top-nine with a decent fourth line. Matt Read should be the extra forward as his time in Philadelphia is passing. He was good in his first few seasons but failed to deliver consistent scoring in the last three seasons. If the Flyers fail to re-sign Weal, I would expect Laughton to make the lineup over Read. Time to let the kids play.
Fresh Defensive Duos
Michael Del Zotto and Nick Schultz are no longer on the team and Flyers fans might see Robert Hagg and/or Travis full time for the first time next season. It all depends on what happens out of training camp, but it's time to get excited.
Ivan Provorov – Andrew MacDonald
Travis Sanheim – Radko Gudas
Robert Hagg – Shayne Gostisbehere
Brandon Manning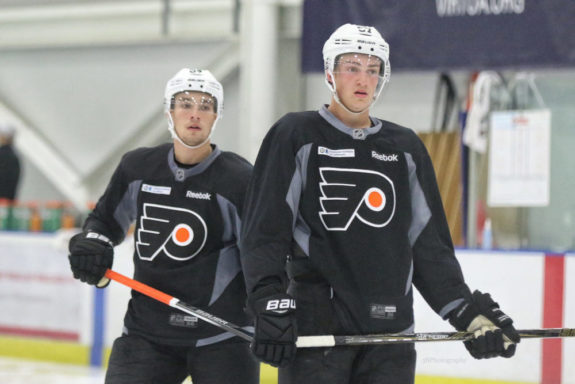 Obviously, these pairs could switch around a lot. It's also possible that Sanheim does not make the team out of camp. That being said, MacDonald is almost a lock to play top-2 minutes alongside Provorov once again due to his enormous cap hit.
Hagg improved his game remarkably last season in the AHL, playing solid defense and showcasing his talent in his first NHL game as a call-up. Sanheim also took huge leaps in his first AHL season, playing solid two-way hockey and demonstrating his offensive instincts by posting 37 points.
Another candidate to make the jump to the NHL is Samuel Morin, the 11th-overall pick in 2013. Morin has been developing in the AHL for two years now and got a call-up late in the year. His puck skills need work, but we've seen some progress in his skating since he was drafted, and the AHL has been good for his progress.
Questionable Goalie Situation
There seems to be a lot of confusion surrounding the Flyers' starting goalie. At the moment, the depth chart has Michal Neuvirth starting with Anthony Stolarz as the backup. This is probably the worst duo in the league as Stolarz has less than 10 NHL games under his belt and Neuvirth is mostly notable as a backup.
Ron Hextall is expected to pursue a goalie in free agency, saying he doesn't feel fully confident with Stolarz as the full-time backup due to his inconsistent play in the AHL. The question is: who will Hextall go after? Jonathan Bernier? Back to Steve Mason? Keith Kinkaid?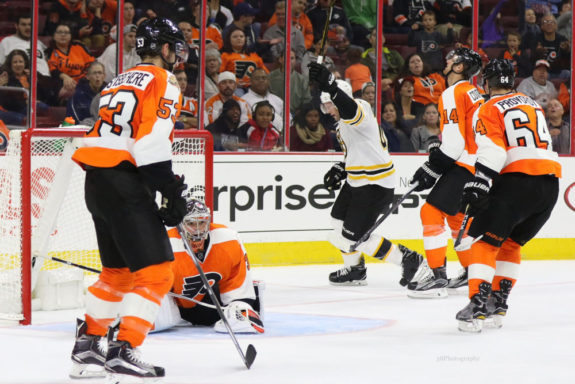 The goalie situation is a big question mark and the Flyers are going to need to address it if they want to make the playoffs in 2018. The season is going to be filled with small rookie mistakes and they are going to need to learn from them, but the Flyers should be a much more competitive team in 2017-18 and for years to come.