In Pittsburgh, we've been spoiled when it comes to our hockey. Ever since the 1984 NHL Entry Draft when Eddie Johnson selected "Number soixante-six, Mario Lemieux". Players who've treated the NHL scoring race, like it was your local men's league scoring race, were plentiful in a Penguins uniform. Players like Lemieux, Jamior Jagr, Sidney Crosby, and Evgeni Malkin. Since 1988, there have been 26 Art Ross Trophies awarded (NHL's Leading scorer), a Penguin has won the award 15 times. So Pittsburgh hockey fans had no need to search elsewhere to get their fix of competitive hockey.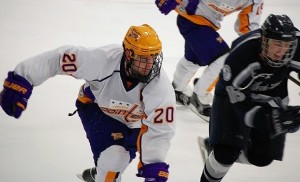 Pittsburgh fans are well aware of the Division I level of NCAA play. With great local players such as Ryan Malone, RJ Umberger, George Parros, Grant Louis, Christian Hanson, Dylan Reese, and Matt Bartkowski all playing Division I College Hockey before eventually making some noise in the NHL.
If fans enjoyed College hockey for some reason more than the NHL, Robert Morris University jumped on the scene in 2004, joining Division I's CHA Conference, and have since had tremendous success in Atlantic Hockey and making it to the NCAA tournament.
But that's it!
With a plethora of young talent in the area, and a number of great Tier-I amateur programs, these young players, parents, and fans, have only two options to get their fix of "Elite" high-level hockey. And because of these few options, Pittsburghers are clueless to other avenues to watch, or play, great hockey.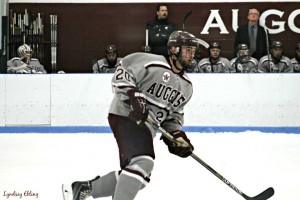 There are unfortunately no Division III Men's programs anywhere within 3-4 hours of Pittsburgh. So when these young kids grow up to be good hockey players, and that Division I or Major Junior offer hasn't ruled in, they think their career has come to a halt at the age of 18. And that's not the case if they are talented enough. Division III NCAA hockey offers some of the best hockey in the country, and no question some of the best atmospheres in the country. But we, Pittsburghers, are geographically ignorant to that fact. (Great Division III Atmospheres)
Example from Personal Experience
After senior year of high school, I had all intentions of playing my Junior "A" hockey for 2-3 more years in Vermont and try to develop into a Division I prospect. But that fell through when they changed coaches in the off-season. And this sort of thing happens from time to time, and is not a huge issue. But what now? I had all my eggs in one basket. What do I do? I haven't applied anywhere for school, I was going to play hockey. Luckily enough the junior league I was playing in at the time was scouted often by New York and New England NCAA Division III schools, and I had spoken with five schools during my senior year. At the time, I politely told them my plans, and that was that. But now, I'm scrambling. Applications have already been sent in and kids know where they are attending school. Thank God for my junior coach at the time, who helped me set up a few late visits, despite two of the schools who spoke to me already had filled their freshman quota for the year, a few had not. So I visited the schools, made my decision based on what I wanted to major in – the facilities – the locker room – the conference – etc, and the University's coach helped me through the application process. And I was set.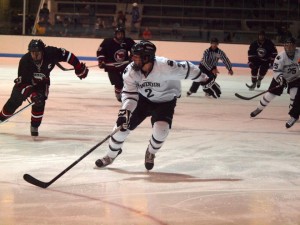 Now still at this time, I am completely blind to Division III hockey. Living in Pittsburgh for the first 18 years of my life and having my hockey plans mapped out, I never thought to seek out a DIII game and check it out. And by the time I took my visits and committed, the DIII season was over, and there was no hockey to watch.
So what have I got myself into? Is NCAA DIII hockey any good? Is it bad? Am I going to be a stud, or am I going to fill the water bottles and cheer on my team? I had no idea.
I strongly recommend seeing a school play and what the game atmosphere is like before any perspective student-athlete commits to a particular University. But going into DIII hockey blind, I lucked out. I ended up at a school that I loved and enjoyed thoroughly for 4 years. I played against some of the best programs in the country on a weekly basis. Competed in two different conferences. Played ranked opponents. Played in great campus-arenas in front of hostile and impressive fan-bases. And most importantly, lived 4 years of my life as a student-athlete in the NCAA who got to play hockey every day and develop some of the best friendships that anyone could hope to make, all while earning a degree.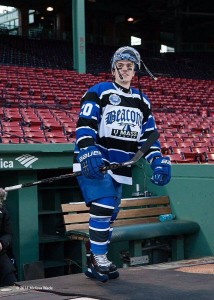 Pittsburgh Ties with Division III
I was not the first one to play DIII hockey out of the area, and I certainly won't be the last. Pittsburgh has a very impressive list of recent and current NCAA DIII Hockey players who are competing and succeeding at this high-level of hockey every night. Every once and awhile, a Pittsburgh-based paper or website will give us some great updates on local players who grew up watching Lemieux and Jagr, and now are finding some success at the Division I level. And we will get to those guys later in this series. But with no local comparison to make amongst the Division III ranks, local journalists have no reason bring up these DIII players.
There are great programs in DIII hockey. Programs like St. Norbert, Utica, Oswego, Norwich, Nichols, Middlebury, Bowdoin, Geneseo, Neumann, Adrian, Wisc.-Stevens Point, Plattsburgh, St. Anselm, Buffalo State, Plymouth State, New England College, and so many other schools. All of whom bring in thousands of fans on a nightly basis, provide their student-athletes with top-notch competition, a tremendous atmosphere, and a 2nd-to-none academic opportunity.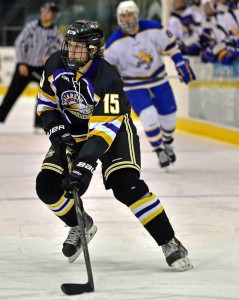 Not all great hockey players are going to go to the NHL or earn a full scholarship to pay for their schooling. But great hockey does not end after your last high school or junior hockey game if you do not get a full ride to Division I. I thought it did for about 18 years. There is a whole other world of hockey that players, parents, and fans can experience. If you happen to live in a city or town that doesn't provide Division III hockey, well there are 76 different venues ranging from the Midwest to the Northeast that would happily welcome you to take in a game.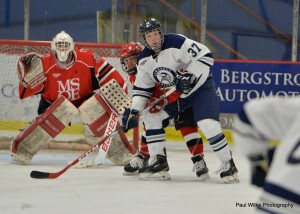 But don't take my word on everything. If you are a parent of a hockey player who is receiving some DIII interest, don't push it to the side, check it out. If you are a player who is in high school and has aspirations of playing in the NCAA some day, go watch a game. And if you are a fan of hockey, and are just looking for that next great hockey game, go visit the "Aud" in Utica – watch a game at Marano in Oswego – take part in over 100 years of hockey tradition at Kreitzberg Arena in Norwich – check out Adrian hockey, Middleburry's Kenyon Arena, Plattsburgh's Cardinal Country, Wisc.-Stevens Point Hockey, Plymouth State Hockey, St. Anselm Hockey. Of course a number of places don't have the atmospheres that some of the previously mentioned programs have, but they all have great NCAA quality hockey, that I can promise.
Some Pittsburgh players have made their way up the ladder and into Division III hockey, despite most growing up with little to zero knowledge of the leagues. And we think it's only fair that we acknowledge them here.
Division III Players from Pittsburgh
Current
| | | |
| --- | --- | --- |
| Name: | College: | Division: |
| CJ Murray | Nazareth College | DIII |
| Shane Talarico | Potsdam | DIII |
| John Houston | UMass-Boston | DIII |
| Justin Selep | Suffolk | DIII |
| Michael Mazzotta | Johnson and Wales | DIII |
| Ty Gradwell | Salve Regina | DIII |
| Scott Brown | Western New England Univ. | DIII |
| Tyler Stepke | Becker | DIII |
| Frank Oplinger | Hobart | DIII |
| Bobby Sokol | Hobart | DIII |
| Vinny Steffan | Utica | DIII |
| George Jackson | Augsburg | DIII |
| Pat Coyne | Lawrence | DIII |
| Luke Stickel | Williams | DIII |
| Matt Lison | Bowdoin | DIII |
| Alec Root | Bowdoin | DIII |
| Tyler Lovejoy | Hamilton | DIII |
| Zach Jones | Connecticut College | DIII |
| Dom Granato | Tufts | DIII |
| Robby Harbison | Wesleyan | DIII |
| James Kline | Wesleyan | DIII |
| Josh Hickey | Stonehill | DIII |
| Brett Oldaker | Franklin Pierce | DIII |
| Nate Brown | SUNY Geneseo | DIII |
| Josh Daley | Wisconsin- Stevens Point | DIII |
| Andy Cramer | Western New England Univ. | DIII |
| Todd Thomas | Potsdam | DIII |
Recent (We're sure there are more recent graduates)
| | | |
| --- | --- | --- |
| Zack Hepler | UMass-Dartmouth | DIII |
| John Smith | Concordia (Wisc) | DIII |
| Brian Dunford | Lebanon Valley | DIII |
| Karac Davis | St. Mary's | DIII |
| Mike Martin | St. Norbert | DIII |
| Kyle Richards | Castleton State | DIII |
| Bill Sullivan | Franklin Pierce | DIII |
| Cam Miller | Hobart | DIII |