It had been talked about for what seemed like an eternity; and could have even been a civic holiday.  The debut of the next great center to lead the Edmonton Oilers, joining a proud lineage that includes the game's greatest player (Wayne Gretzky), the game's greatest leader (Mark Messier) and arguably the game's greatest draft bust (Jason Bosignore) was not without hype or anticipation.  And who could blame the residents of Oiler Nation?  After back-to-back years being the patron saints of the mediocre in the NHL, they (we) once again got a chance to prove that the Oilers are a team to be reconed with.  And now, on to the game itself.
The season opening win over the Pittsburgh Penguins wasn't the most entertaining game to be watched.  For the duration, it was a defensive struggle, with the teams racking up shot totals (35-34 in favour of the Oilers) but lacking true quality scoring chances in spite of the large number of penalties called (Edmonton 0/5 PP, Pittsburgh 1/8 PP).  The Penguins, coming off road games in Calgary and Vancouver to open the season, were very much able to neutralize a youthful Oilers offense featuring 2010 #1 pick Taylor Hall, as well as first round picks Jordan Eberle and Magnus Paajarvi along with the dazzling Linus Omark.  Aside from Hall, the Oilers offense lacked the firepower you'd expect.
As much as the game was built up as the debut of the Ryans (Smyth being the other), there were plenty of fresh faces on the Oilers roster.  Cam Barker logged over 21 minutes and had an opportunity on the powerplay, and Andy Sutton, viewed by many teams as a 3rd pairing defenceman, played over 20 minutes as well.  2009 2nd round pick Anton Lander, known for his defensive ability and leadership qualities, contributed on a penalty kill that did surprisingly well.  Perhaps the finest newcomer contribution came from Eric Belanger, the versatile center the Oilers wooed on July 1.  Belanger's work on killing 7/8 penalties was extremely understated.  It's been a while since the Oilers have had a solid penalty kill, and Belanger gave us all hope with his contributions in taking away shooting lanes and making the smart defensive plays.
Devan Dubnyk, the 2004 1st round pick whose development has accelerated greatly in the past 18 months, proved Tom Renney's faith in him by stopping 33/34 Pittsburgh shots.
With Evgeni Malkin and Sidney Crosby out nursing injuries, Jordan Staal became the featured center and played over 23 minutes while looking very strong with and without the puck.  Kris Letang led all skaters playing over 29 minutes and scoring the Penguins only goal, a powerplay marker in the first period, while continuing in his role as "NHL's Most Under-rated Defenceman."
Ryan Nugent-Hopkins, in case you haven't already heard, scored the game-tying goal with under 5 minutes remaining in the 3rd period; with Ales Hemsky later winning it in the shootout.  Hopkins looked great in his debut.  He played over 17 minutes (more than "veterans" Jordan Eberle and Linus Omark), back-checked well, held his own physically and, as seen in his goal, wasn't afraid to venture into the "scary" parts of the ice.  Caution yourselves though, fellow Oilers Nation members.  This is one game that gave us a pretty wonderful glimpse into the future, but it's still just 60 minutes.  Nugent-Hopkins still has eight left to prove he belongs in Edmonton and not down the QE2 in Red Deer.  And who's to say there will be room for him once Sam Gagner comes back?  But alas that is a discussion for another day.
Congratulations Ryan.  As someone that's met you multiple times, it's truly wonderful to see you succeed this early.  Here's to the next 15 years being like this!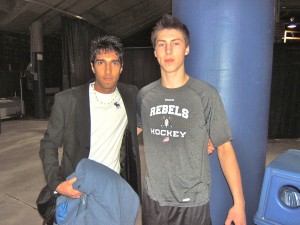 Follow Salim Valji on Twitter
Like his FaceBook Page