In 2009, the Pittsburgh Penguins won the Stanley Cup as a 4 Seed. They also were the #4 seed from 2010-12 and then became the #1 seed a year ago in a shortened season. But let me be the first to say that in hockey, SEEDING MEANS ABSOLUTELY NOTHING.
Prime Example
2012 Stanley Cup Playoffs. The Los Angeles Kings.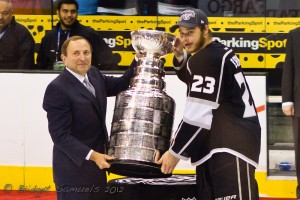 An 8 seed in the west, equivalent to that of a 16 seed in the mighty NCAA Tournament, destroyed everyone in their path and went 16-4 in route to a Stanley Cup final. SEEDING MEANS NOTHING.
Sure, if you're a top four seed, you have home ice advantage for the first round. But for professional hockey players, what is home ice other than comfortability and no travel? It's not college, you don't have a Cameron Crazy like atmosphere that's going to make it hard to hear your coach in the final seconds of a game; ask the LA Kings, it doesn't matter.
It's About the Match-Up, Not the Seed
In hockey rather, it's all about the match-up you get. For instance, Boston may be the number 1 seed in the East as of March 18th, but that means nothing to them if the Montreal Canadiens get the 8 seed. Of all the teams in the East, no one has beat the Bruins more than the Habs. So one 1 seed or not, the opponent is the same.
The Penguins, since winning the Cup in '09, have gotten bad draws. The Flyers in the first round in 2012 resembled a conference final, but it's hard to win a series that you fall behind 3-0. 2011 was an offensive clinic. The Pens took a 3-1 series lead, then gave up 8 goals in game 5 and ended up losing the final 3 games of the series.
All this to say, SEEDING DOES NOT MATTER. It's all about the match-up and quite frankly, there are two teams that the Pens do not want to see in the first round… the Philadelphia Flyers (currently 6th but playing well) and the New Jersey Devils (currently 11th but just 5 points out). The Bruins are playing incredible as of late and have a very legit shot at the number one overall seed.
Good. The Penguins sit comfortably at 2 and have a home-stretch coming soon to close out the season. If the season ended today and the Pens took on Columbus in the first round, I doubt to many Pens fans would complain.
SEEDING DOES NOT MATTER FOR THE PENS (or anyone really). Watch for the match-ups. The Pens don't want to start a war in the first round, no matter what seed they are. Everyone starts the playoffs at 0-0, and if you win, no one cares what number is beside your name on the bracket.
Join the Conversation on Twitter by using #THW. 
Smith works full time with Rise Against Hunger, a non-profit set on ending world hunger by 2030. He's a hockey enthusiast living in Pittsburgh, PA and formerly covered the Pittsburgh Penguins for THW.
Follow him on twitter @BSmithWV