The Winnipeg Jets are a team on the rise. They have only made the playoffs once since arriving in Manitoba, but the prospect pool has filled up, and they are about to start overflowing into the lineup. And while the excitement for the prospects was already high, winning the lottery and taking Patrik Laine with the second overall pick definitely helps.
With less than two months to go until the regular season puck drop, let's predict the leaders in a few statistical categories this season for the Winnipeg Jets.
Goals – Mark Scheifele
I know what you are thinking. Isn't scoring goals what Patrik Laine does? That is true, and it we were predicting the statistical leaders for next season, I would have Laine No. 1. However, we have not seen him in action yet. Mark Scheifele, however, is a proven goal scorer. If he plays with Wheeler again for most of the season, then he will definitely hit 30 goals. With a shot like this, it won't be hard.
Scheifele led the team in goal-scoring, despite playing 11 games less than No. 2, Blake Wheeler. Scheifele will continue to be a solid 30-goal scorer, but will have competition starting this season for the Jets goal-scoring king. However, you can count on it for at least one more year.
Assists – Blake Wheeler
I feel like it's cheating to pick the most obvious choice here, but in this case, it's well deserved. Blake Wheeler finished 18 assists clear of Dustin Byfuglien for the assist lead last season and fifth overall in the NHL. Playing with some dynamic players will help, with Ehlers, Scheifele and Laine probably lining up with him at some point.
It's worth noting that his totals last season were all career highs. He may not hit the same number again, but he will still lead the Jets.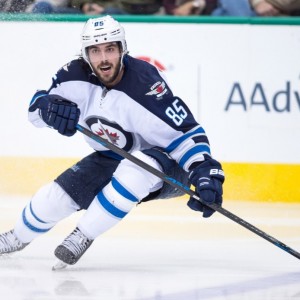 Corsi% – Mathieu Perreault
Last season, the Winnipeg Jets' leader in SAT% was none other than Patrice Cormier. He ran away with the lead, sitting at an astounding 72.73 percent. Of course, he also played just two games with the Jets. The real leader, sitting at a still amazing 57.11 percent, was Mathieu Perreault.
When Perreault was added to the Jets' lineup, they expected to get a good, versatile player. They did not expect him to make everything he touched better, but he has done just that. Perreault has become the team's go-to in just about everything. That will continue this season, as he will mentor the young guns coming in and trying to make their mark.
Penalty Minutes – Dustin Byfuglien
In most cases, penalty minutes are a bit misleading. Sure, you have the goons up top, who spend more time in the box than on the ice. But when you are on the ice for over 25 minutes a game, you are bound to pick up a few penalty minutes.
In this case, it's not misleading at all. Dustin Byfuglien plays on the edge all game long, and will take a penalty to prove to the opposing team that he, nor his team, is to be messed with. You can expect Byfuglien to stay on top of the penalty minutes chart for the Jets, as he will continue to play his hard-hitting, angry style.

Bonus Category – Hilarious Interview Clips – Patrik Laine
From the moment he came on the scene, Laine has made it known that he has no problem speaking his mind. He endured us with his draft interview done from his bedroom and made a statement when he told everyone that he was the best player in the draft. Just wait until his first goal interview, or when the media ask who is the best player in the NHL.
Regardless of who leads all of these statistical categories during the 2016-17 Jets season, there is one guarantee … it will not be a boring season!