This is Part 2 of 4 in a series analyzing how the teams within each division must make changes to their roster prior to the expansion draft to either make themselves exposure eligible or best protect their assets. Part 1, the Pacific Division, can be found here.
Expansion Draft Parameters
As it was explained in Part 1 of this series: Every team must meet certain parameters set by the National Hockey League for the 2017 Expansion Draft. First, teams must meet the exposure requirements: exposing at least two forwards and one defenceman that are under contract for the 2017-18 season, that played at least 40 NHL games in 2016-17 or 70 games in the last two seasons.
Also, one goaltender that is either under contract for the 2017-18 season or is a pending restricted free agent must be exposed by all NHL teams. If a team's exposed goaltender in a restricted free agent, then they must have received a qualifying offer from their team before submitting their protection lists to the league.
A team may have to change their protection plans to become exposure-eligible – possibly by completing transactions to acquire players that will help them meet the requirements. At the trade deadline, some teams actively worked with the expansion draft in mind.
Along with meeting the exposure requirements, teams must follow one of two options for protected players: protecting either seven forwards, three defensemen, and one goaltender (7F/3D/1G); or a combination of eight skaters and one goaltender (8FD/1G).
Since teams are limited in their options, they may look to move certain players to ensure a return on their assets as opposed to letting them get drafted by the Golden Knights. Therefore, a number of trades can be expected prior to the expansion draft.
Additionally, players with no-movement clauses (NMCs) must be protected by their teams unless they waive their clauses or are bought out.
Teams are granted some relief because all first and second-year professionals are exempt from the draft, as are players on long-term injury reserve – regardless of whether they have NMCs.
Chicago Blackhawks
The Blackhawks re-signed defenceman Michal Rozsival and forward Jordin Tootoo before the trade deadline to help them meet the exposure requirements. By re-signing Tootoo the Blackhawks got closer to reaching the exposure requirements on offense.
The Blackhawks will be protecting 7F/3D/1G. Since they re-signed Rozsival, they already meet the requirement on defense. Three of their defensemen (Brent Seabrook, Duncan Keith, and Niklas Hjalmarsson) have NMCs which essentially decides who they will be protecting – forcing the Blackhawks to expose Trevor van Riemsdyk.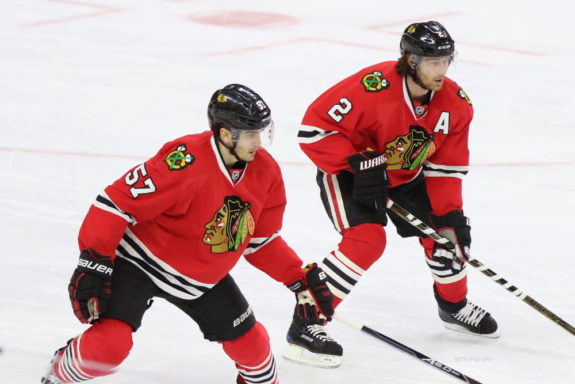 As for forwards, their lineup features another four NMCs – Patrick Kane, Jonathan Toews, Marian Hossa, and Artem Anisimov. In addition to those four players, they will likely protect Ryan Hartman, Richard Panik, and Marcus Kruger. Even after re-signing Tootoo, the Blackhawks are still one forward short of being eligible.
Even though the Blackhawks traded Scott Darling (who was a pending unrestricted free agent and would not have made the Blackhawks exposure-eligible), they have Jeff Glass who is signed through 2018. Starting goaltender Corey Crawford, who also has a NMC, will be protected.
Colorado Avalanche
The Avalanche could protect 7F/3D/1G as well. The most obvious forward to protect is Nathan MacKinnon. Both Gabriel Landeskog and Matt Duchene have been involved in trade rumors, but unless they are traded before the draft, they will both be protected. Other options to include are Mikhail Grigorenko, Sven Andrighetto, and Matt Nieto. Two of Joe Colborne, Blake Comeau, and Carl Soderberg have to be exposed, though, to meet the requirements, since they are the only other forwards signed through next season.
On defense, the Avalanche have to be conscious of their two players with NMCs – Erik Johnson and Francois Beauchemin. Tyson Barrie is the third defenceman the Avalanche will protect. Mark Barberio's contract allows Colorado to be exposure-eligible.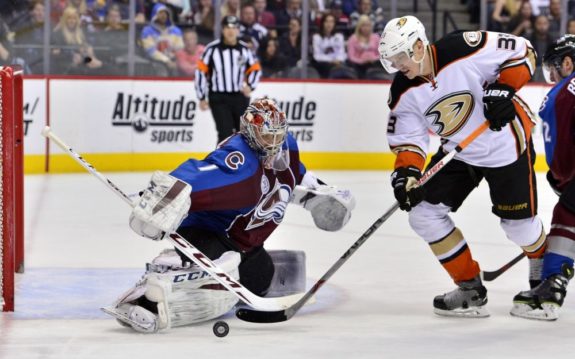 The Avalanche will meet the requirements regardless of whether they protect Semyon Varlamov or Calvin Pickard. Varlamov should be healthy for next season, which could motivate the Avalanche to retain him, in the hopes that he returns to the form they saw earlier in his career in Colorado. Or, they could go with the younger option of Calvin Pickard, who could be a more sustainable goaltender moving forward as he does not have the injury history of Varlamov.
Dallas Stars
Like the Blackhawks and Avalanche, it seems more likely that the Stars will protect 7F/3D/1G. On offense, two forwards are already decided for them – Jamie Benn and Jason Spezza, who have NMCs. Tyler Seguin is another lock, even though he does not have a NMC. Forwards like Cody Eakin, Brett Ritchie, and Radek Faksa are probably also going to be protected. The only acknowledgments the Stars must make on offense are exposing at least two of Adam Cracknell, Curtis McKenzie, and Antoine Roussel to reach the minimums for exposure – unless they intend to re-sign or acquire another forward.
John Klingberg is going to be protected on the blue line, possibly with Stephen Johns and Esa Lindell. The contracts of Dan Hamhuis (who will undoubtedly be exposed) and Greg Pateryn fit the exposure parameters for defensemen.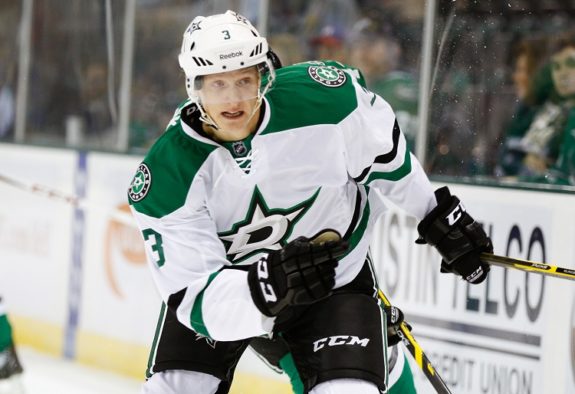 With five goaltenders signed through next season, the Stars will not have any issues exposing a netminder. New acquisition Ben Bishop is the most probable to be protected. The Stars may look to move Kari Lehtonen or Antti Niemi before the draft, since they currently have a cumulative cap hit of over $15 million between Lehtonen, Bishop, and Niemi.
Minnesota Wild
The Wild are definitely in a bind for the expansion draft on offense and defense. Their simplest decision is in net, as Devan Dubnyk will be protected and Alex Stalock (who is signed through 2019) will be exposed.
First, their offense is cluttered with talent. Zach Parise, Mikko Koivu, and Jason Pominville all have NMCs. Of those players, the only one that potentially could be asked to waive their clause is Pominville. Unless any of these players are moved, it seems highly likely they look to protect Jason Zucker, Mikael Granlund, and Nino Niederreiter – as long as they are still available at the time of the draft, since there are rumors regarding Niederreiter's status as a member of the Wild. Charlie Coyle is another candidate for protection, as is Eric Staal – however, Staal seems to be more so on the fringe since there is a lower risk of him being drafted than their other options on offense.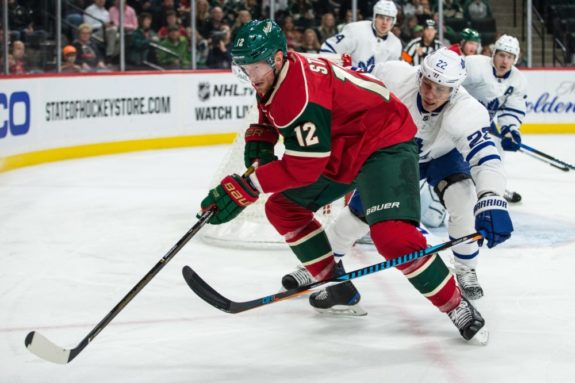 Ryan Suter is the only defenseman with a NMC. Behind him, the Wild will have to protect two others defensemen out of Jared Spurgeon, Jonas Brodin, Marco Scandella, and Matt Dumba – however, whoever they choose will not affect their exposure eligibility. Since all of these defensemen are valuable to the Wild, they could offer the Golden Knights something to steer them away from one of them.
Nashville Predators
The most likely scenario for the Predators is 8FD/1G. Their only NMC belongs to goaltender Pekka Rinne. With pending restricted free agent Marek Mazanec behind Rinne, Nashville is exposure-eligible in net.
If the Predators are limited to eight skaters, Filip Forsberg, James Neal, Ryan Johansen, and Viktor Arvidsson would be protected on offense. On defense, P.K. Subban, Roman Josi, Ryan Ellis, and Mattias Ekholm would all be safe from the Golden Knights.
This would leave players like Pontus Aberg, whose standout performance in the 2017 Stanley Cup playoffs is bringing him to the forefront, exposed – although the Predators could offer Vegas a pick or prospect to keep him protected.
The Predators do have options to protect more forwards though. They could trade one of their defensemen – Ekholm being the most likely to be traded of their core group – for a forward. If they did that, then along with the new forward addition and the four mentioned above, players like Aberg or Calle Jarnkrok could be considerations for protection.
St. Louis Blues
The Blues have a much more simple expansion scenario than the Predators. They do not have any players with NMCs and will presumably protect 7F/3D/1G.
Vladimir Tarasenko is definitely going to be protected. Paul Stastny, Jaden Schwartz, Patrik Berglund, David Perron, and Dmitrij Jaskin are all considerations for the other available protected spots. Having recently returned from the KHL, Vladimir Sobotka is also probably going to be protected. Alexander Steen, on the other hand, who is already 33 years old and is signed through 2021 with a cap hit of $5.75 million – could find himself exposed.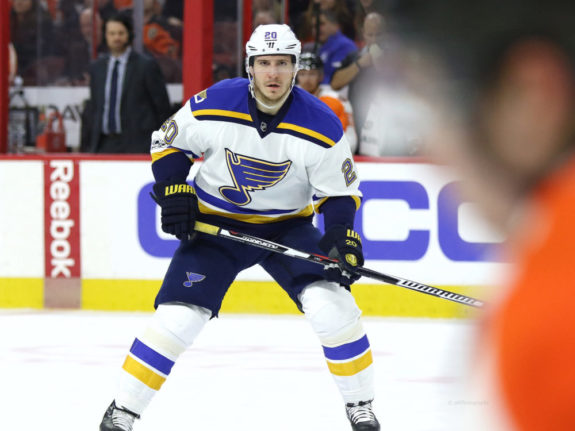 Alex Pietrangelo will lead their protected defensemen. Joel Edmundson and Jay Bouwmeester are the other likely options for the Blues to protect; however, they have the flexibility to choose either Carl Gunnarsson or Robert Bortuzzo, since they will meet the requirement no matter who they protect.
In net, they will protect Jake Allen and backup Carter Hutton, who is signed for another season, will be exposed.
Winnipeg Jets
Since young forwards like Patrik Laine, Nikolaj Ehlers, and Nicolas Petan are exempt from the draft, the Jets can protect 8FD/1G. The Jets' priority should be four of their defensemen – Dustin Byfuglien (NMC), Toby Enstrom (NMC), Tyler Myers, and Jacob Trouba, over protecting seven forwards.
If the Jets choose to protect eight skaters, they will not have to risk one of those four key defensemen. Mark Stuart's contract extends for another season, so the Jets could protect all four without having to make any additional transactions to meet the exposure requisites.
On offense, the Jets would then protect their four most valuable forwards options – Mark Scheifele, Blake Wheeler, Bryan Little, and Mathieu Perreault. The contracts of Shawn Matthias, Adam Lowry, and Joel Armia make them eligible for exposure. If the Jets instead protect seven forwards, then they would likely have to re-sign or acquire forwards to fit the requirements.
Regardless of who the Jets protect in goal (Connor Hellebuyck, pending restricted free agent, or Michael Hutchinson, signed through 2018), they will fulfill the parameters. That being said, Hellebuyck is more likely to be protected than Hutchinson.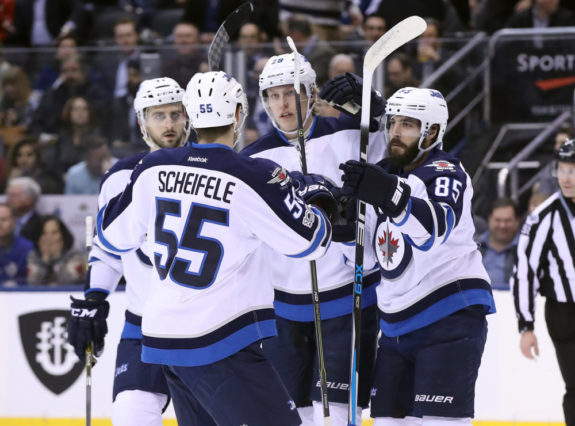 Atlantic Division coming soon!