This is Part 1 of 4 in a series analyzing how the teams within each division must make changes to their roster prior to the expansion draft to either make themselves exposure eligible, or best protect their assets.
Expansion Draft Parameters
Every team must meet certain parameters set by the National Hockey League for the 2017 Expansion Draft. First, teams must meet the exposure requirements: exposing at least two forwards and one defenceman that are under contract for the 2017-18 season, that played at least 40 NHL games in 2016-17 or 70 games in the last two seasons.
Also, one must goaltender must be exposed by all NHL teams that are either under contract for the 2017-18 season or are a pending restricted free agent. If a team's exposed goaltender in a restricted free agent, then they must have received a qualifying offer from their team before submitting their protection lists to the league.
A team may have to change their protection plans to become exposure eligible – possibly by completing transactions to acquire players that will help them meet the requirements. At the trade deadline, some teams actively worked with the expansion draft in mind – such as the Philadelphia Flyers, who re-signed goaltender Michael Neuvirth, since they plan to protect Anthony Stolarz and both of their goaltenders were pending unrestricted free agents.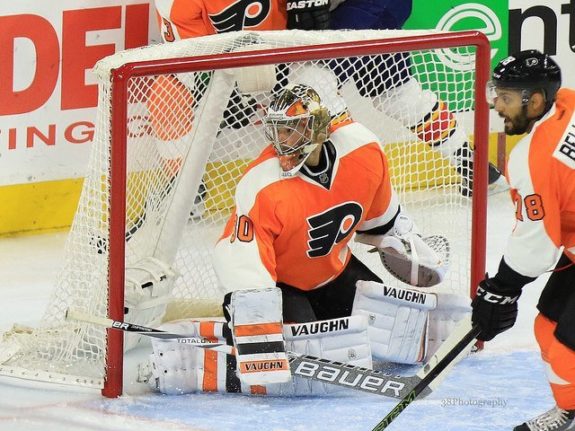 Along with meeting the exposure requirements, teams must follow one of two options for protected players: protecting either seven forwards, three defensemen, and one goaltender (7F/3D/1G); or a combination of eight skaters and one goaltender (8FD/1G).
Since teams are limited in their options, they may look to move certain players to ensure a return on their assets as opposed to letting them get drafted by the Golden Knights. Therefore, a number of trades can be expected prior to the expansion draft.
Additionally, players with no move-clauses (NMC) must be protected by their teams unless they waive their clauses or are bought out. The Tampa Bay Lightning traded Valtteri Filppula, who has a NMC and a modified no-trade clause, to avoid having to buy him out prior to the expansion draft.
Teams are granted some relief because all first and second year professionals are exempt from the draft, as are players on long-term injury reserve – regardless of whether they have NMCs.
Anaheim Ducks:
The Ducks have four players with NMCs, on offense Corey Perry, Ryan Getzlaf, and Ryan Kesler; as well as Kevin Bieksa on defense. Bieksa's NMC poses the greatest challenge for the Ducks, as they have an abundance of talent of defense.
With Bieksa protected, the Ducks protection options on defense are limited since they also have Cam Fowler, Sami Vatanen, Hampus Lindholm, and Josh Manson. There is a chance that the Ducks buyout Bieksa to protect their other four key defensemen. Then, along with Getzlaf, Kesler, and Perry, they would likely protect Rickard Rakell on offense.
The issue with going with 8FD/1G is that Jakob Silfverberg would be left exposed to the Golden Knights and would likely be drafted – especially after his impressive performance in the 2017 Stanley Cup Playoffs, unless the Ducks bribe Vegas with draft picks or prospects to keep him protected.
With a few transactions, they Ducks could protect their most valuable assets and limit their risk. First, they would have to buyout Bieksa. Next, they would have to establish if Fowler (whose contract expires in 2018) intends to re-sign at an affordable cap hit. If the Ducks see a future with Fowler, then they would retain him and likely move one of their other defensemen with a substantial cap hit (such as Sami Vatanen) for a forward.
However, if the Ducks do not see a chance of re-signing Fowler, they could move him and instead protect Lindholm, Vatanen, and Manson. The idea is that the Ducks trade a defenceman for a forward, so they can go 7F/3D/1G – to ensure they protect their best defensemen, along with key forwards like Silverberg and their new forward addition.
If the Ducks have the option of protecting seven forwards, they will still meet the exposure requirements since they have a number of forwards signed through next season, including Antoine Vermette or Jared Boll, who would probably be exposed.
Arizona Coyotes
The Coyotes do not have many exposure eligible forwards on offense, as they have 15 expiring forward contracts – which could motivate them to protect 8FD/1G. Moving forward with that format, their best options for protection are Tobias Rieder, Jordan Martinook, Alexander Burmistrov, and Anthony Duclair. Duclair has been involved in a number of trade rumors, but is more valuable to the Coyotes as a trade asset as opposed to a Golden Knights draft pick. If these four players are protected, they will be eligible thanks to the contracts of Jamie McGinn and Brad Richardson.
The only player on the Coyotes with a NMC is defenceman Alex Goligoski, so they must protect him. Oliver Ekman-Larsson is surely going to be protected. Connor Murphy and Luke Schenn will likely be the last two defensemen protected. With Kevin Connauton signed through 2018, they will meet the exposure requirements on defense as well.
Regardless of which goaltender they expose, the Coyotes will be eligible. The question remains, which goaltender should they protect? Mike Smith has been an integral part of the Coyotes, despite the lackluster team in front of him in recent seasons. But, Smith is 35 years old and it seems unlikely that the Golden Knights draft him if he is exposed. Louis Domingue is not a particularly enticing pick for the Coyotes either, but he is young and only signed for one more season (at a low cap hit), making him a low risk option for Vegas. Since the Coyotes are not really at risk of losing either goaltender though, they can choose to protect whichever. Smith is their starter, so he is the more likely choice to be protected.
Calgary Flames
The Flames will likely follow the protection method of 7F/3D/1G and should be eligible for the draft. Predictably, the Flames will protect Johnny Gaudreau, Sean Monahan, Michael Frolik, Mikael Backlund, and Sam Bennett on offense. For their final two protection spots, it could come down to Troy Brouwer or Michael Ferland – with Ferland seemingly the more preferable choice. Curtis Lazar will likely take their last protected slot. If they follow through with those forwards, they will be eligible on forward with Brouwer, Lance Bouma, and Matt Stajan all exposure eligible.
On defense, the Flames will probably protect Mark Giordano, Dougie Hamilton, and TJ Brodie. Matt Bartkowski, who is signed through 2018, makes the Flames exposure eligible on defense.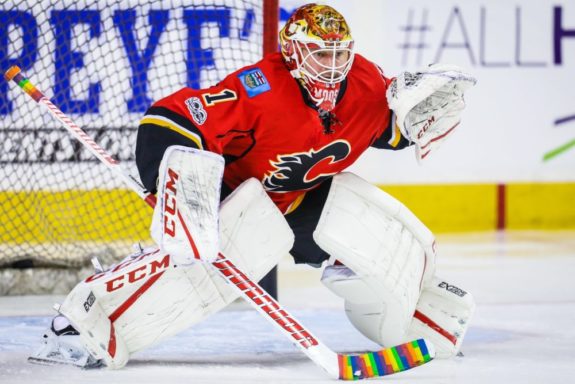 As for goaltenders, the Flames have two pending unrestricted free agents in Chad Johnson and Brian Elliot. If they do not retain either of them and look to acquire another netminder, they will still be eligible as they have Tom McCollum, who is signed through 2018.
Edmonton Oilers
Like the Flames, the Oilers will also protect 7F/3D/1G. They only have to work around three players with NMCs: Andrej Sekera, Milan Lucic, and Cam Talbot.
With Connor McDavid exempt and the speculation of Jordan Eberle being traded, the Oilers are flexible on offense. Lucic has to be protected and Ryan Nugent-Hopkins, Mark Letestu, Patrick Maroon, and Leon Draisaitl will certainly avoid exposure as well. If Eberle is not traded before the expansion draft, it seems more probable than not that he is protected since even if he is not viewed as a part of the Oilers future, he is still a valuable player that could bring in key returns. Zack Kassian may be protected as well by the Oilers as the seventh forward. With those seven forwards, the Oilers would meet the parameters since Benoit Pouliot and Iiro Pakarinen are signed through next season. If the Oilers do not have Eberle to protect and choose to protect either Pouliot or Pakarinen, they would either have to re-sign another forward to be exposed or acquire an eligible forward.
The most obvious choices to be protected alongside Sekera would be Oscar Klefbom and Adam Larsson. However the Oilers do see value in pending unrestricted free agent Kris Russell. As much as they acclaim Russell, it should not influence their expansion plans.
The Oilers would protect Talbot regardless of his no move clause, leaving Laurent Brossoit exposed.
Los Angeles Kings
The Kings only have to adhere to captain Anze Kopitar's no move clause and that does not influence which protection format they follow. Below are outlines for each protecting scheme, as the Kings do have options available to them.
7F/3D/1G: Jeff Carter, Tanner Pearson, Trevor Lewis, Kyle Clifford, and Tyler Toffoli would likely all be protected. Their final protected forward is questionable though. The Kings could choose between former captain Dustin Brown or Marian Gaborik, however both have unfavorable contracts that they could be looking to unload. They do have other options other than Brown and Gaborik and none would cost them their exposure eligibility, as they will have at least two of Jordan Nolan, Nic Dowd, Brown, and Gaborik available.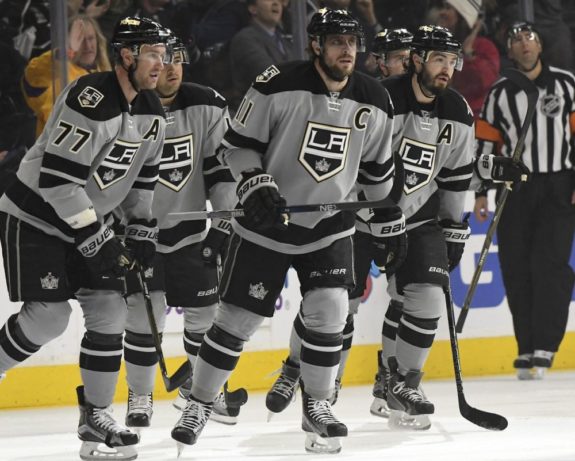 On defense, the Kings definitely would protect Drew Doughty, along with Alex Martinez and Jake Muzzin.
8FD/1G: If the Kings prioritize protecting four defensemen (Brayden McNabb, along with Doughty, Martinez, and Muzzin), they could without risking that much on offense – protecting only Kopitar, Carter, Pearson, and Toffoli. Leaving players like Lewis or Clifford exposed really would not be that detrimental on the Kings, since none are that critical of players.
Regardless of their protection plans, their goaltending situation likely does not change. Jonathan Quick is the most probable of the Kings' goaltenders to be available. They may also want to ensure that 25 year-old Jack Campbell is not drafted by Vegas either though, which could inspire the Kings to offer the Golden Knights something to keep him protected – leaving Jeff Zatkoff as the only obtainable goaltender.
San Jose Sharks
The Sharks roster does not feature any players with NMC, giving them more latitude in their decisions. They will likely protect 7F/3D/1G.
Both Joe Thornton and Patrick Marleau are pending unrestricted free agents this season. If the Sharks do not intend to re-sign either of them, they probably will not waste protection spots on them. However, if they plan to extend either of them, then they will both be safe from expansion.
Joe Pavelski, Logan Couture, Tomas Hertl, and Melker Karlsson will all be protected on offense. Mikkel Boedker will probably also be protected. If the Sharks do not protect either Marleau or Thorton, it opens up a protection spot for a young player like Chris Tierney. If they follow these options, they will be eligible on offense with Joel Ward and Jannik Hansen exposed. But if they choose to protect either of these players, then they will have to add at least one more forward that can be exposed.
On defense, the Sharks will definitely protect their top defensemen of Brent Burns and Marc-Edouard Vlasic. Regardless of who their third defenceman is, they will still meet the requirements – giving them the flexibility to choose between the most likely options of Paul Martin, Justin Braun, and Brendan Dillion.
Vancouver Canucks
The Canucks have three forwards with NMCs to consider when planning their protected list. Henrik Sedin, Daniel Sedin, and Loui Eriksson all must be protected. They make up three of the seven forwards the Canucks with protect.
Along with both Sedins and Eriksson, the Canucks will presumably protect Brandon Sutter, Sven Baertschi, Markus Granlund, and Bo Horvat. The contracts of Derek Dorsett and Jayson Megna reach the exposure requirements on offense.
As for defense, the Canucks will protect Alexander Edler and Christopher Tanev. The most likely third defenceman is Erik Gudbranson. Then, Jacob Markstrom will be protected in goal. Even with these three defensemen and goaltender, they will still meet the exposure requisites, so they do not need to make any transactions specifically for the expansion draft.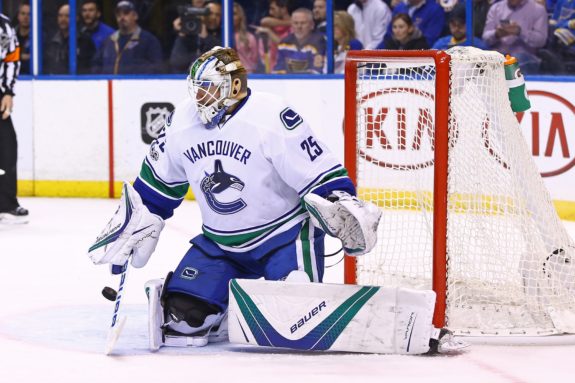 Central Division coming soon!