Once again the Ontario Hockey League led the way in terms of league repsentation on team Canada's entry at the 2012 World Junior Hoceky Championships. 10 players currently playing in the OHL make up 45% of the 22 players selected to compete for the squad; a list that doesn't include former Mississauga St. Michael's star and current Anaheim Ducks forward Devante Smith-Pelly.
Over the past decade, the OHL has proven to be the number one league in providing Canada's National Junior Program with top level talent. Here are the players who will not only be representing their country, but their league and province as well:
Forwards:
Freddie Hamilton: LW, Niagara IceDogs, 6'1, 190
San Jose Sharks, 5th round, 129th overall, 2010
One half of Canada's first brother duo since 1982, Freddie has become one of the most complete forwards in the league. Now in his fourth season with the Niagara IceDogs, the 19-year-old is a versatile player who will likely be used as a winger but will also give head coach Don Hay the option to use him as a center. With good size, strength and a high hockey IQ, look for Hamilton to be used in a 3rd or 4th line role as well as penalty killing duty.
Notable OHL Ranks: 6th in assists, 5th in pp assists, 9th in points
Boone Jenner: C, Oshawa Generals, 6'1, 199
Columbus Blue Jackets, 2nd round, 37th overall, 2011
A solid two-way center, Jenner made the team on his ability to do just that; play a strong defensive game and dominate in the faceoff circle. The 18-year-old native of Dorchester, Ontario and captain of the Oshawa Generals, Jenner will be used as the third or fourth line center and will be expected to play a hard, grinding style along with whomever his linemates may be. He is also certain to be trusted to take critical faceoffs making his presence on the team invaluable.
Notable OHL Ranks: 27th in goals, 16th in pp goals, t-30th in points
Tanner Pearson: LW, Barrie Colts, 6'0, 192
Undrafted
Arguably the story of the year in not only the OHL but the CHL as well, the undrafted Pearson came virtually out of nowhere to become the leading point getter in all of junior hockey. The Kitchener native earned his way onto the team through his utterly spectacular offensive production that has him averaging over two points per game through 30 games so far this year. His unquestionable chemistry with his Barrie teammate Mark Scheifele, means that Pearson is likely to begin the tournament as the first-line left-winger and will also be given the oppurtunity to display his skill on the power-play.
Notable OHL Ranks: 1st in points, 1st in assists, 2nd in goals, 3rd in pp goals, t-2nd in game-winning goals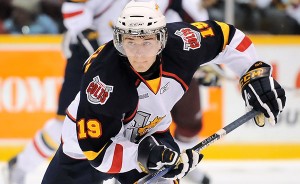 Mark Scheifele: C, Barrie Colts, 6'3, 184
Winnipeg Jets, 1st round, 7th overall, 2011
After starting to year with the Winnipeg Jets in the NHL, Scheifele returned to Barrie and quickly became one of the league's most dominant players. A big rangy center, Scheifele possesses instincts that can't be taught, has excellent vision and uncanny hand skills for a player his size. Forming an almost unstopable duo with Tanner Pearson, the 18-year-old Scheifele went into the selection camp all but penciled in as the club's first-line center. He did little to change that notion with a strong camp and is almost certain to lineup alongside Pearson on Canada's top line.
OHL Stats: 19GP, 13G, 23A, 36Pts, +8
Ryan Strome: C, Niagara IceDogs, 6'1, 183
New York Islanders, 1st round, 5th overall, 2011
Strome's 106 point campaign a year ago sky-rocketed him up the draft charts where he was taken fifth-overall by the New York Islanders. Despite not seeing any game action he was kept by the big club for the first two weeks of the season before being sent back to the high-scoring IceDogs. As expected the 18-year-old has continued to rack up the points and despite not having the best of selection camps, he is pegged as the team's second-line center. With a dazzling array of  skills comparable to those of a Patrick Kane or Claude Giroux, Strome will be counted upon to be one of Canada's top offensive players and will need to produce if he hopes to hold onto his ice-time.
OHL Stats: 24GP, 16G, 17A, 33Pts, +11
Defencemen
Dougie Hamilton: Niagara IceDogs, 6'4, 193
Boston Bruins, 1st round, 9th overall, 2011
The other half of team Canada's brother tandem, Dougie has been the best OHL defenceman by a mile this year. Leading the position in every major category, Hamilton was a lock to grab a spot on the blue-line where he figures to be placed on one of the top two pairings. at 6'4 and close to 200 pounds, the 18-year-old possesses the physical stature of a shut-down defender but he also has the offensive ability of a much smaller player. He should quickly become one of the best players to watch at this year's tournament and fans better enjoy it because he is likely to be playing in the NHL at this time next year.
Notable OHL Ranks: 6th in points, 4th in assists, 2nd in pp assists, t-5th in pp goals
Scott Harrington: London Knights, 6'1, 203
Pittsburgh Penguins, 2nd round, 54th overall, 2011
Somewhat of a surprising selection for the team, Harrington was included for his ability as a rugged, shut-down defender. A member of the top ranked London Knights, the 18-year-old plays a steady game and isn't prone to making bad pinches or being caught out of position. Likely to begin the tournament as the seventh defenceman, his role will be to provide valuable minutes when called upon by making sure that the little black disk does not find its way behind the Canadian keepers.
OHL Stats: 26GP, 2G, 14A, 16Pts, +20
Jamie Oleksiak: Saginaw Spirit, 6'7, 240
Dallas Stars, 1st round, 14th overall, 2011
A player of dual-citizenship, Canada got a big boost when the 18-year-old Oleksiak decided that he would play for team Canada. Big, however would be an understatement. At 6'7 and 240 pounds, the 18-year-old rearguard will be a player that will tower above the competition at this year's tournament. While not quite at the level of Tyler Myers in terms of skating and puck-moving, Oleksiak will remind people of the current Sabres star by how he will use his unmatched physical gifts to his utmost advantage. With his strength and reach, Oleksiak should become a dominant force on the back-end but he will have to make sure his feet are moving to avoid having to take penalties or give up scoring chances.
OHL Stats: 29GP, 6G, 4A, 10Pts, -1
Goaltenders
Mark Visentin: Niagara IceDogs, 6'2, 201
Phoenix Coyotes, 1st round, 27th overall, 2010
Visentin returns to Canada's junior team as the player expected to backstop his country to a gold medal. One of four returnees from last year's team, the Waterdown native hasn't posted the best of numbers this season but has started to play better in the weeks leading up to the tournament. As the goalie who watched Canada's three goal lead slip away in the third period against the Russians a year ago, Visentin's mission is clear: Make a menz for last year's painful defeat by bringing home the gold for his country, and perhaps even more rewarding in this case, for himself.
OHL Goaltender Ranks: t-11 in wins, 9th in GAA, 19th in save percentage
Scott Wedgewood: Plymouth Whalers, 6'1, 187
New Jersey Devils, 3rd round, 84th overall, 2010
With Mark Visentin assured of one of the two spots in goal, Wedgewood knew he would have to beat out two other very capable netminders if he was going to make the team, and thanks to a sparkling performance at the selection camp he was able to do just that. The 19-year-old goaltender for the Plymouth Whalers will start as the backup but continues to have the mind-set that he is there to be the number one guy. Should Visentin falter early on or in a tough situation, Wedgewood will be called upon to step in and play some pressure packed minutes that could very well decide which colour medal he and his teammates will be coming home with.
OHL Goaltender Ranks: 5th in wins, 15th in GAA, t-15th in save percentage