Those of us lucky enough to grow up with great fathers usually try to emulate them in one way or another as we grow older and become men or women in the world. The same can be likely be said for young defenseman Josh Wesley, whose dad you may have heard of: Glen Wesley. Glen was the third overall pick in the 1987 NHL Draft, played 20 seasons as a successful and solid defenseman (1457 games/537 points) with the Hartford Whalers/Carolina Hurricanes, Boston Bruins and Toronto Maple Leafs. He won the 2006 Stanley Cup with Carolina and his number 2 was retired by the Hurricanes in 2009; he's currently working with the Canes as the Director of Defensemen Development.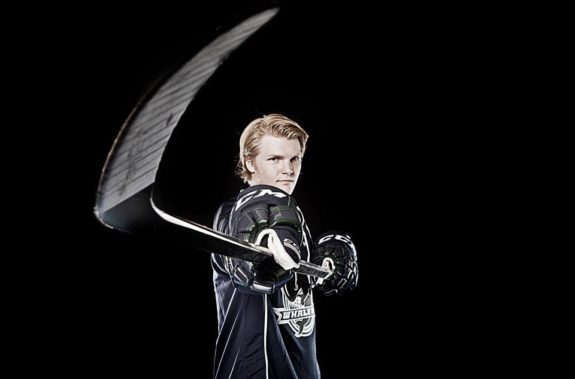 Now in 2014 it is 18-year-old Josh who is trying to follow in his dad's footsteps as the NHL Draft quickly approaches; although he likely won't be the third overall pick most 'experts' are fairly certain he will hear his name called in Philadelphia on Draft Day.
Glen talks about Josh via the Hurricanes website:

The Hockey Writers recently conducted an email interview with Josh Wesley where we asked him about growing up as the son of an NHLer, who his favorite player is to watch and what type of player he is among other things.
The Hockey Writers: Your dad is Glen Wesley, we've all seen him play for 20 years in the NHL as a great defenseman, what's he like as a dad?
Josh Wesley: My dad to me is very special to me. He is a loving father that cares about me, but it is a bonus that he played professional hockey for 20 years. He is always there for me just like the rest of my family. Anything I need help on I go to him for; he never comes up to me to tell me something because he wants me to find out on my own and ask questions. The most important thing is he treats me like a son, loves me and that's all I could really ask for.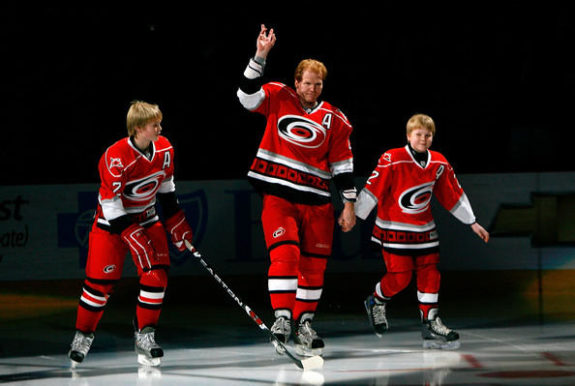 THW: He has his number retired in Carolina, what does that mean to you and do you remember that night?
JW: When my dad's number was retired it was one of the most special things to see as a son. He worked so hard throughout his career and it was well deserved. I remember that night perfectly because all of my family was in town and he was getting a lot of rewards. One of the most special things also was I was able to skate around in the Hurricanes arena and share that special moment with him. I got dressed into my gear right next to him and then when they were raising the banner he kept on looking at me and smiling; that was one of the most memorable moments in my life.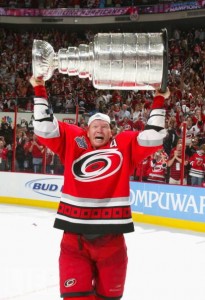 THW: What is your favorite (or most memorable) goal that your dad scored?
JW: My favorite goal of his was when the Hurricanes were playing Flyers and the Hurricanes were shorthanded; the play was broken up in the Canes end and Justin Williams skated down with the puck and dropped it back to my dad (who he was yelling for it) and he scored his first overtime game-winner. And to top it off they were shorthanded! I loved this goal because I was at the game and was jumping up and down and I also loved his goal celebration — going to one knee and doing a fist pump. By the time the Canes were just heading off the ice, I sprinted to the locker room to hug him and congratulate him with a famous fist pound.
In this recap, dad jokes that he learned the celebration from watching his son play Xbox and if you watched the above video of Glen talking about Josh you saw the goal he was referencing. 
THW: What are your memories from the day with the Stanley Cup?
JW: I have so many memories from the day with the Cup. When we first got it at the airport we drove straight to Camp Lejeune in North Carolina, which is a wounded warriors base for the U.S. Marines. We got to spend time with them that day and words couldn't describe the excitement on their faces. I was able to play cards with them and show a few card tricks to them while my mom made cookies for all of them and the rest of the family was talking to them. People really don't realize what these guys go through on a daily basis and I had so much respect for them fighting for our freedom. How happy they were to see the cup was priceless.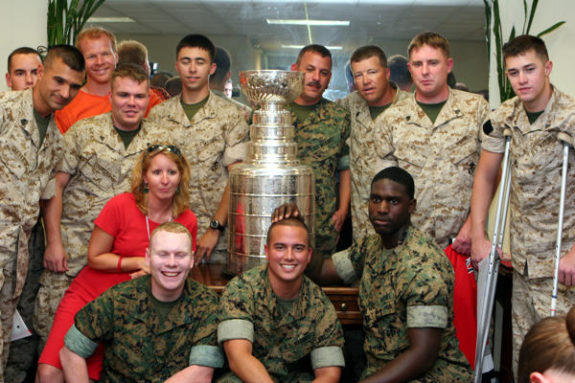 Later that day we took it to our beach house, took pictures with it on the beach, took it to the police station and finished up the day and drove home. When we got home my dad slept with it in his bed — which was very entertaining. On the next day, we spent it with family and had an ice cream sundae out of it. We played some mini sticks and the champion got the Stanley Cup. Later that day we took it to the church for everyone in the community to come by and see it and get to speak with my dad. I remember those two days like it was yesterday and dream about it all the time.
THW: You are eligible for the 2014 NHL Draft, do you expect to be selected? If so whereabouts?
JW: All I know is that God has it in control of where I go. I do not have any predictions of where I am going because the Lord has me placed somewhere in His plan. I am trusting Him and He has the bigger picture for me.
THW: For those that haven't seen you play, can you give a scouting report on yourself? What's your biggest asset?
JW: I am a shutdown defenseman that is nasty to play against. I try to play a mental game with the forwards coming down on my side and get them thinking that they don't want to come down my side because they will get worn out. I am an in your face type of player with good gaps and have great hockey sense. I can make the first pass and read the ice really well. I also have a good stick and shut down a lot of shots and plays that the other team tries to make.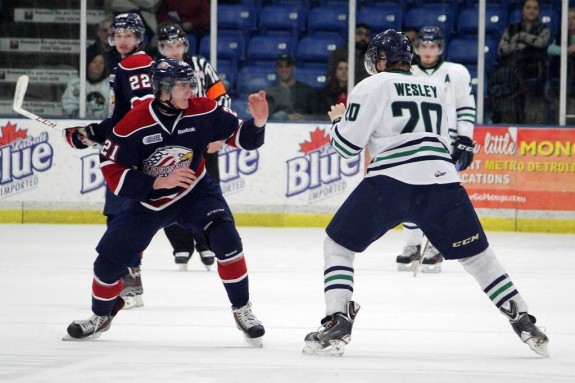 THW: You were a center, but now play defense; do you like playing D better?
JW: I enjoyed playing center when I was younger because I liked the feel of the puck on my stick. I loved to make plays and score goals. In North Carolina I would say I was one of the most skilled guys there so it was easier to go end to end with the puck. When I was played u14 I was going to a huge tournament and my coach told me to play defense for the showcase. I was very upset and didn't want to play D but when I got there he told me to play like a 4th forward out there so that is what I did. Even in my u16 year I was playing like a forward so I still didn't understand the position of defense. I would say that when I went to go play for team USA my u17 year, that was my first full year of playing defense. It was a learning process and I really didn't know what type of role I was supposed to take for the team. At first I did not like (playing) defense, but later on I started to read the ice better and loved to be the quarterback on the ice making the first play. Now that I understand the position it is a lot of fun.
THW: Who is your favorite player, besides your dad of course?
JW: Since I was a center growing up my favorite player was Sidney Crosby. I loved to watch how smart he was with the puck and the plays he made. He was so gifted and broke into the league being a star. I would study how he played and on my 16th birthday he sent me a signed blade of his, written out to me; it was so neat to have something like that. I (still) get chills every time I see it in my room.
Pretty cool that Glen Wesley played with the Hartford Whalers and Josh Wesley plays with the Plymouth Whalers; video from last home game in Hartford:
THW: You just finished your first season with the Plymouth Whalers in the OHL; what was it like?
JW: I couldn't have asked for a better season with the Plymouth Whalers. When I first got there I didn't know what my role was going to be on the team but I chose to be a shut down defenseman that is nasty to play against. The guys welcomed me in right away and I felt like I was at home. I made some really good friends really fast like Alex Peters, Cullen Mercer, Liam Dunda, and Alex Nedeljkovic. Every guy on the team is like a brother to me. Throughout the season I kept on improving and getting better and better with my coaches and teammates help and the most important help was God. He put me on this team. I finished out strong and have no regrets and I am very excited to see how this next year is going to play out after the draft!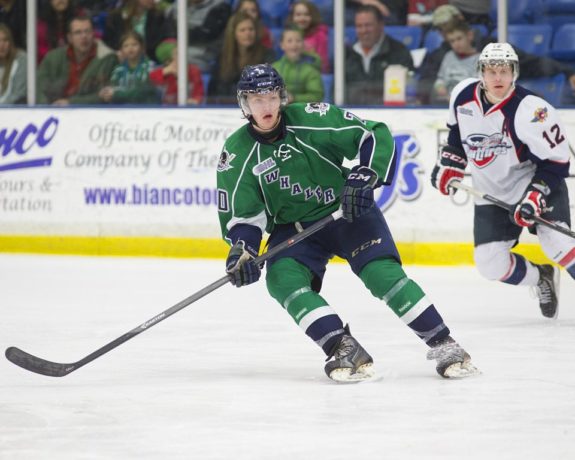 On behalf of THW I'd like to thank Josh Wesley again for doing this for us in the midst of getting ready for the draft and wish him the best of luck going forward. You can find him on Twitter: @JoshyWeso
Dan Rice can be reached via Twitter: @DRdiabloTHW or via Email: drdiablo321@yahoo.com