GRAND RAPIDS, Mich. — Anthony Mantha had hopes of making the Detroit Red Wings out of training camp. However, those dreams were put on hold when he suffered a freak tibia injury in September during the team's prospects tournament in Traverse City.
For the past week-and-a-half, Mantha has been in Grand Rapids training, conditioning and working out with the Griffins while he recovers from his injury. I had a chance to talk to him about his injury, his favorite player growing up and his cooking skills following the Griffins' 2-1 loss to the Rockford IceHogs on Wednesday.
The Hockey Writers: How's the tibia feeling?
Anthony Mantha: Feeling good, actually. Started skating on Monday, Tuesday. Going back at it tomorrow and Friday. So, it does feel good.
THW: Do you have a timetable for when you are going to return?
AM: Right now, it's more of a conditioning. I have to start working out more on my legs, and realistically, maybe three weekends or so (for a return).
THW: How do you like Grand Rapids so far?
AM: It's a great town. The guys are great in here. I think there is potential for a great team in this room. Tough loss tonight, but I think the guys are going to be back at it next game on Friday.
THW: Have you had a chance to explore the city?
AM: I mean, I am working out a lot getting prepared for my comeback. But I went around a few places, a few restaurants, and so far, I do like it.
THW: Which restaurants have you visited?
AM: Ah, the names (I can't remember). There's a few of them right beside the rink out here, so I stay pretty much around here.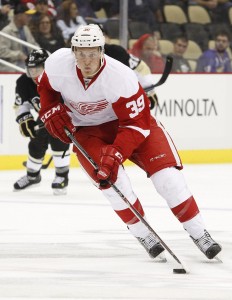 THW: Obviously, you were coming into training camp hoping to make the Red Wings. How frustrating was it to have that freak injury in the prospects tournament?
AM: It was hard mentally, physically also. I mean, not putting weight on your legs for five weeks or so — it's been hard. My family was there to support me. They came over to Detroit when I was still there, and I think that really helped me out. Now, I'm only a few weeks away from making a comeback for a game. So, it's the hard work now that is going to pay off.
THW: Is the goal still to make the Red Wings by the end of the season, or are you just worried about getting back here with the Griffins?
AM: No, obviously, you play with the goal of making the big league. Right now, obviously, it's being prepared for the first few games over here, and we're going to see after that.
THW: What have you learned from these guys here? Even though you're not playing, you have to be getting some experience from the mental standpoint of the game.
AM: Yeah, obviously, (Griffins captain Jeff Hoggan) Hogie has a lot of experience. I didn't talk much to (Griffins coach Jeff) Blashill up until now, but I have watched every practice or almost every practice up until now. I'm just trying to sink as much information as I can — the way he wants it to be played out here.
THW: Who did you idolize growing up as a hockey player?
AM: I would say Joe Sakic. Just a great player — so intelligent. He was always one of my favorite players. So, I just always watched him play.
THW: What got you into hockey?
AM: Well, my parents — my grandfather. They helped me out a lot. My dad and my grandfather would always come skating with me. We just had a supportive family, so hockey was an easy path.
THW: I saw the Twitter picture you had of that food you were cooking the other night. Have you always considered yourself a cook, or is this something that happened recently?
AM: No, this is completely new. My mom called me about that, she said "I can't wait for you to come back home this summer." I told her right away "The only reason I'm going back is for her to cook for me."
Duck and porc with @ColinCampbell11 have you ever had some? pic.twitter.com/sc8vjShNqr

— anthonymantha (@antomantha8) October 28, 2014
THW: Do you have a favorite dish you like to cook, or is it still too new?
AM: It's too new. My favorite dish is ribs, but I'm not there yet.
THW: Obviously, the Red Wings power play has been struggling a bit out of the gate. How anxious, being the goal scorer that you are, to get up there and see if you can help fuel their power play?
AM: I didn't really think about it that way, but obviously, I just want to get back on the ice — try to do my thing and hope I didn't lose my scoring touch during my injury. I'll go back on the ice in G.R. and try to work my way up.
THW: What are you looking forward to most when you get to Detroit?
AM: I mean, obviously, it's learning. Every day you learn up there — something new as a rookie. You just need to sink everything in and become a better player every day.