Radek Faksa THW Close-up:
Date of Birth: January 9, 1994
Place of Birth: Opava, CZE
Height: 6'3″
Weight: 203 lbs
Shoots: Left
Position: C
NHL Draft Eligibility: 2012
Faksa [Fack-sah] n. The moniker denoting an ice hockey prospect with a strong work ethic, good offensive and defensive skills and an astute ability at climbing draft rankings.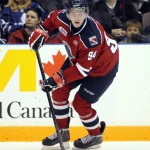 The Kitchener Rangers of the Ontario Hockey League have developed nine first round selections in the past ten NHL Entry Drafts including players Steve Eminger (12th, 2002), Mike Richards (24th, 2003), Jeff Skinner (7th, 2010) and Ryan Murphy (12th, 2011). In particular, the organization has had success at developing import players into top NHL prospects. Gabriel Landeskog, Tobias Rieder, Mikkel Boedker, Yannick Weber, Jakub Kindl and Boris Valabik have all honed their skills playing for the Kitchener Rangers as imports. Last year, the Colorado Avalanche drafted Swedish power forward Landeskog with the second pick in the 2011 NHL Entry Draft. The Kitchener Rangers were so convinced that Landeskog would step immediately into the NHL and contribute that they waived the rights of their star forward to make room for their next impact import player – Radek Faksa.
Scanning the globe for hockey talent eager to come to North America via the CHL's Import Draft is no exact science but Kitchener has found impressive success. With the twenty-second pick of the 2011 CHL Import Draft, Kitchener opted to select a big pivot from the Czech Republic named Radek Faksa. As with most import players, there was certainly an aura of mystique surrounding the six-foot-three Faksa as he arrived in Kitchener. Before arriving in the tri-city, Faksa split time with Trinec's Under-18 and Under-20 teams in the Czech League leading the U18 crew with 19 goals and 49 points while adding another nine goals and 15 points in a couple dozen matches for the U20 squad.
Radek Faksa entered his draft year playing the game he loves on foreign land and as he familiarized himself with his new teammates and league it was evident that Faksa would become an important component to the Kitchener Rangers' success. The dream of playing hockey professionally began early for Faksa and he's spent the last six years away from his Northern Czech hometown of Opava in order to fulfill his childhold dream. Last September, Faksa took the next step towards becoming an NHL player by committing to play for Kitchener in the Ontario Hockey League.
Currently leading the OHL in all rookie categories including goals, assists and points by a good margin, Radek Faksa has found the twine 28 times and tallied 35 assists in fifty-nine games for the Rangers. After ten games to open the season Faksa had compiled a mere three goals and an assist but his game took a quick turn catching the attention of everyone. As October came to a close and November opened up, Faksa found himself in a groove that would see him net 11 goals and 23 points in a stretch of 14 games. Faksa was trending upwards and scouts began to take notice of his offensive production with eight multi-point games. Amazingly, Faksa was held pointless in only one game during the eleventh month. November was kind to Faksa and the strong centreman was proving to people that he could thrive playing the North American game both on the attack as well as defending. Faksa was earning valuable defensive minutes from the Kitchener coaching staff and his plus-10 rating in November was a testament to his defensive skillset. The Czech national team took notice of his strong play and named the, then, seventeen-year-old to the Under-20 World Junior team.
In every game Radek Faksa suits up in and on every shift Faksa skates the Czech pivot leaves a positive impression and it has reflected in his climb up the monthly draft rankings. Radek Faksa has propelled himself up to fourth among North American skaters on NHL Central Scouting's mid-term ranking. Driven by a strong work ethic, Faksa is a player that competes with passion and a win-at-all cost approach. The offensive upside of Radek Faska is still relatively unknown but he does possess the skills to put up points at the next level. Faksa owns a hard accurate shot with good velocity and with soft playmaking hands and above-average puck protection skills he's a difficult player to compete against. Radek's best asset remains his overall balanced game and while he does not excel in one particular skill or area he offers a well-rounded package. The average spectator will notice that Faksa lacks a "wow" factor but his hockey sense is extremely underrated and it's an area that has many people thinking he is capable of reaching another offensive level.
Early draft chatter appears to indicate that Radek Faksa is a potential target for NHL teams requiring help at the centre position. After starting the year trailing Czech natives' Martin Frk and Tomas Hertl as well Rangers' teammate Matia Marcantuoni in the draft rankings, Radek Faksa has surpassed all three of them and continues to surge up the ranks. At this point, the only question is, "how high will Radek Faksa go?"
Scout's Honour:
He's not afraid to play in traffic, go to the net, take hits, deliver hits and he plays with a bit of an edge. He's got real good playmaking skills, good puck ability … he's got real good ability to get the puck through to the net and make plays.
– NHL Central Scouting's Chris Edwards
We know he's a world-class offensive player, but I think what makes him attractive to NHL scouts is the fact he might play earlier than expected because he's able to defend at what I consider an elite level right now.
– Kitchener Rangers' Head Coach Steve Spott
Faksa is an above-average puck-handler and passer. While he still needs to develop his body a lot, he shows effort in the physical game and will attack the high percentage areas.
– ESPN's Corey Pronman
Faksa does some of his best work below the goal line using his frame to shield the puck well and cycle the play, outworking the opposition's defense and then distributing the puck. He's a quick skater who can really shoot the puck as well, and even sees some PK time (the role he played at the World Juniors).
– Future Considerations' Brian Huddle
He's a really smart player and is so dedicated to playing in his own end. Again, his size makes him very tough to match up against.
– OHL Prospects' Brock Otten
Statistics:
Bio/Interview(s)/Link(s):
International Tournaments:
Faksa competed for the Czech Republic at the 2011 World U18 championship in Germany and the 2011 Ivan Hlinka Memorial Tournament in his home nation.
Faksa suited up for the 2012 U20 World Junior Hockey Championship and scored two goals in six games as Team Czech Republic skated to a fifth place finish.
ETA:
2-3 years
Risk-Reward Analysis:
Risk = 1.5/5 Reward = 3.5/5
NHL Potential:
Second Line Centre
Strengths:
*See "THW Close-Up" section above.
Elite-level hockey sense
Good vision and playmaking skills
Heavy, accurate shot with good velocity
Strong puck protection skills
Coachable
Operates well in trafficGood defensive awareness
Flaws/Aspects He Needs To Work On:
Improve faceoff prowess
Continue to develop strength and add mass to maximize his large frame
Engage himself physically more often
Fantasy Hockey Potential:
Offensive = 7.0 /10 Defensive = 9/10
NHL Player(s) Comparison:
Tomas Plekanec
Marian Hossa (with less upside and flash)
Video(s):
Off the Iron (Interesting Notes):
Faksa models his game after one of his favourite players – Pavel Datsyuk
Named OHL Rookie of the Month for November and January.
Radek Faksa's current 28 goals has tied a new Kitchener Rangers' record for goals by a rookie import previously held by Petr Kanko (2001-02) and with several games remaining he has a good chance of surpassing that total.
Radek Faksa won the Showdown Breakaway Challenge at the CHL Top Prospects' Skills competition this past February 2012
Follow @RossyYoungblood for all of your #2012NHLDraft news.

THW's The Next Ones prospect profile template design architect: Chris Ralph