After a disappointingly early exit from the 2015-16 NHL playoffs, the New York Rangers might be looking to reopen their window for success. With an ever aging team and a goalie who certainly isn't getting any younger, it may mean moving players like Ryan McDonagh in order to revamp the storied franchise.
According to The Hockey News' Jared Clinton, "the Rangers have only seven forwards and five defensemen from their playoff roster locked up to contracts for the upcoming season, and even those currently under contract could be on the move."
The New York Post's Larry Brooks reported that the only three players that seem to be untouchable within the Rangers organization are long-time goaltender Henrik Lundqvist, young defensemen Brady Skjei and rookie Pavel Buchnevich.
Essentially, the team could look entirely different when the puck drops on the 2016-17 season in October. That being said, there is absolutely no rush in trading guys like Mats Zuccarello, Derek Stepan and Derick Brassard. But they – along with others – are available. All the Rangers are asking for is the right return.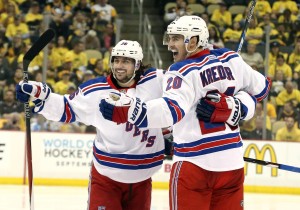 According to Cap Friendly, the Rangers currently have five picks in the 2016 draft (from the third round to seventh round) and six picks in 2017 (having traded their second round pick). While it's not horrible, it certainly doesn't give them a lot of wiggle room when it comes to building through the draft or trading more picks for prospects and young talent.
Enter the available Rangers. Guys like Brassard, Zuccarello and McDonagh will draw a major return if the Rangers are willing to part ways with the core of their current franchise. Rick Nash and Stepan will also bring back picks and prospects to a Rangers team whose window is closing fast.
The fact is, the Rangers are severely depleted when it comes to prospects and picks. They only way to turn the tides on how the franchise has faired over the past few seasons is to open themselves to the possibility of a complete overhaul.
With all that in mind, Brooks also writes that New York has no intention of asking Dan Girardi to waive his no-move clause or buy him out. So, you can likely add one more name to the list of those who won't be moved in the offseason. But, when it's all said and done, we could be either looking at a very different Ranger team or one destined to follow in the footsteps of years past.