The New York Rangers have recently traded away both Marc Staal and Brady Skjei, the team's two longest-tenured defensemen. While the Blueshirts have plenty of prospects that can eventually fill that void, they may not be ready to play in the NHL next season. Adam Fox, Ryan Lindgren, Tony DeAngelo and Jacob Trouba will be in the lineup if they're healthy but it remains unclear which other defensemen will be playing alongside them.
Young Prospects
New York has stocked up on defensemen in recent drafts and has a lot of prospects, including some who are candidates to play this season. One of their most promising prospects is K'Andre Miller, who spent two seasons playing in the NCAA at Wisconsin and is now ready to take the next step and play professionally. However, it's likely that he will begin the season playing for the Hartford Wolf Pack rather than the Rangers.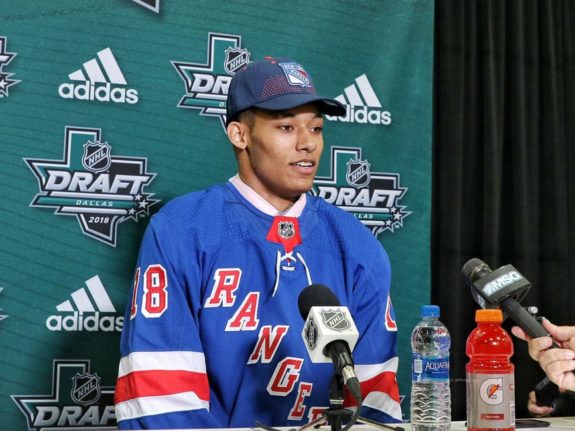 The Blueshirts have high expectations for Miller but he is just 20 years old and they won't rush his development. He could see time with the Rangers later in the season if he impresses with Hartford but he would have to have a very strong training camp to make the opening day lineup.
Related: Flyers' Claude Giroux – Hall of Fame Worthy?
Other prospects include 20-year-old Nils Lundkvist, who is currently playing well in Sweden, as well as 19-year-old Matthew Robertson, who is coming off an impressive season in the WHL. The Rangers will likely continue to let Lundkvist develop in Sweden and Robertson will likely start the season in Hartford. While they are both long shots to see ice time with the Blueshirts right now, both will be a big part of their future.
In addition to their young prospects, the Rangers have a few older prospects including Libor Hajek, Yegor Rykov and Tarmo Reunanen. Hajek is the most likely to get an opportunity, given that he is the only one of the three with NHL experience.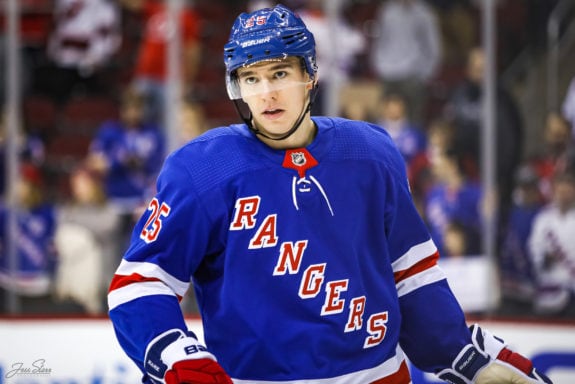 Hajek briefly played for New York in 2018-19 and played well at both ends of the ice, showing he belonged in the NHL, before a shoulder injury forced him to miss the remaining games in the season. Last season he struggled early on but played a bit better after being paired with Trouba on defense but still didn't play as well as he had in 2018-19. He sprained his knee and was replaced by Lindgren in the lineup. In the two seasons combined, Hajek had one goal and five assists in 33 games.
Veterans
The Rangers also have a few veteran defensemen that they can choose to play. One is Brendan Smith, who has proven to be a versatile player. He played as a forward for the majority of last season but switched back to defense after the Blueshirts traded Skjei. He's a good penalty killer and has shown he's willing to stick up for teammates if he has to. Ideally, New York would use him as a gritty fourth liner rather than as a defenseman, but he can certainly be used on defense if that's what the team needs.
In addition to Smith, the Rangers signed lefties Jack Johnson and Anthony Bitetto this offseason. DeAngelo, Fox and Trouba are all righties, though DeAngelo has experience playing on the left side and is capable of playing there.
Bitetto signed a two-year two-way contract, which means he could end up playing in Hartford rather than New York. He's there to provide depth but at 30 years old, he is no longer a prospect. Last season he played 51 games for the Winnipeg Jets, tallying eight assists and averaging 15:10 in time on ice per game. The Rangers can plug him into the lineup if other players struggle or are out because of injuries.
Johnson, on the other hand, signed a one-year $1.15 million deal and has a good chance of making the opening day lineup despite coming off a disappointing season. He has struggled with his skating but the Rangers decided to take a chance on him anyway. He will likely be expected to replace Staal on the penalty kill and in other defensive situations.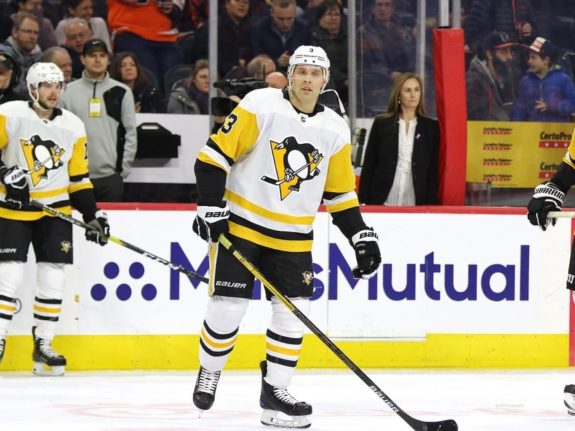 The expectations for Johnson will be significantly lower in New York than they were in Pittsburgh after Johnson signed a five-year contract with the Penguins. Last season he averaged 19:28 in time on ice per game. He should play much less this season for the Rangers and the team hopes that will lead to improved play.
Moving Forward
While the Rangers have a lot of options on defense, it seems unlikely that a top prospect like Miller will make the team's lineup to start the season. However, there is a chance that he, Lundkvist or Robertson could get an opportunity later in the season if they play well in Hartford (or in Lundkvist's case, Sweden).
Related: The NHL's Top 5 Defenses
The Rangers have shown that they believe in Hajek and he is still just 22 years old. One of their remaining spots on defense will likely be his to lose. While he has struggled to produce offensively, he is a good skater with decent strength, who is capable of making clean passes out of the defensive zone. This will be an opportunity for him to bounce back after a disappointing season.
The Blueshirts have also shown that they believe in Johnson by signing him despite his struggles in Pittsburgh. He will get the opportunity to prove he still belongs in the NHL but if he struggles, Smith or Bitetto could replace him.
While Johnson may not be the most popular defenseman, he should only be a short-term option as the team's top prospects on defense continue to develop. He may be the present, but prospects like Miller, Lundkvist, Robertson and Braden Schneider are the future.
---
---