Igor Shesterkin's 2021-22 season could only be described as historic. He finished with a 36-13-4 record, with a 2.07 goals-against average (GAA) and a .935 save percentage (SV%) en route to his first career Vezina Trophy. His .935 SV% ranked eighth all-time for a single-season mark, as he showed the hockey world just how dominant a goaltender he could be.

Those numbers were nearly impossible to maintain, but as the 2022-23 season moved along, the New York Rangers were waiting for Shesterkin to return to the dominant form we have become accustomed to. The bar for his play is so high that even above-average play was a downgrade from the historic campaign we saw a year ago.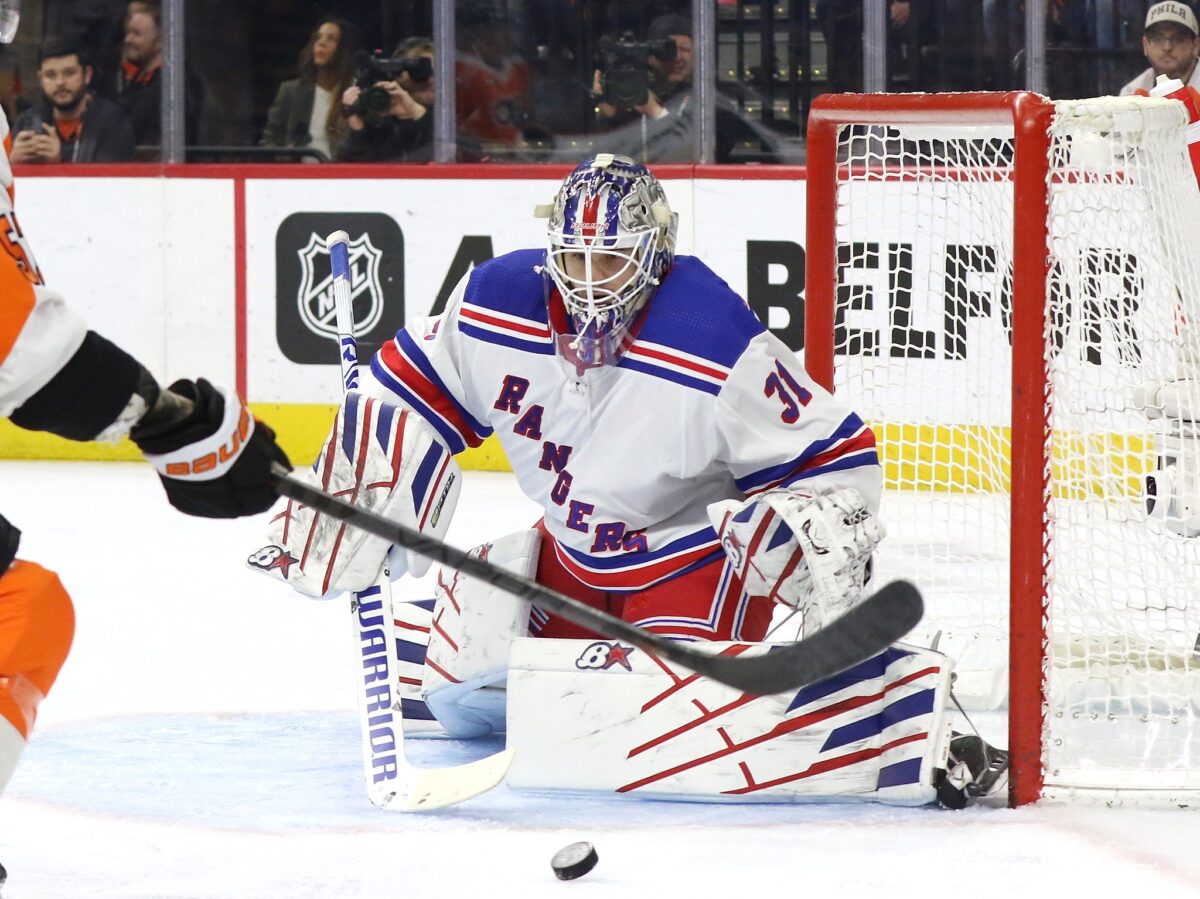 His struggles peaked when he allowed five goals to the Washington Capitals in a Feb. 25 clash. It was the fourth straight contest he had allowed four or more goals in and the seventh straight in which he had yielded three or more tallies. But since then, a switch has flipped, and Shesterkin has returned to the Vezina form he displayed all of last season.
When at his best, Shesterkin is unquestionably one of, if not the league's best, goaltenders. More importantly, he makes a dangerous Rangers team much more difficult to beat, cleaning up the defensive lapses that have plagued the Blueshirts for most of the season.
Everyone strives to get hot at the right time, and the Rangers' star goaltender is doing just that.
Shesterkin on Fire Last 10 Games
Many believe the Rangers will go as far as Shesterkin will take them. In 2021-22, that was the Eastern Conference Final, but through the first half of this season, the defensive lapses and the lack of otherworldly excellence from the Russian-born netminder had many questioning how far that would be in 2022-23.
Yet, after the last 10 games, all the skepticism has washed away. Shesterkin's numbers over that stretch are nearly identical to his Vezina winning season. He has a 2.08 GAA and a .931 SV%, leading the Rangers to eight wins in the 10 games he has started since Feb. 26.
Related Story: 4 Reasons Why the New York Rangers Will Win the Stanley Cup
---
Latest News & Highlights
---
Per Natural Stat Trick, he has been even more dominant at five-on-five, with a .937 SV% over that span. His numbers on the season won't overwhelm you, but recently, it is clear that the best goaltender in the league a season ago is back in prime form.
His athleticism is excellent, but his positioning is what separates a good season for Shesterkin from a great one. Amidst his struggles, the 27-year-old was off on his angles, making himself smaller in the net and overcommitting on east-west plays. Minor corrections and an injection of confidence have turned him into a dominant goaltender once again.
Looking at his most recent game, a 2-1 win over the Carolina Hurricanes, Shesterkin's angles and positioning made him acrobatic. He robbed Jesse Puljujarvi of a goal on an odd-man rush and was in outstanding position all game, controlling rebounds and giving the Hurricanes forwards nothing to shoot at.
That save was a microcosm of his past 10 starts. He presents himself well at the top of the crease, reacting quickly when he sees the pass, knowing his athleticism will take him the rest of the way. Shesterkin's athleticism allows him to be elite when he plays the position fundamentally sound. But he struggles when he moves excessively and tries to be too acrobatic.
Shesterkin is fundamentally sound and athletically gifted, allowing his return to Vezina form.
Rangers, Shesterkin Getting Hot at the Right Time
You always want to play your best going into the playoffs, which is precisely what Shesterkin is doing. He has 10.03 goals saved above average (GSAA) since Feb. 26, second only to Filip Gustavsson from the Minnesota Wild, per Natural Stat Trick.
He's red-hot and is playing this way against potential playoff opponents. He stymied the Pittsburgh Penguins, allowing two goals in the two games against them, including a shutout on March 18. Then, he played the Hurricanes twice, splitting the games, but yielding just four goals, despite facing 69 shots.
A win Tuesday night against the Columbus Blue Jackets put the Rangers two points behind the New Jersey Devils ahead of a Thursday night clash between the two rivals. Home ice advantage is huge for the Rangers, and they will need Shesterkin to be the Vezina-caliber goaltender he is to overtake New Jersey.
Shesterkin also sits just five wins away from 100 in his young career. The Rangers have nine games remaining, and I am sure he would like to reach that milestone before the season ends. It would be an exciting way to enter the playoffs, but that is likely not the top priority on Shesterkin's mind as the stretch run is reaching the final turn.
The adversity that the Rangers' netminder has gone through this season will only strengthen his play in the postseason. Last playoffs, Shesterkin's first true playoff experience, started with a loss in which he posted a .952 SV%, stopping 79 shots. Game 2 was more of the same, allowing two goals and stopping 39 of 41 en route to a win.
But in Games 3 to 7 of the Penguins series, Shesterkin struggled, allowing three or more goals in each contest, including six in Game 4. It was adversity on the biggest stage, and when Artemi Panarin's shot found its way to twine, Shesterkin breathed a sigh of relief and turned it around.
For the rest of the postseason, Shesterkin posted a .941 SV% and a 2.02 GAA over 13 games. He was absolutely incredible. Fast forward to 2022-23, there was adversity again, as Shesterkin was having a down season. Yet, he has bounced back and battled through, posting insane numbers over his past 10 games and gearing up for the playoffs.
The postseason is always a different animal, but if you're a Rangers fan, you have to love what you're seeing from Shesterkin at this stage of the season.