The New York Rangers are a well-constructed team that can win hockey games with their explosive offense as well as their neatly structured defense, but an area of the game where the team seems to be lacking is overall edge. No, I'm not saying that the Rangers need a brawler, but after some recent instances with Henrik Lundqvist and Mats Zuccarello, the team does seem to need a bit of bite in their lineup. Below I've compiled a small list of players that the Rangers could probably acquire at a reasonable price to help add some snarl to the lineup.
Jordan Nolan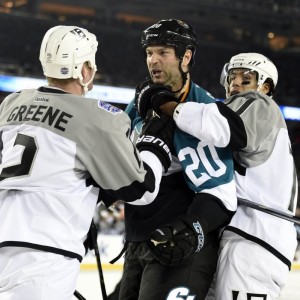 Nolan is a big body who can skate well, take the body hard and also agitate the opponent. He isn't the type of player that will look to fight every game, but he will answer the bell when called upon. Nolan currently plays a respectable 10:24 per game for the Kings and can produce on offense when the opportunity arises. In this clip, you'll see Nolan grab a loose puck, show some patience and wing it into the net for an impressive tally.

Comparable former Ranger: Daniel Carcillo
Ryan White
White is another gritty agitating forward who can show some flashes of skill. White has more of a rugged element to his game than Nolan does, but he's certainly more than just fists. White average's 10:33 per game and has five points to go along with 98 hits and 60 penalty minutes. What gives White the edge over the others on this list is the fact that he's a natural center, which is always a need.
White skates well and won't get left behind in the play; he's also not someone that you want to see with his gloves off coming after you.

Comparable former Ranger: Brandon Prust
Cody McLeod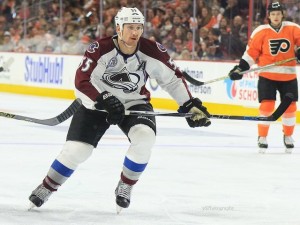 McLeod is in the later stages of his career, but the grizzly 32-year-old could be just the kind of player to back off the nastier teams. McLeod only plays an average of 5:57 per game and has been a healthy scratch at times this season, but the burly winger is still a workhorse that plays with tons of edge.
The biggest obstacles for him would be the fact that he still has another year left on his contract that pays him a tick over $1.3 million per season. This money might be tough to swallow for a team that's still paying Tanner Glass.
That said I could see the Rangers grabbing a guy like this knowing that he'd only play against the grittier teams just to deal with some of the nonsense and maybe throw the body a bit.

Comparable former Ranger: Jody Shelley
Energized
Heading into the Christmas break the Rangers played two of their worst games of the season losing to the Pittsburgh Penguins and Minnesota Wild and giving up 14 goals in the process. The common denominator was that the Rangers just seemed to sleep walk through both games. It's inevitable that teams will have games where they just don't have the next gear, which is why this team needs an energizer type player to get everyone engaged.
The Rangers took their game to another level when they saw Zuccarello wrestling Chris Neil, and that's a level this team will need to reach more coming down the stretch. As the season gets later the games will only get tougher, and New York will need some sandpaper to smooth out the ride.