After further review, I've confirmed the thought in my head; the New York Rangers lack size and regularly get bullied. Is this new? Not really. Is it hard to watch? Absolutely.
Constantly watching your favorite team get pushed around the ice can be infuriating. The constant thought of "please retaliate" cycles through my head at least five times every period.
Generally speaking, the team with more talent has a better chance of winning. But the game of hockey includes so many other factors, and one of them is physicality. The Toronto Maple Leafs are figuring that out this season, as the additions of Zach Bogosian and Wayne Simmonds will make space for their more skilled players such as Mitch Marner and William Nylander.
The Rangers are severely lacking in the size category. While Julien Gauthier is learning to use his larger frame, he is not that physical, gritty presence that the team needs. Pavel Buchnevich has started to gain an edge to his game, especially when it comes to players like Brad Marchand going after Artemi Panarin.
While the Rangers have started to push back a little more as of late, as apparent in Igor's post-game interview after Friday's loss to Boston, it is clear that "sticking up for each other" is a reaction to being the team that is actively getting pushed around. It would be a nice change of pace to maybe see the Rangers be the ones instigating the scrums every so often.
Like Father Like Son
Finesse hockey is very exciting to watch. The players of today's NHL are the most skilled hockey players the world has probably ever seen. With that said, teams need some form of physical presence on the ice. When you think of this year's Rangers team, not many agitators come to mind. But there is one name that is iconic in the hockey world that does.
Brendan Lemieux, son of infamous agitator Claude Lemieux, has been a Ranger for about a season and a half. While his point totals are nothing special, Brendan brings a key element to the Rangers that no one else brings, and that's grit.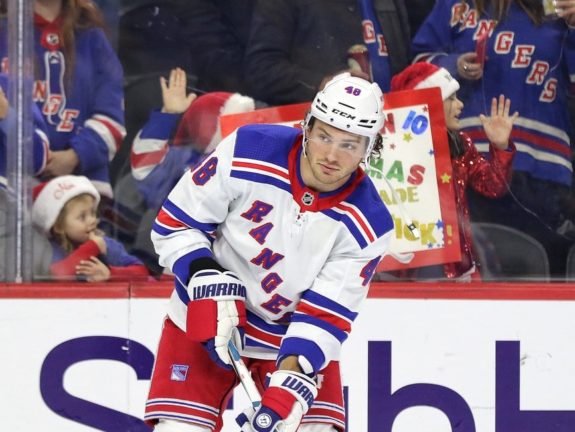 Lemieux is the Rangers' best energy player. He tries to ignite his team whenever he can and brings an element of danger while he's on the ice. Much like his father, he sometimes crosses the line from gritty to dirty. While no one should ever hope for a player to play dirty, it is inevitable in the sport of hockey, so it doesn't hurt to have a player like that on your side.
Finding the Perfect Fit
When it comes to who the Rangers can add to their roster to fill the void of physicality, there are many different options. Some can help out for many years to come, and others can help protect New York's youth for a year or two.
For the short term, Luke Witkowski would do a great job in his role. He's versatile, much like Brendan Smith is, in that he can play both defense as well as wing. He's a hard-nosed vet who is loved by all the fanbases that he plays for. And he's adored for his effort and heavy playstyle.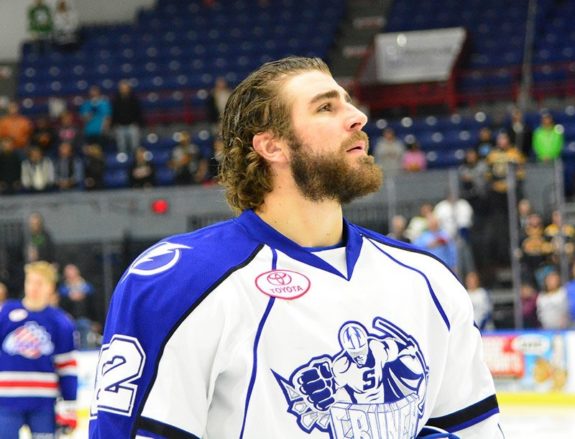 Acquiring a guy like Witkowski would be as cheap as it can get. Currently captain of Tampa Bay's AHL affiliate Syracuse Crunch, he'd be a mentor for younger Rangers and an example for teammates of all ages on how to leave it all on the ice.
A more long-term solution to New York's grit issue would need to be more than just a big body. This player would need skill to go along with his snarl. And a perfect fit would be Tyler Bertuzzi.
Bertuzzi has never been one to shy away from contact, and he has top-six talent to go along with his physical style of play. Last season, he put up a career-high 48 points in 71 games on a very bad Detroit Red Wings team. He has the ability to bring an edge to a very finesse Rangers' top-six.
Skating primarily with Dylan Larkin for the last few seasons, Bertuzzi can potentially slot in next to Mika Zibanejad on the top line. This would likely slide Chris Kreider down to the third line, along with the grinding Brendan Lemieux and a playmaking Filip Chytil (when healthy).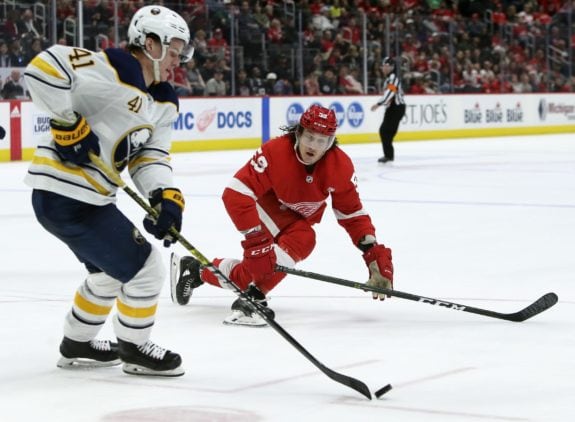 As much as it would be nice to change a team's identity by acquiring one player, it takes more than just that. It takes a full team buy-in to change a culture in the locker room. Guys like Witkowski and Bertuzzi, along with existing pieces such as Lemieux and Lindgren, can help to turn the Rangers into a team that is heavy and hard to play against.
As Kaapo Kakko, Alexis Lafreniere, and K'Andre Miller develop, hopefully, they can skate with more confidence and with more of a gritty style of play. This not only would mean the likes of Tom Wilson, Erik Cernak, Brandon Carlo, and other mammoth Eastern Conference skaters will no longer terrorize Rangers fans. But maybe for once, it will be the Rangers that are getting under the skin of rival fanbases.
---
---