Brandon Pirri got off to a strong start for the New York Rangers this season after signing a one-year contract for $1.1 million late in the offseason. He tallied four goals and two assists in his first six games, making the Rangers look very smart.
Since late October though, Pirri has only added 10 more points (four goals, six assists). He has been a healthy scratch in the Rangers' last two games. Could his days in a Blueshirts sweater be numbered?
Losing His Spot
The Rangers have had to endure a lot of injuries this season, particularly to their forwards. Rick Nash, Mika Zibanejad and Pavel Buchnevich have all missed significant chunks of time due to injuries. Chris Kreider, Oscar Lindberg, Jesper Fast, Matt Puempel and most recently Kevin Hayes have also missed handfuls of games.
Coming into the season, Pirri's roster spot was on the fence. A strong preseason got him into the opening night lineup, and his strong start along with the forward injuries kept him there. More recently though, as the Rangers have gotten healthier, Pirri has not always found himself in the lineup, as he has struggled to produce.
http://gty.im/633724016
Pirri is not in the NHL because of his defense, as it's not a strength of his. When he is in the lineup, it's because he is counted on to shoot the puck, add potency to the power play and give the Rangers additional scoring depth in the bottom six group of forwards. If he's not scoring, he unfortunately isn't adding much value.
With just two goals in his past 18 games, Pirri has lost his hold on the fourth-line and power-play specialist role he had been playing. Puempel and Lindberg have apparently surpassed him on the depth chart in the eyes of head coach Alain Vigneault. With Kevin Hayes set to come back from injury soon, Pirri's chances of getting back on the ice will dwindle even more.
Trade Possibility
With the March 1 trade deadline less than a month away, it's possible that the Rangers could explore the idea of moving Pirri. It's no secret that the Rangers need help on the blue line, and dealing from their deep group of forwards might be one way to get that help.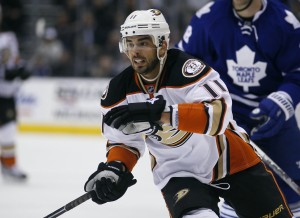 Pirri is a restricted free agent at the end of the season, so that gives him more value in case potential acquiring teams want to hold onto him after this season. Increasingly, it looks like he is not going to fit into the Rangers' plans going forward. With that in mind, if they do not plan on retaining him for next season, they might as well look to find a trade partner. There are always teams looking for scoring depth on their third and fourth lines, and Pirri could be a fit for one of those clubs.
The New Jersey Devils just dealt away depth forward Vern Fiddler to the Nashville Predators for a fourth-round pick in 2017. While the Devils might be in sell-mode as their playoff chances appear to be bleak, the bottom line is that Fiddler, a pending unrestricted free agent, is clearly not a part of their long-term plans and was no longer going to be a key player for them this season. So they got something for him before they would have let him walk away for nothing. The Rangers might be smart to think about doing something similar with Pirri, a player who could probably bring back an even better return than Fiddler.
#Devils trade C Vern Fiddler to Predators for a fourth-round pick in 2017

— Andrew Gross (@AGrossRecord) February 4, 2017
The Rangers will have some roster decisions to make soon with Hayes returning to the lineup. Pirri and Lindberg are candidates to be traded away, with the former appearing to be the more likely possibility at this time. That being said, a lot can happen in the NHL before March 1, so it will be interesting to see how things play out and what the Rangers decide to do.