The New York Rangers are on pace to finish the season 0-0-82 after the NHL Premire in Stockholm, Sweden to start off the 2011-2012 NHL season. While there were a few positives to come from the weekend, quite a few weaknesses surfaced.
On the positive end, Brad Richards looks like the top end skill this team has lacked since a certain Czech winger set the single-season goal record. Richards finished the weekend with a big game tying goal against the Ducks, which ultimately gave the Rangers a point after a lack-luster offensive effort. He also displayed his supreme passing skills and vision, even adding an assist on the score sheet. He admits although, it was a frustrating couple of games.
"Frustrating, it wasn't a masterpiece out there." Richards explained "We figured out a way to get two points, but we feel we could have done better."
Henrik Lundqvist, was stellar as usual playing in his native country of Sweden.  Goaltending will not be an issue with the consistent Lundqvist minding the Rangers net this year. His teammates and coach praised the goaltender for his performance.
"He gave us a chance to get that point, made some huge saves…nothing that we don't expect," Richards said of his teammate.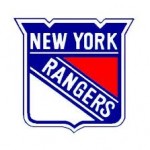 Winger Brandon Dubinsky, who began the season on a line with Brad Richards and Marian Gaborik, showed an incredible defensive prowess over the weekend. He displayed an ability to play a shutdown role while still battling in the offensive zone, and crashing the net. With Dubinsky playing stellar defense, it will give his two skilled line-mates an opportunity to take some chances, knowing they will be covered.
On the back end, Dan Girardi was rock solid as usual. The defenseman logged 62 minutes during the two games, playing his usual shut-down defense. Head Coach John Tortorella knows he has a reliable defenseman on the patrolling his blue-line.
"I think he could play more," Tortorella said. "I thought he was still blocking shots, again (Dan) Girardi, its self explanatory what he does for a hockey club."
Ryan Callahan of course, was his usual self. He hit everything that moved and registered a team high 11 shots in Saturday's game against the LA Kings. He truly wears the C on his jersey very well.
Conversely, there were a few things the Rangers really lacked this weekend, including a consistent offensive threat. While Richards showed sparks of offensive flare, his line seemed in invisible at times.
The team struggled to maintain consistent offensive pressure from the bottom lines as well, with the bottom six having very little offensive impact on the weekend.
"During the game it was kind of a back and forth game, we didn't really sustain too much pressure in their zone," forward Ryan Callahan said of Sunday's 2-1 loss to the Anaheim Ducks.
The Defense was up to their old shot-blocking tricks as well over the weekend, and did an impeccable job of shutting down two high powered offensive line-ups. All while having rookie Tim Erixon make his NHL debut this weekend. Erixon showed he was ready for NHL action, and had impressive stick work on the ice. Tortorella shied away from using him against the other team's top line.
21-year-old Michael Del Zotto made one big mistake over the weekend, which cost the Rangers a goal. He was out-muscled by Mike Richards on a power move to the net, when he should have stick checked him to prevent the beautiful deflection goal.
After the long European tour, the Rangers were eager to return back home. After two games, there is still a lot that needs to be worked on before their next game. With a week off now, they will have plenty of time to work.
Follow Patrick Kearns on Twitter @PatrickKearns to talk prospects, or NY Rangers hockey.