To call the past six months eventful for New York Rangers center Vincent Trocheck wouldn't come close to doing the adjective justice, as the old saying goes.
In that time, he was tasked with adapting to a new team in a big city which plays a different style than the unique one employed by his previous team. He had to try and learn how to play with one of the NHL's most creative and unorthodox superstars. He was eventually moved off that superstar's line and found success with a different star linemate. Next, the Rangers plunked yet another superstar down on his right wing, with a limited number of regular-season games remaining for another get-to-develop-chemistry stretch. He was then briefly reunited with the original superstar linemate, before being put back on a line with the star linemate with whom he had succeeded earlier.
A quiet first season in the Big Apple, right?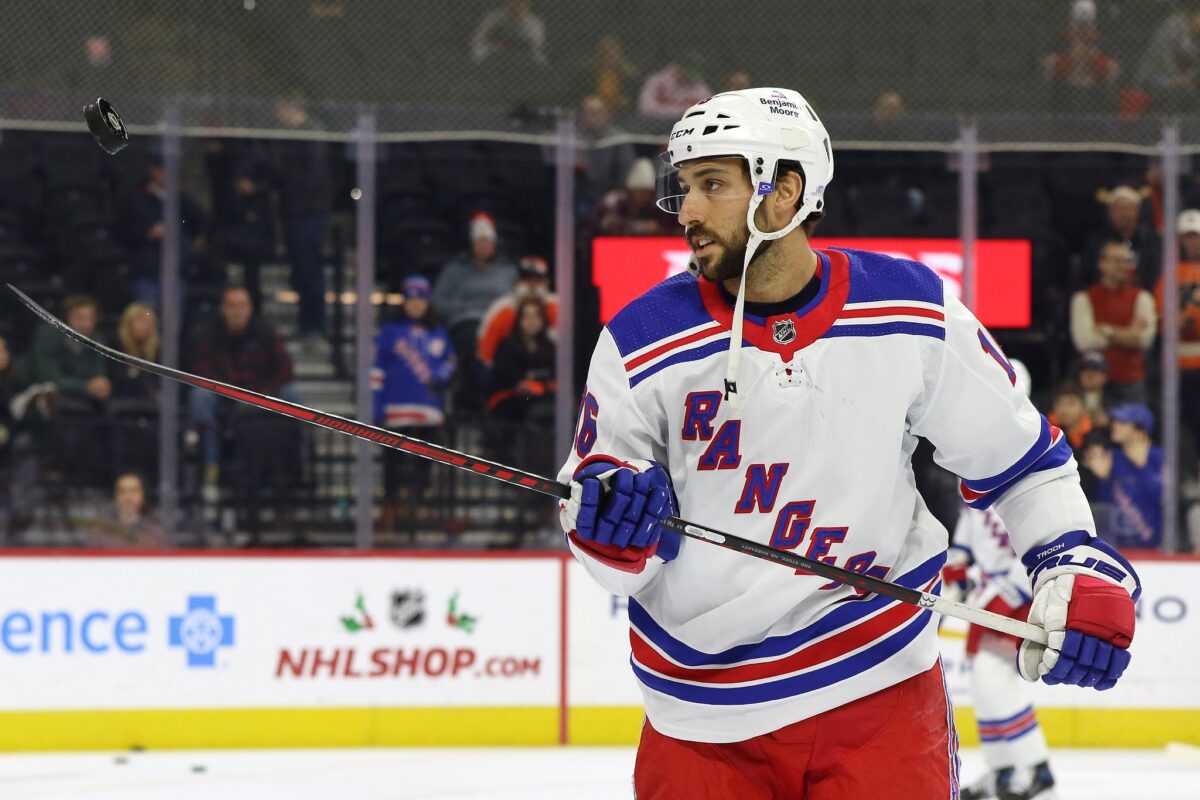 Amidst the craziness, the Rangers' second-line center has mostly produced with 19 goals and 38 assists, good for fifth on the team – numbers that are depressed by Trocheck hitting at least 10 posts. A move away from the Carolina Hurricanes' man-on-man, hard-on-the-puck system of play has been more than manageable for Trocheck, whose 57 points are six more than he recorded in 81 games last season.
---
---
Now, though, the 29-year-old has run into his longest goal drought of the season, going 0-for-March, 12 straight contests without finding the back of the net despite recording 10 assists in that span. Yet despite that dry spell and the myriad of roles the Rangers have already asked him to take on in his first season on Broadway, Trocheck's importance to the Blueshirts is only growing down the stretch and into the playoffs.
Trocheck Has Been More Physical as Season Has Worn On
It's probably not surprising Trocheck has hit a goal slump; he has to be at least somewhat confused at this point. Who else could go from a line with on-ice artist Artemi Panarin to start the season, to a line with straight-ahead power forward Chris Kreider, back to a line with Panarin along with trade-deadline arrival Patrick Kane, then to a unit with Kreider and Kane that's supposed to be the final iteration of the club's second line going into the playoffs?
If Trocheck's head is spinning, he's not letting on. Instead, along with his solid offensive production, his all-around game and edgy physical side have steadily emerged, the latter of which was considerably less noticeable early on as he worked to integrate into his new situation.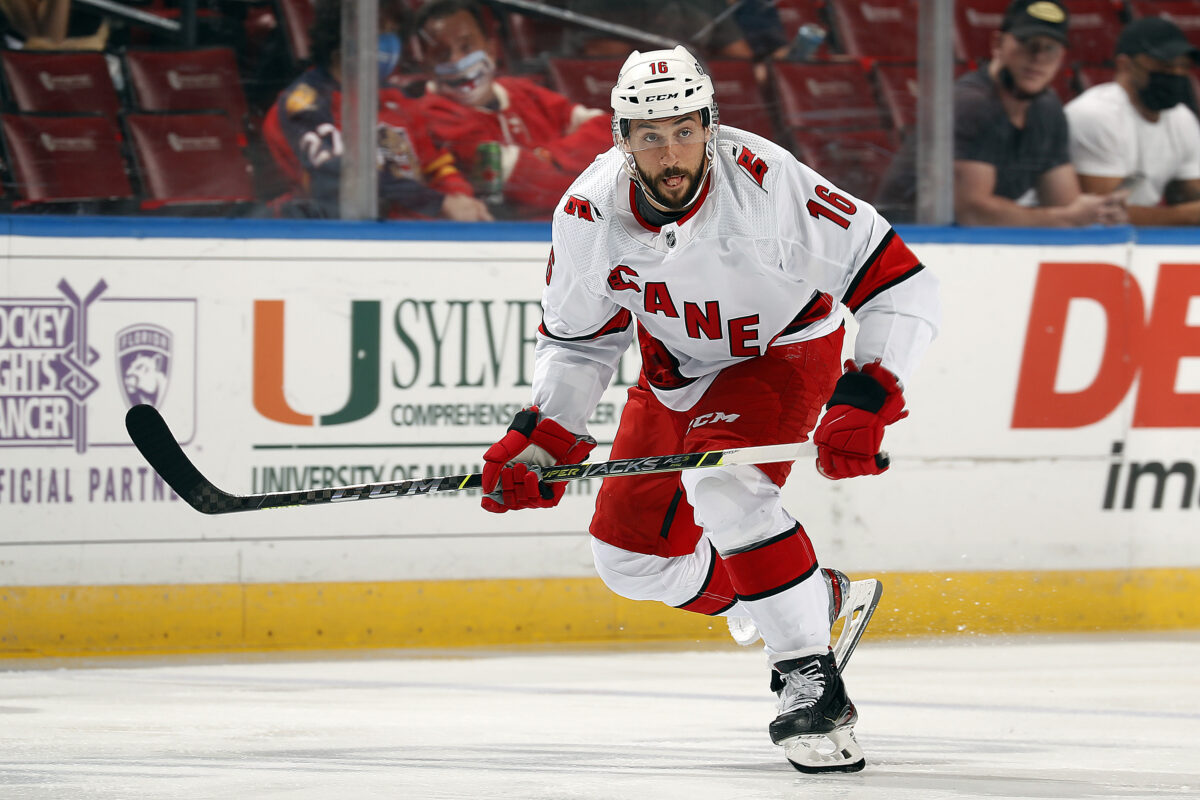 "When the space gets tighter and the physicality ramps up, I think that's more my game," Trocheck said last week after engaging in an exchange of hits with Pittsburgh Penguins star Evgeni Malkin. "I would never say that, 'I'm built for the playoffs,' but I become more mentally engaged, it helps with my energy level. I have more jump.
"It's not something that I necessarily plan before a game. It develops during the game depending on the flow and the style. If it gets chippy, if there's more hitting, that's fine with me." (From 'Vincent Trocheck Vows Rangers Won't Get 'Pushed Around' in NHL Playoffs', New York Post, 3/15/23)
---
Latest News & Highlights
---
That's precisely what the club envisioned it would get from Trocheck after the 10-year veteran was up in the Rangers' faces throughout last year's seven-game playoff series. With the dust supposedly settling on the seemingly endless roster moves and line experimentation as the schedule winds down, the Blueshirts hope Trocheck can finally focus exclusively on delivering that element nightly.
Trocheck spoke excitedly about the opportunity to be Panarin's center after signing a seven-year, $39 million contract with the Rangers over the summer, but after nearly a full season, it seems apparent that their games just don't mesh. Trocheck's relentless, full-speed ahead style works best when he has the puck; Panarin also needs it on his stick in order to work his passing magic that tends to run in an east-west direction in the offensive zone. Ryan Strome, who Trocheck replaced as second-line pivot, complemented Panarin perfectly for three seasons because he was able to defer and find open ice to receive the Bread Man's exquisite setups.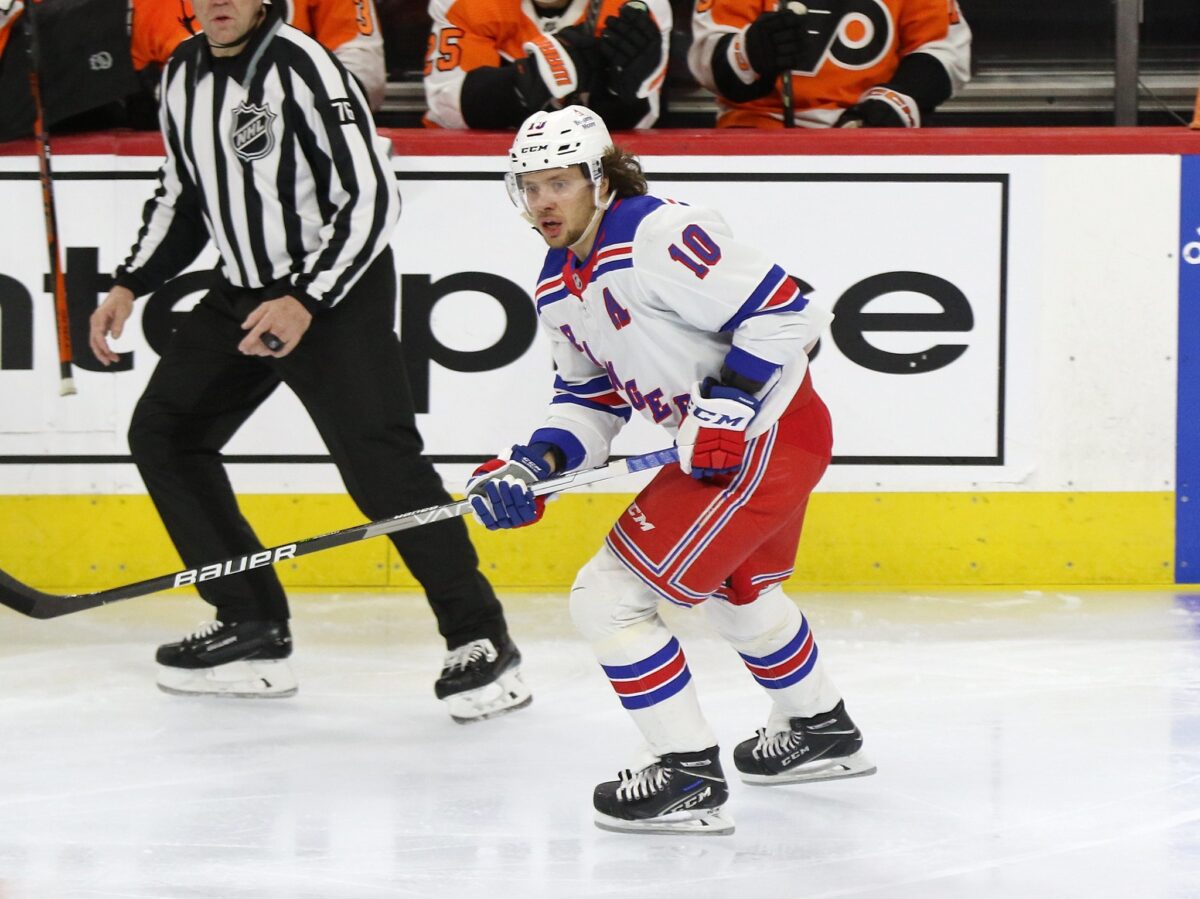 Coach Gerard Gallant, plenty familiar with Trocheck from their time together with the Florida Panthers from 2014-17, doggedly stuck with the combination for a good part of the season. He even attempted to make it work again after Kane joined the team, putting Trocheck between former Chicago Blackhawks linemates Panarin and Kane. To his credit, though, Gallant accepted that Trocheck and Kreider, similar players who have clicked when playing together, is the better partnership than Trocheck-Panarin.
Trocheck-Kane Union Could Prove Crucial in Postseason
Gallant seems to finally like his line combinations. With Kreider more or less established as Trocheck's consistent running mate, all Trocheck has to do now is adjust to playing with Kane, the future Hall of Famer also known for his passing prowess who's also at his best with the puck consistently in his possession. Simple, right?
There should be little wonder that Trocheck, only now (supposedly) emerging from the line blender, has been stuck on 19 goals since Feb. 26. That's certainly a function of perhaps predictably lower shot totals amidst another eventful month of roster changes: he's averaging only 1.5 per game in March after posting a 3.0 mark in January and February.
Related: Rangers Won't Go Far in Playoffs With This Timid Version of Kane
Overlooked to a degree amongst Rangers centers this season with No. 1 pivot Mika Zibanejad in the midst of another stellar campaign and third-line center Filip Chytil authoring a 20-goal breakout, Trocheck's presence is nonetheless about to increase in relevance. Being able to help make his latest line combination with Kreider and Kane into a cohesive unit is vital to the Blueshirts' hopes of a deep run in the postseason. Gallant needs Trocheck, a relative newcomer himself, to assist Kane in finding a comfort level with his new team as quickly as possible.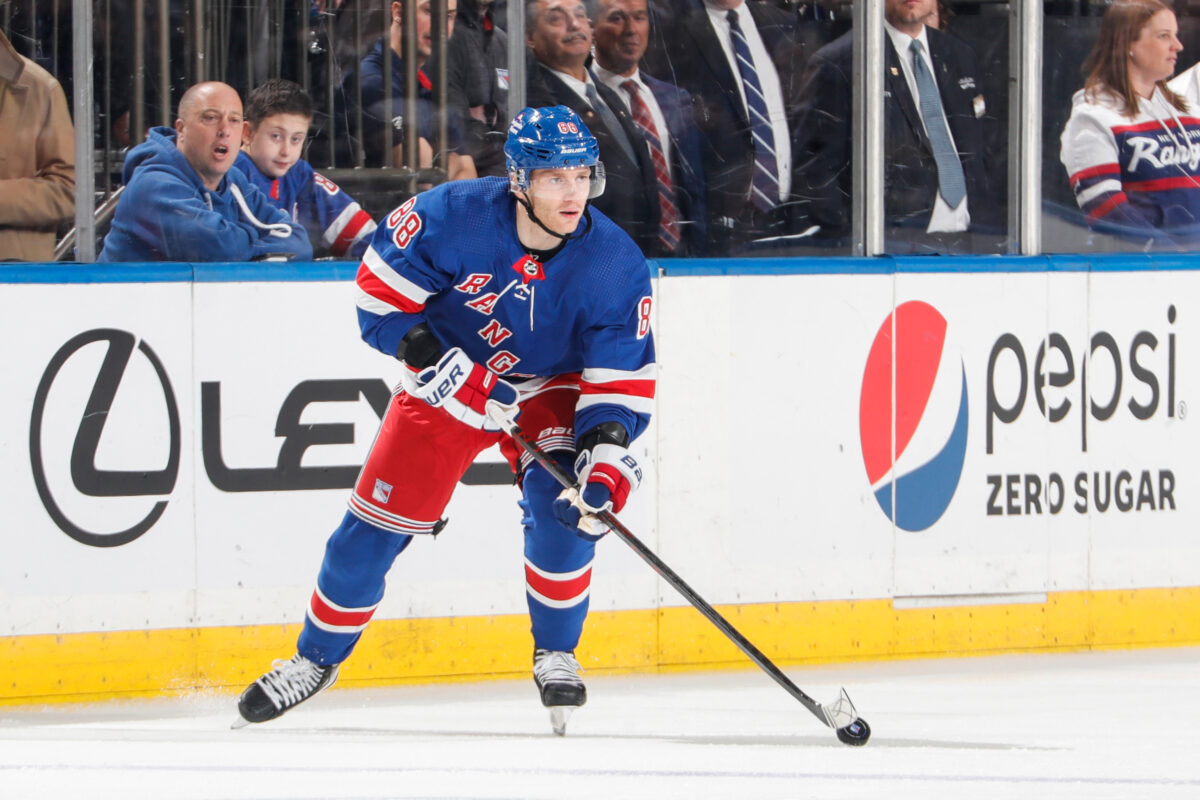 At the same time, the Rangers need the version of Trocheck they encountered as an opponent last year when this year's playoff tournament starts. That means Trocheck being at his most ornery and effective: Engaging in scrums and yapping at opponents, winning faceoffs (career-high 56.3 percent in 2022-23), driving to the net to score timely goals and around it to set up teammates, delivering hits, employing his speed both offensively and defensively. Being a "rat" on the ice, as he likes to say.
Versatility was a major reason for the Rangers wanting to reunite Trocheck with Gallant. It's possible that the center has never been more versatile than he's been this season, easily rolling with what seems like never-ending change and disruption to his surroundings, linemates and role, with no complaints. Trocheck might finally be close to coming out the other side of half a year of near-constant upheaval, perhaps ready to show that he can be even more for the Rangers if provided with some elusive stability.