Anyone who says they predicted a post-trade deadline mini-surge from the New York Rangers is probably exaggerating at best. Trading away Ryan McDonagh, Rick Nash, J.T. Miller, Michael Grabner and Nick Holden and then putting together their first three-game winning streak since mid-December – following a seven-game losing streak, to boot – couldn't have been realistically expected by anyone. The streak is all the more impressive considering it constituted a sweep of the Rangers' annual jaunt through Western Canada; this one a three-games-in-four-nights affair.
Of course, it's not as impressive knowing it was largely Henrik Lundqvist's historic back-to-back, 50-save effort that allowed the Blueshirts to secure wins over the Vancouver Canucks on Wednesday and Calgary Flames on Friday. And the run came to an end with Tuesday's 3-0 home loss to the Winnipeg Jets in which 19-year-old Patrik Laine – the kind of transcendent talent management would like to come away with during the rebuild – recorded a hat trick.
Still, the three consecutive victories from this seemingly stripped-down squad provide a glimmer of hope for the future and might offer an indictment of how management handled the team's P.R. over the last month.
The streak is evidence that the organization made a mistake when they penned a letter to fans on Feb. 8 announcing the organization's intention to tear it down. It created damaging uncertainty among the players and sapped morale ahead of the deadline selloff. The elephant in the (locker) room during those two-plus weeks affected the veterans' ability to focus and prepare for the nightly task of winning hockey games.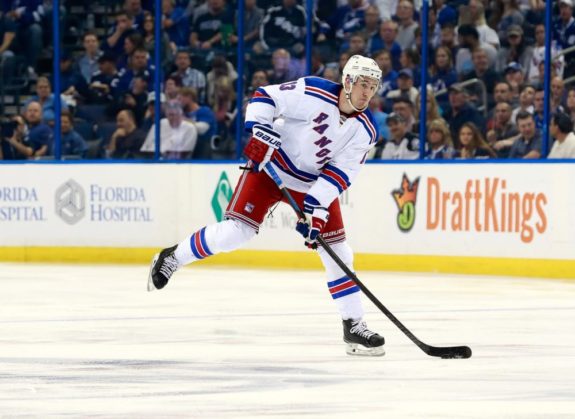 The players still on the roster after very well-executed trades might not be as talented or experienced, but they're free of expectations.
"Everybody here has the opportunity to step up," center Kevin Hayes told The New York Post after the 3-1 victory over the Flames. "It's not only important that we do that for management, the coaches and the fans, it's most important that we do that for each other. We owe that to one another."
Rangers Eager to Prove Themselves
No longer unintentionally divided by those likely going and those all but certain to stay, these Rangers are in it together and they've got nothing to lose, except, of course, a better chance at winning the draft lottery and a shot at one of the top three picks, diminishing with each successive win.
For this bunch of "leftovers", the draft is not on their radar as they find themselves on the fringe of the Eastern Conference playoff race.
"I don't think our expectations were very high after the deadline," veteran defenseman Marc Staal told NHL.com following the 3-2 victory over the Oilers on Saturday. "It was a hard thing to go through as a team. Now, I think that it's over with, we have a lot of guys in this room that are trying to make names for themselves, trying to show what they've got and play in the NHL. I think that type of energy and type of desperation is contagious. We're starting to have some fun and relax a little bit and not grip the sticks too tight and won a few games."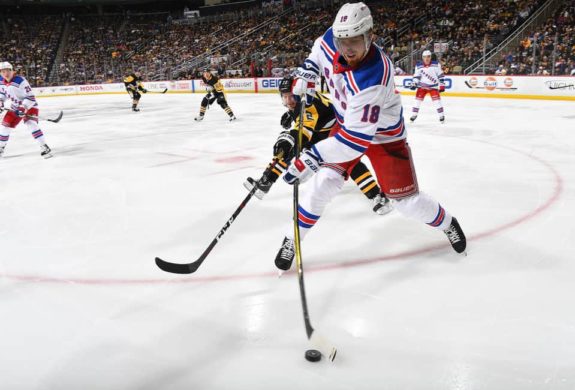 No one has been more integral to the team's victories than Lundqvist, the pro's pro who has handled a heavier workload than expected during this rollercoaster season at age 36. With 15 games remaining, Lundqvist is in range of setting a career high for shots faced. Having played 56 games and with a potential playoff push in the offing, Lundqvist could reach 70 contests for the season, a mark he hasn't hit since 2009-10.
As exhausting as it was becoming the first goaltender in NHL history to win two straight games while making at least 50 saves in each, should remind Rangers fans just how fortunate they've been to have The King in net for the past 13 seasons.
It's hasn't just been Lundqvist though. The rejuvenated top line, with a healthy Chris Kreider, Mika Zibanejad and Pavel Buchnevich, delivered big goals on the trip and is showing the chemistry that caused coach Alain Vigneault to put them together last season. Vladislav Namestnikov, a key part of the McDonagh deal with Tampa Bay, has so far played as advertised and the Rangers just might have found something with college free-agent defensemen Neal Pionk and John Gilmour, who have been impressively steady since receiving regular playing time.
Lundqvist's Successor?
Alexander Georgiev, 22, showed the Blueshirts that there might be life after Lundqvist by making 15 of his 35 saves in the third period in Edmonton against the Oilers for his first NHL win. Georgiev isn't the organization's top goalie prospect, a distinction held by 22-year-old Igor Shestyorkin who's playing in the KHL.
In the end, this unlikely surge toward a playoff berth will likely come up short. The Rangers are just a handful of points out of a wild-card spot but they'll have to leapfrog four teams to get there.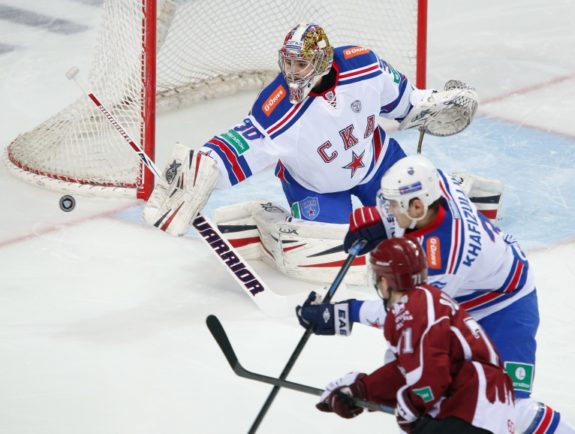 This suddenly plucky roster is destined to look very different as early as next season as the next phase of the reconstruction begins.The kids are coming, through the minors and college, Europe, and what should be a busy draft for the organization in June. In the meantime, these Rangers might be able to keep it interesting for the next month.