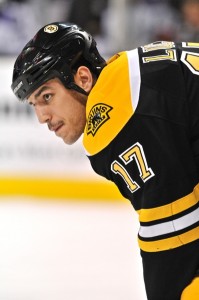 By Mike Miccoli, Boston Bruins correspondent
Chalk it up to a goaltender's duel. Bruins' goaltender Tuukka Rask and the Avalanche's Semyon Varlamov put on a clinic of saves that lasted well into the third period until Colorado's Milan Hejduk broke the scoreless drought, which turned out to be the only goal the Avs needed for the win. In the end, it was Varlamov who picked up the shutout victory, stopping all of the Bruins 30 shots on net.
"We got out-worked by a team that was a lot more hungry than we were tonight," said Julien on the Bruins' effort. "I felt our team was second on the puck, we were losing races and whenever we got there and got into battle, they were a lot hungrier than we were."
It's been exactly six months to the day since Rask last started a regular season game, a 3-2 loss against the New Jersey Devils. There were no signs of rust as Rask looked sharp early on during a flurry of activity when the Avalanche had a five-on-three advantage. After denying a golden opportunity from Matt Duchene on a puck that seemed to just squeak outside of the goal line, Rask stood strong as an anchor for the team as they made several attempts to break out of their own zone.
"Once the puck dropped and I got into that groove, I felt pretty good," said Rask post-game. He pointed out how he spoke to Thomas before the game about his 'nervousness' having not played in a long time.
"He's probably the only bright light on this game today," said Julien. "If not for him, this game could have been over much sooner than it was. He kept us in there and gave us a chance and we just didn't respond."
The Bruins had plenty of chances to score in the game, the most coming from the second line of Brad Marchand, Patrice Bergeron and Rich Peverley. Perhaps the biggest missed opportunity of all came from Milan Lucic whose quick release late in the third period was stopped by Varlamov. Still, it was evident that the Bruins were out-played by the Avalanche, looking a bit lackadaisical at times, a nod to their past performances in matinees. In the 2010-11 season, the Bruins went 3-6 in day games, being shut-out three times.
"From the time that they were in the room," said Julien in his post-game conference, "I could feel that there was maybe a little bit too much comfort. We have to understand that if were not going to get prepared the same way every night, we're going to have more of those nights."
"As bad of a game as we played," Rask continued, "I don't think we gave them too much. They didn't get any really good scoring chances that I had to do anything crazy.
"Tough loss like this, one-nothing."
The Bruins haven't won at home against the Colorado Avalanche since March 30, 1998. The ugly streak continues.
Follow Mike on Twitter for more Bruins news, updates and commentary.