No less than six new faces will take the ice for the Detroit Red Wings next season. However, there are reasons to believe that the changes in "Hockeytown" are far from over.
"We have a lot of bodies right now (but) I do think there's room potentially to add, and I would consider it as we go along," Red Wings general manager (GM) Steve Yzerman said during his press availability following the announcement of winger Anthony Mantha's new deal. This signals that more moves could be on the horizon — but how?
When Yzerman made the move to acquire defenseman Marc Staal from the New York Rangers, it also netted the Red Wings a second-round pick in the 2021 Draft. Since then, the question of whether or not the Red Wings' GM will make a similar move has persisted. After all, with over $9.5 million in cap space remaining, the Red Wings still have room to play with.
With that in mind, attention should turn to the Tampa Bay Lightning — the team that Yzerman played a big part in shaping into Stanley Cup champions.
Lightning Overview
The Lightning have some key restricted free agents (RFA) that they still need to find money for. Anthony Cirelli, Erik Cernak and Mikhail Sergachev all played big parts in the Bolts' championship run, and they're all 23 years old or younger. With just under $2.9 million to play with, something has got to give.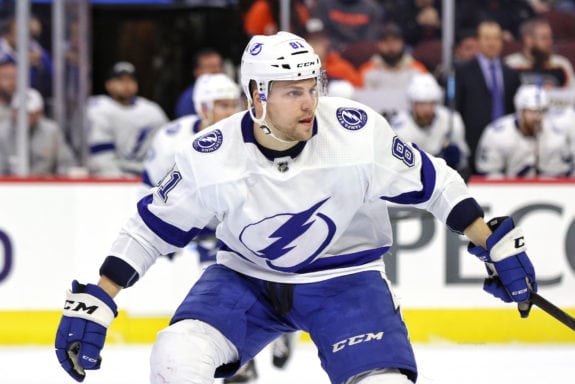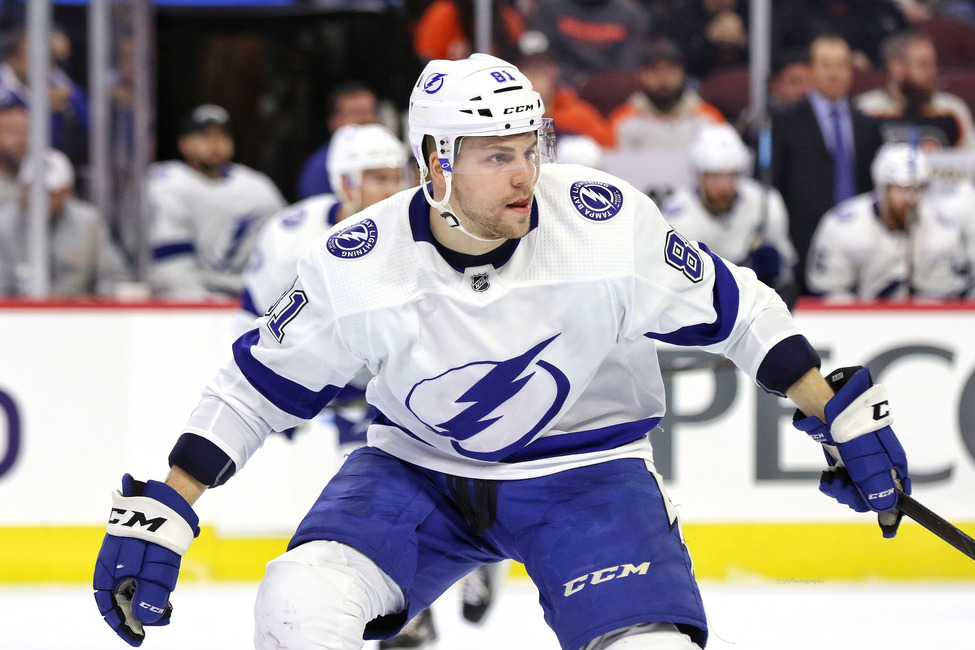 Eugene Helfrick, who covers the Lightning here at The Hockey Writers, had this to say about the state of affairs in Tampa Bay:
To put it simply, things are a bit dire for Tampa Bay. Years of success has led them to a number of veterans on expensive but fair market value contracts. As of right now, they have less than $3 million in space, but still need to sign Anthony Cirelli, Mikhail Sergachev, and Erik Cernak. These three players represent key parts of their Stanley Cup winning roster and losing any or all of them would be devastating to the future of the franchise

– Eugene Helfrick
The Lightning currently have seven forwards signed to deals with cap hits that exceed $4 million; they have six that carry a cap hit of $5 million or more. While they're getting relative bargains on players like Brayden Point ($6.75 million) and Victor Hedman ($7.875 million), they're suffocating due to employing too many good players. They're currently projected to have just over $11 million in cap space after next season — that's not including any deals they work out with their RFAs.
With just four defensemen from their Cup run under contract, it's clear that any subtractions need to come from the forward group. In fact, it seems like Lightning GM Julien BriseBois has already zeroed-in on the player he'd like to move on from; we know this because he has already tried to do so.
Oct. 9, 2020 – Tyler Johnson Waived
Forward Tyler Johnson was waived by the Lightning over a month ago in what appeared to be a game of "Chicken" with both Johnson and the rest of the NHL. He was unwilling to budge from the parameters of his no-trade clause, so BriseBois essentially dared his colleagues across the NHL to claim Johnson free of charge.
The following day came and went with no one having put in a claim for Johnson. Although he's still a solid player, teams are in no hurry to help out the defending champions. This has put the team and the player in an awkward position, as detailed by Joe Smith of The Athletic:
"My bet is this not only surprised Johnson but hurt him a bit, too," he wrote a few days after Johnson cleared waivers. "I initially thought when the Lightning put Johnson on waivers that they had a deal in place where they'd be giving up assets, but tried to see if someone would claim him with no compensation. No such luck." (From 'What we're hearing about the Lightning's struggle to clear cap space' – The Athletic – 10/15/20)
Still A Producer
Johnson forever seared his name into the minds of Red Wings fans during the 2015 and 2016 Playoffs. The Lightning and Red Wings met up in the opening round of the playoffs both years, and across 12 games, the small forward collected 14 points. But he didn't earn his contract just by terrorizing the Red Wings.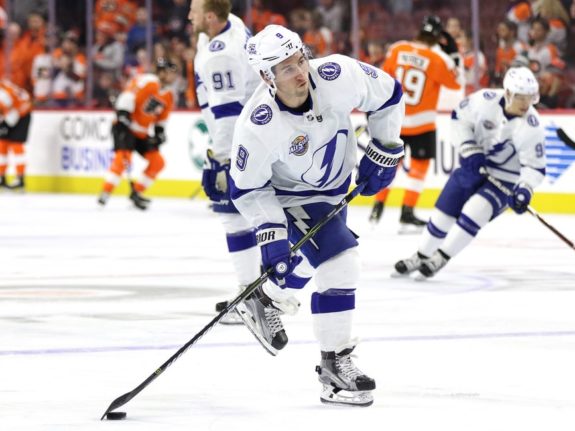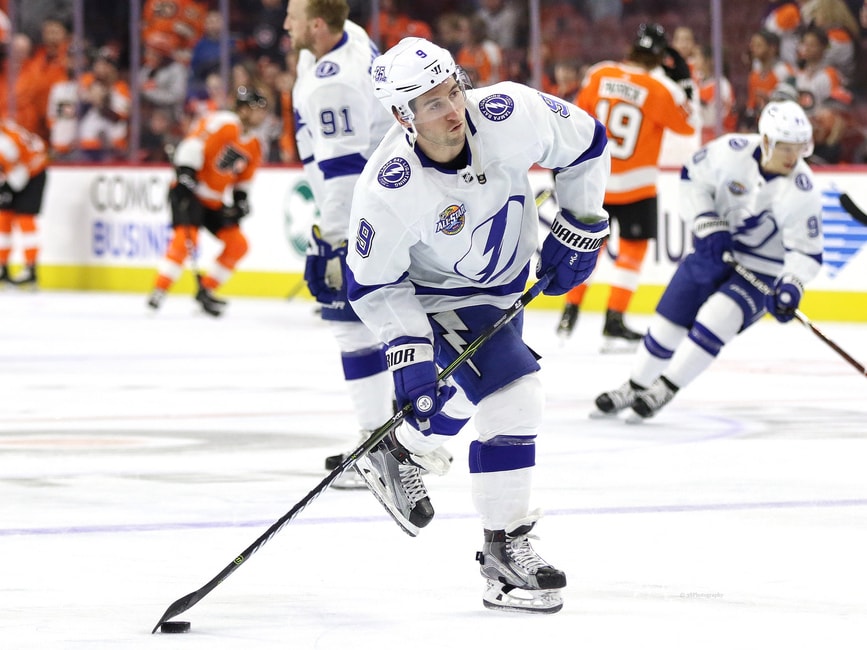 With 339 points through 534 regular season games, Johnson has been a regular threat to score around 20 goals and 40 points during any given season. His heyday came as part of the famed "triplets" line with Nikita Kucherov and Ondrej Palat during the 2014-15 season, though the 30-year-old has continued to maintain a scoring pace that is worthy of a spot in any team's top nine.
Despite his ability to make things happen in the offensive zone, Johnson saw time on the Lightning's fourth line this past season and during their run to the Stanley Cup. Though he's a natural center, he has been relegated to the right wing, further highlighting the need for a change of scenery here. While he's not the 23-year-old Calder Trophy finalist he once was, he can still do some damage if given the opportunity.
Red Wings Overview
Following Yzerman's moves in free agency, it appears as though the Red Wings' plan is to try Vladislav Namestnikov — a former teammate of Johnson's with the Lightning — at the second-line center position. Should that not work, other options include Robby Fabbri, Valtteri Filppula, Frans Nielsen and Michael Rasmussen. Nobody in this group is a "sure-thing" and that spot in the lineup could very well be handled "by committee."
Not including Dmytro Timashov, who is the team's lone RFA remaining, the Red Wings have 13 forwards signed and ready to go for the upcoming season — 14 if you include Evgeny Svechnikov, who would need to pass through waivers in order to be sent to the AHL. There are a lot of bodies here, just like Yzerman said.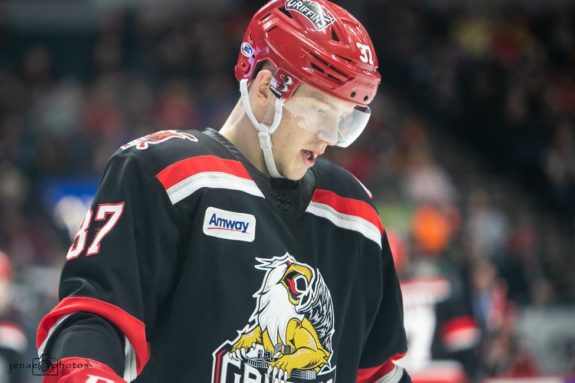 There is also the matter of draft picks, which the Red Wings are keen on acquiring given the state of their rebuild. Although they are missing their seventh-round selection in the 2021 Draft, they hold all of their other picks, as well as an additional third-round pick and two additional seconds. That's certainly a healthy collection, but Yzerman is in no position to decline the opportunity to add more.
While the Red Wings' lineup looks a lot deeper than this past season's group, it is not without its flaws. One of those holes is the aforementioned uncertainty at the second-line center position, as well as the number of players they have that might be on the fringe on the lineup. I'm sure you can see where this is going…
Johnson At 2C
The Lightning need to create cap space and the Red Wings have room to barter with. Having worked together for years in Tampa Bay, BriseBois and Yzerman should have a great working relationship — and this is the exact kind of situation where both sides can reap the benefits of that relationship.
Yzerman signed Johnson as an undrafted free agent back in 2011, allowing the 5-foot-9 forward to live out his dream of playing in the NHL. The two parties also converged and agreed upon his current deal back in 2017. If there's one GM in the NHL that Johnson should love, it's Yzerman.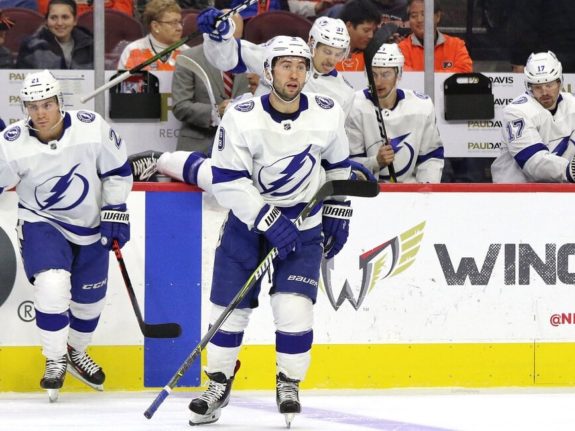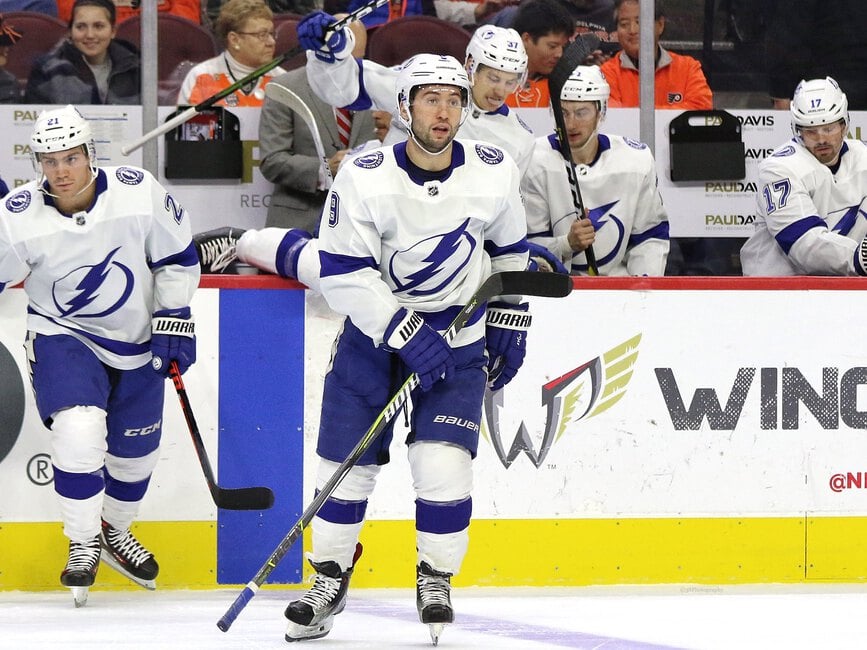 Should BriseBois and the Lightning be willing to retain a portion of Johnson's cap-hit in order to facilitate a deal? Absolutely. Anywhere from $1-2.5 million would help move the needle. Making this sacrifice might also merit a piece being sent back to the Lightning from the Red Wings.
Acquiring Johnson means adding a forward that could slot in almost anywhere in the Red Wings' lineup, including the second-line center position. Given that they wouldn't take him for free, Yzerman could also insist that the Lightning include some sort of draft pick as part of the deal (could BriseBois be forced to give up their 2021 first-round pick?) To make room for Johnson, the Red Wings could send Timashov or Svechnikov the other way, depending on the other aspects of the deal.
Two-Way Street
The thing about trades is that it takes two parties to get a deal done. Even if a move makes sense from a logical standpoint, it will never come to fruition unless an agreement is made. That's why it's best to exercise caution when it comes to any trade proposal or rumor out there.
It is clear that BriseBois does not want to give up anything meaningful in his attempts to create cap space for his roster. It is also clear that the other 30 teams in the NHL have no intention of doing him a solid. Something has to give.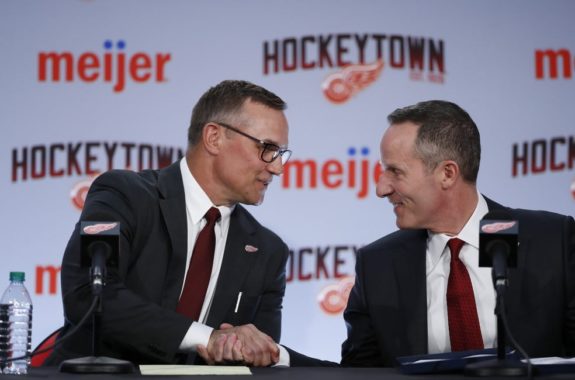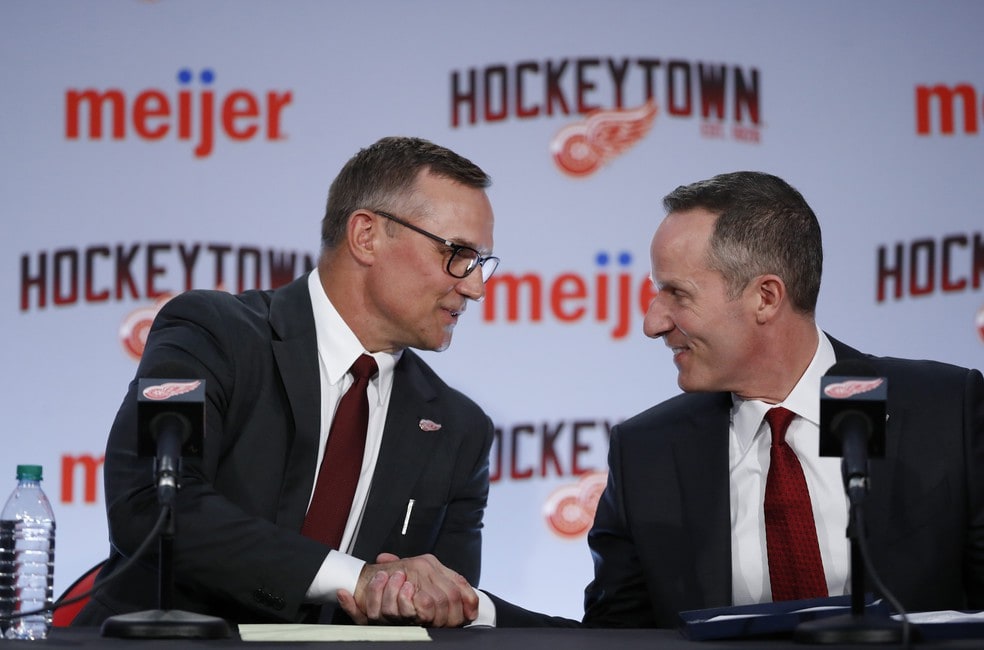 Helfrick had this to say about a Johnson-to-Detroit deal:
Yzerman knows he holds all the cards in this scenario. The longer he waits to make a move on Johnson, the bigger the return will be. If it gets into late December and the Lightning are still stuck in a cap-crunch, the Red Wings could look to get a first-round pick just to take on Johnson's contract. So, even if a move like this makes sense, don't expect anything to happen for a while. Yzerman is not one to rush a deal after all.

– Eugene Helfrick
For the Red Wings, a move like this is an almost ideal scenario. Not only can they wield their cap space as a way to gather more future assets, but they can upgrade their roster in a meaningful way, which should, in turn, mean a more competitive roster; if there's one thing Yzerman's moves this offseason has suggested, it's that he wants to see more competitive hockey at Little Caesar's Arena.
A bonus for the Red Wings is that Johnson, a native of Spokane, Washington, could very well be an attractive asset for the Seattle Kraken during next year's expansion draft, especially if the Lightning have retained a portion of his cap hit.
If the Lightning can bring in a low-cost option from the Red Wings while also clearing up the money to re-sign some of their key pieces, that should be seen as a win for them. The biggest hold-up in this situation is Johnson's no-trade clause, as well as the ever-shifting marketplace around the NHL. Like Helfrick said, patience should payoff here — and in a big way.
The Benefits of Depth
Unlike last season, the Red Wings are in a spot where they have plenty of options at almost every position. While they have very few game-changers on the roster, they have enough players to fill-out a competent roster — there's even some upside depending on the play and growth of their younger players. However, changes can and should still be made.
Adding a player like Johnson adds a proven producer to the lineup while also potentially gathering another draft pick for the rebuild. If your opponent asks for a life-preserver, they had better make it worth your while. This move has the potential to do just that.
But if a deal cannot be struck between BriseBois and Yzerman, there's no harm done. The Red Wings don't need to make this move, but it is one that should definitely interest them. A sign that you've set yourself up for success is if you can allow yourself to sit back and wait for the right opportunity to come to you.
What do you know? That's exactly what Yzerman is doing.
---
---