Trades are a part of professional sports, and the NHL is of course no different. As such, we have seen our share of lopsided deals over the years. A recent one that comes to mind is the New York Rangers' coup of defenseman Ryan McDonagh from the Montreal Canadiens for center Scott Gomez (with other periphery players on both sides involved as well). Another one that is proving to be somewhat uneven in hindsight is the Boston Bruins' dealing of center Tyler Seguin — who now leads the entire NHL in goals this season — for solid veteran forward Loui Eriksson.
One, however, that sometimes gets overlooked because of the lack of marquee names is the Los Angeles Kings' trade for center Jarret Stoll and defenseman Matt Greene from the Edmonton Oilers, in exchange for offensive defenseman Lubomir Visnovsky. The results of this trade have proven to be excellent for one team and terrible for another. It doesn't take a rocket scientist to figure out which team is which.
How The Deal Went Down
Following the 2007-08 season, the Oilers were looking to shake things up a bit after missing the playoffs for a second straight season following their surprise run to the Stanley Cup Finals in 2005-06. Edmonton finished the 2007-08 campaign with 88 points, just narrowly missing the postseason. As such, they were likely still in somewhat of a buyer's mindset, as they were looking for a push to get them back into the playoffs.
One area Edmonton wanted to improve at the time was its blue-line corps — particularly in terms of offensive production from that position. Major free-agent signing Sheldon Souray had battled injuries and was in the beginning of a rapid decline. Outside of him, the Oilers got some back-end offense from Tom Gilbert (13 goals, 33 points) and Joni Pitkanen (8 goals, 18 assists), but not much from anyone else. That made the Kings' Visnovsky — who had twice eclipsed the 50-point mark in his career — an attractive trade target, despite his 5-year, $28 million contract.
The Kings, meanwhile, had just missed the playoffs for a fifth consecutive season, dating back to the pre-2004-05 lockout years. They were very much in a rebuilding mode, and might very well have had some buyer's remorse after doling out such a large contract to Visnovsky despite not being a winning team. Getting some youth for the then-31-year-old Visnovsky — a King for his whole career to that point — seemed like a prudent move given all the circumstances.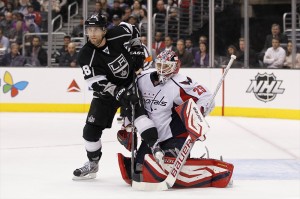 So on June 30, 2008, the trade went through and the Kings acquired the versatile Stoll and the tough, defensively responsible Greene in exchange for Visnovsky.
How The Deal Panned Out For The Kings
"It's never easy to give up a player of Lubo's caliber, but for the direction of the franchise, this exchange allows us to add two players who fit the long-term vision for this team," general manager Dean Lombardi said at the time of the deal.
Boy, did Lombardi's words prove to be prophetic. The Kings, now obviously a championship organization, are known for their physicality and for being extremely difficult to play against. No two players on their current roster — nearly seven years after this trade — embody those traits more than Stoll and Greene.
While Stoll, who was 26 at the time of the trade, has never quite recaptured the 68-point offensive touch he displayed in the Oilers' magical 2005-06 season, he has nevertheless been critical to the Kings' recent success. (It should also be kept in mind that scoring in general was inflated throughout the league in the 2005-06 season, as everyone adjusted to the new post-lockout rules.)
Stoll did tally over 40 points in each of his first three seasons with Los Angeles, but besides that, he has been one of the league's most reliable face-off men throughout his career, and has provided the Kings with defensive responsibility and strong leadership qualities. He was also responsible for this memorable series-clinching overtime goal against Vancouver in the first round of the 2012 playoffs; the Kings, of course, would go on to raise the Stanley Cup that season:
Greene, 25 at the time of the trade, also provided physicality, toughness, defensive responsibility, and leadership. While he is not a flashy player, he is extremely reliable defensively, and the fact that he is one of the Kings' alternate captains speaks volumes to what his teammates and the rest of the organization think of him.
The Kings missed the playoffs in Stoll and Greene's first year with the team, but after that, suddenly turned things around and have now made the playoffs five consecutive times. They also have, of course, won the Stanley Cup twice over that span, with Stoll and Greene having served as key contributors. These facts alone would make the trade a wildly successful one for Los Angeles, but when compared to Edmonton's fortunes since that time, the disparity could not be more apparent.
How The Deal Panned Out For The Oilers
While the Kings became a perennial contender and champion, the Oilers went the other way. In 2008-09, they had a disappointing 85-point season and missed the playoffs once again. Visnovsky did perform well for much of the year, scoring 31 points in 50 games, but his season was cut short by a shoulder injury.
Visnovsky had similar production the following year, but it was not enough to save the Oilers from a dismal season. He was ultimately moved to the Anaheim Ducks as part of a mini trade deadline firesale. The Oilers got back defenseman Ryan Whitney (who has since moved on to the KHL) and a 6th-round draft pick. Edmonton finished that season with just 62 points — easily the worst record in the league. The Oilers still have not recovered, as they remain one of the NHL's worst teams despite a slew of top draft picks. Visnovsky, meanwhile, has since moved on to the New York Islanders, following somewhat of a dispute when the Ducks dealt him there in 2012.
When the original deal with Los Angeles had taken place, then-Oilers general manager Kevin Lowe said, "Although it is tough to see good players and good people move on, we feel we've made a step towards improving our overall offense. Lubomir is a world-class defenseman who has been one of the premier offensive defenseman over the past five years."
Certainly, at the time, it did not seem like a terrible move for Edmonton. Lowe's explanation was reasonable — the team traded depth-players to fill a position of need. It was just future roster mismanagement both during and after Visnovsky's time with the club that ultimately did them in. In that sense, while the trade ended up being totally lopsided in terms of its results, it's really more because it was a great move by Los Angeles, and not so much because it was an awful move by Edmonton.
Maybe Stoll and Greene would have helped keep the Oilers from becoming a bottom-feeding team, but then again, maybe not. It should be articulated that what makes this trade so one-sided is the context around it. The Kings added players that fit Lombardi's vision for the type of team he wanted to build, and he continued to mold his team around that vision to transform them into a contender. The Oilers added a need at the time, but did not have a clear vision or direction in many of their subsequent moves.
Taking all of these factors into account, this trade has to go down as one of Lombardi's best moves ever with the Kings, which is saying quite a lot, given that he has built a team that has won two Stanley Cups in three seasons.