Trade winds started to swirl yesterday as Devan Dubnyk was traded from the Arizona Coyotes to the Minnesota Wild for a 3rd round draft pick. The Coyotes aren't likely to make the playoffs and moved a nonessential piece for a draft pick.
Another team that has a slim shot of making the playoffs is the Philadelphia Flyers. As of last night's Capitals game, Philadelphia has a 2.2% chance at making it to postseason play.
Their starting goaltender (Steve Mason) is out for the next two weeks. Ray Emery has been a serviceable backup in net and has a contract that runs out at the end of this season. Rob Zepp of the Lehigh Valley Phantoms got his first taste of NHL action earlier this season against Winnipeg, but was quickly sent back down to the AHL. However, with Mason's recent injury, Zepp was called up and started in back-to-back games.
Zepp has been through it all from minors to Europe – where he won five straight DEL championships with the Berlin Polar Bears – and back to the AHL/NHL. He's worked tremendously hard to get his shot in North America and he's thriving. Zepp had an 11-5-4 record with the Phantoms, a 2.57 goals-against-average, and .921 save percentage before being called up to the Flyers. In his NHL career he has a 2-1-0 record with a 2.35 goals-against-average and a .910 save-percentage. If Zepp continues his hot hand that may give Ron Hextall an option to move Ray Emery prior to the trade deadline.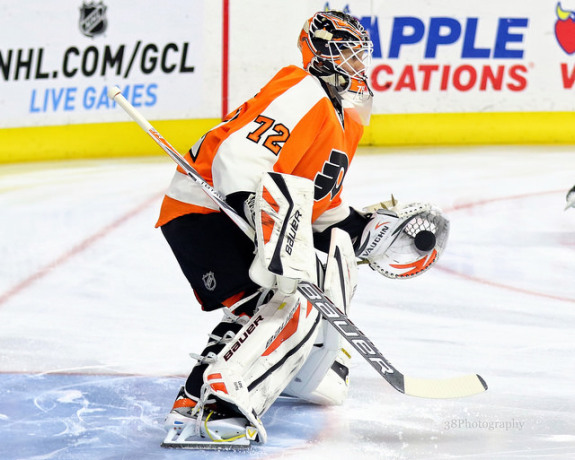 Emery won't get you a king's ransom if you move him, but he will net you decent mid-round draft pick – maybe as much as Dubnyk received. There are teams in need of better backup goalies that will be looking to make a run in the playoffs.
Tampa Bay hasn't gotten much luck from Evgeni Nabokov this season and Andrei Vasilievski might be a bit too inexperienced to call up in the playoffs.
Nashville is another team who has relied on their starter heavily this season. Pekka Rinne has played in 37 of the Predators 42 games this season. Emery is certainly a cheap upgrade over Carter Hutton at present. Also, the Flyers have history with the Predators in terms of trading.
There are other teams in a playoff spot or in the playoff hunt that could use the reassurance in net. But the move wouldn't only benefit the playoff-caliber teams. Trading Emery would also benefit the Flyers.
Other than getting a draft pick to bolster the prospect pool, Rob Zepp will likely be signed for at least another year. I've seen him play a few times with the Phantoms this season and in the NHL. Zepp can be utilized well in a backup capacity for the remainder of this season and next.
What's more is Anthony Stolarz, the Flyers' 2nd round pick in the 2012 NHL Draft, will get much needed starts in Lehigh Valley to develop his game further. Stolarz likely needs at least another season in the AHL before he's ready to get any NHL playing time. Without having to play second fiddle to Rob Zepp, Stolarz will get tested more frequently, become more comfortable in his new role, and develop further to become the Flyers goalie of the future.
The Flyers will be sellers at the trade deadline and Ray Emery would be a piece the Flyers could afford to move that would help more than it would hurt.