If you head out to the Bergen Beach Youth Organization in Brooklyn on a Saturday afternoon, your likely to find a group of people playing some pickup roller hockey. If there isn't anyone willing to brave the heat in full goalie gear, then the game is usually three-bar, where a goal is counted only when a shooter hits one of the posts. The games never get too intense, which always makes it easier for newcomers to acclimate to the rink. The morning pick-ups are good fun; and in the evening there are several leagues that host more intense roller hockey around New York City.
A cornerstone of  New York sports since 1926 are the Rangers who are an Original Six franchise. As time rolled on, hockey became more entrenched in the city and to date has helped build a terrific following. Even though New York had the fans, and they had the big team, they didn't have the recreational ice-hockey leagues, and they still don't. Ice hockey is available, but not in the way it is in places like Michigan, where players can head out to a frozen pond to shoot around. In New York it was much easier to play roller hockey, because you could play in the school yard, or local park with your friends. To this day if you wonder around the city you can still find guys playing pickup hockey in school yards on the weekend.
Joe and Brian Mullen grew up playing roller hockey in Hell's Kitchen New York. The brothers tore up the roller scene in the city in their youth and went on to have terrific careers in the NHL. Joe Mullen, played in 1,062 regular season games, and in that time recorded 1,063 points. The winger recalls what it was like playing roller hockey on the streets of The Big City growing up.

His brother Brian Mullen played 11 years (four with the New York Rangers) and recorded 622 points in 832 career games. The brothers were key figures in showing that skill in the roller game can translate to the ice.
Another big name that has some experience playing roller hockey in New York is Actor Tim Robbins. Robbins and some of his buddies would head out to William F. Passannante Ballfield in Greenwich Village to play some pick-up hockey on Saturdays and Sundays. In 2013 the actor and his friends tried to renew their permit with the New York City Parks Department, but were denied. People were said to be complaining about being "hit with pucks", so the city is trying to find the group a roller rink to play on.
What impresses me most is that the game has stayed intact in the city despite the collapse of professional roller hockey and some of the hardships that the NHL has endured with lockouts. The impression I get, is that the game has stayed strong for two reasons; the biggest being accessibility, and the second being economics.
Easy Access
One of the hard parts about playing ice-hockey in a city that doesn't have an abundance of rinks and leagues, is that it's difficult for children to get to the games unless they have a parent or guardian to drive them; so it's simply easier for kids to walk up the block to a school yard with a hockey stick and a puck to play around. The weather also factors into this as ice-hockey, or even ice-skating can only be housed in a few facilities around the city for large chunks of the year.
The beauty of roller hockey is that you can just stand outside and whip a puck at your garbage can with a few friends, without the hassle of getting out to an ice rink.
Economics
Another reason that parents and players could look to roller hockey over ice, has to do with the cost of playing. Today the cost difference isn't that drastic, but it's usually more expensive to join an ice-hockey league. Now for a youth to join a league, like the Aviator Sports Complex in Brooklyn New York, they would need to attend a 10 week course, if they haven't learned to play yet, which cost $285.00. Then to join an actual in-house league the cost would be close to $900 for the fall/winter season; and keep in mind we still haven't even gotten into the beginner equipment yet.
The alternative is roller hockey, where the sticks are less expensive, there is less equipment required to play, and you can skate in any park and mess around for free. Not to mention youth leagues like Fort Hamilton Roller Hockey, also located in Brooklyn New York charge, $100, per child for a season and offer free clinics to teach players the fundamentals.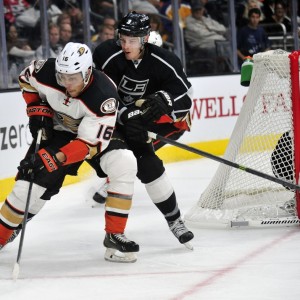 While Roller hockey has never really found a professional footing of its own, it has been a stepping stone for some players who are in the NHL today. Players like Emerson Etem, Bobby Ryan, and T.J. Oshie are just a few players who have had stints playing the roller game. The great part of having roller leagues located around the city is that it keeps young players learning the game. It might not push many players to the professional ranks, but it does provide an opportunity for kids to sharpen their skills, and for men and women it's a way to stay in shape.
Hockey doesn't always find a footing in cities, but when it does it should be embraced whether it's roller or ice.
Below are some leagues that I have found around the city with some links to sites. (I couldn't find any operational leagues in the Bronx)
Brooklyn
Queens
Manhattan
Staten Island