When the Lightning signed Ryan Callahan to his six-year $34.8 million dollar extension back in the summer of 2014, they expected to have a reliable two way player for years to come, but his game has become inconsistent lately.
Before we can set expectations for Callahan this year, we need to review his tenure with the Lightning up to this point.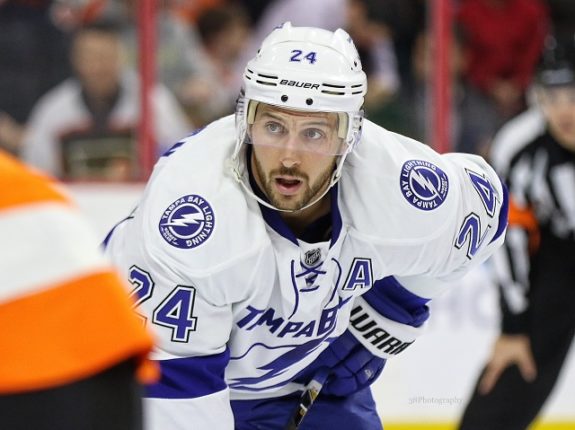 Callahan was a big part of the Lightning during his first season and a half with the team. While his time was limited to only 20 games in 2013-14, as he was acquired at the deadline, he helped lift the Lightning to the Stanley Cup Final the next season. Sadly, the honeymoon ended shortly after.
Even though the Lightning succeeded in 2015-16, Callahan struggled. His points dropped from 54 to 28 despite his ice time remaining relatively similar. I know there's a lot more to a player than his point totals, but that's a staggering drop off. And of course this past year Callahan struggled with his hip injury. He had two surgeries on it and only played 18 games in total.
With that brief summary out of the way, let's dive a little deeper into the variables surrounding Callahan's decline.
Less Ice Time with Steven Stamkos
This is the most obvious one. During Callahan's best season in Tampa, 2014-15, he spent 82.3% of his even strength ice time with Stamkos. The following year that total dropped to 45.7% due to the rise of youngsters such as Namestnikov, Palat and Kucherov. With how gifted Stamkos is as a player, this totally makes sense.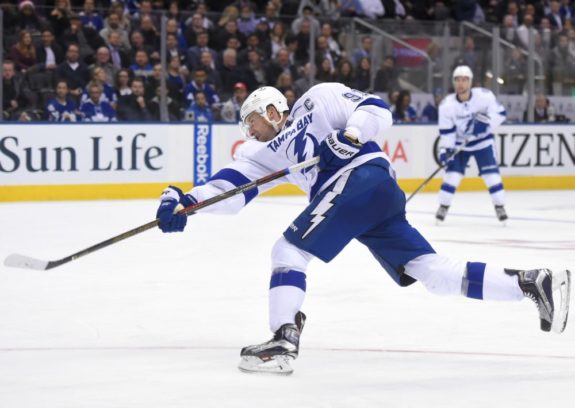 When you play with one of the most gifted players on the planet, you will score more points. It's exactly why Chris Kunitz was so successful during his time with Pittsburgh. He's a solid player, but Crosby undoubtedly lifted him into another tier.
So yes, it's safe to say that there's a strong correlation between TOI with Stamkos and points scored by Callahan, but that doesn't mean there aren't other factors at work here. After all, his points were almost cut in half. Surely something else hampered his stat line.
Declining Shooting Percentage & Changing Role
In 2014-15, Callahan scored a goal on 12.6% of his shots, and in 2015-16 that number was 6.4%. Shooting percentage typically wavers over the years, but a drop of nearly 50% from one season to the next is just bizarre.
In the few games he played last year, Callahan had a respectable shooting percentage (S%) of 9.1%, but that small sample means very little with a stat such as S%. So whether Callahan forgot how to shoot or was extremely unlucky is still up in the air.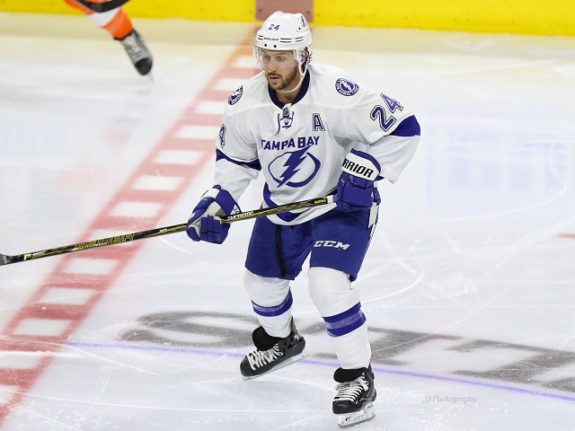 The number of shots Callahan took also sheds light on this topic, as he took 191 and 156 shots. First of all, it continues to explain the point decrease, but it also opens another door, his new role with the Lightning. While he's no longer as big a threat in the offensive zone, Callahan has the opportunity to be a very strong depth player for this team. After all he did see an increase in his blocked shots at even strength in 2015-16, 71 from 48.
Expectations for This Year
At his cap hit of $5.8 million, Callahan is the third highest paid player on the Lightning's roster. That's not great considering there's a good chance he's third liner this year, but it's not the end of the world. He can still definitely contribute.
Yes, he probably won't be back on a line with Stamkos, that's also okay. He doesn't need to be a 50 point guy anymore, or even a 40 point guy. A reasonable S% and quality play in the defensive zone should make Callahan a very solid option for the middle six, but if his play continues to decline, there should be calls for a buyout or trade. $5.8 million is a lot of money in a tight cap league like the NHL, so Callahan needs to make sure he let his game slack anymore.
All of Ryan Callahan's statistics in this piece came from Hockey-Reference.com.