After missing 10 games following a check to the head by Niagara forward Tom Kuhnhackl, Kitchener Rangers star defenseman Ryan Murphy has returned to the ice where he and his Rangers teammates have surged to the second best record in the OHL.
While the success of his junior team is certainly of the utmost importance to Murphy, there is likely something bigger weighing on his mind these days. That of course would be the oppurtunity to play for team Canada at the World Junior Hockey Championships.
The 18-year-old Aurora, Ontario native was one of 41 players, in particular one of 14 defensemen, invited to partake in the selection camp for the upcoming tournament. One of, if not the most electrifying blue-liners in the CHL, the inclusion of Murphy might be considered a no-brainer to some but a quick look at his competition could also suggest otherwise.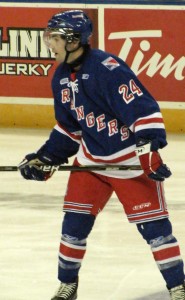 The competition is stiff and one thing working against Murphy is the fact that there are a handful of other offensively-minded defensemen in camp. Brandon Gormley (Moncton), Dougie Hamilton (Niagara), Nathan Beaulieu (Saint John), and Ryan Murray (Everett) all seem to be locks at this point to make up four of the projected seven available spots on the blue-line. That leaves Murphy and a handful of others all with high credentials of their own to battle over the remaining three spots, and while he is not a lock at this point, one of them is likely to go to the towering 6'7, 240 pound Jamie Oleksiak who plays for the Saginaw Spirit in the OHL.
One aspect working in Murphy's favour though is that for the past three years Canada has featured a player who's skill-set was very similar to his own. Ryan Ellis won a gold and two silvers during his three year tenure with the program and left as the highest-scoring defenseman in tournament history. His ability to quarterback the power-play and his all-around offensive prowess was heavily leaned on in all three of his appearances and is something that Murphy could be looked upon to provide this year.
It can be argued that Murphy's offensive skills are greater than those of Ellis but it can also be said that his penchant for turnovers and untimely pinches are greater as well. The first-round pick of the Carolina Hurricanes is an effortless skater with a superb puck-handling ability and a bomb of a point shot but he has often been described as a high-risk, high-reward type of player who can make a costly defensive lapse as well as he can create offense.
With the likes of Gormley, Hamilton, Beaulieu and Murray all good offensive players in their own right, it will be interesting to see what direction head coach Don Hay and his staff will go when filling out the remaining spots.
If Murphy can show at the selection camp that the high-reward part of his game far outweighs the high-risk part then he is likely to make the team. A failure to do so and team Canada might just decide to go without this incredibly exciting hockey player.