Prior to the Ontario Hockey League trade deadline, The Kingston Frontenacs General Manager Doug Gilmour sent top scorers Ryan Spooner and Tyler Brown to the Sarnia Sting. The Sarnia Sting will play in Kingston on Sunday January 29th in their only appearance at the K-Rock Centre.
Spooner and Brown were enjoying individual successful seasons despite the team's lack of success. Kingston is entering a rebuild era and it was a strategic move by Gilmour to trade his leading scorers who are in their final year of OHL eligibility. Spooner projects to be in the NHL next season with the Boston Bruins. In return for the services of Spooner and Brown, Gilmour acquired Ryan Kujawinski, and Jack Nevins.
Kujawinski is only 17 years old, and the former first round pick in the OHL draft is in his rookie season. "Ryan was the fourth player selected in this past year's OHL draft," said Doug Gilmour. "He has size, strength and a ton of potential," Gilmour announced on the Frontenacs web site. At 6'2", lbs he certainly has plenty of size for a 17-year-old. As for potential, in his eight games with Kingston, he has four goals, five assists for nine points. In Spooner's eight games with the Sting, he has three goals, and four assists for seven points.
For their overage captain Brown, Gilmour acquired rookie center Jack Nevins and a third round pick. "This is an opportunity we felt was beneficial for both clubs," said Doug Gilmour, General Manger of the Frontenacs. "Brownie (Tyler Brown) has been a great leader and player for our Club and we felt he deserved a chance to win a title in his last season. We wish him all the best," he added. Nevins, a Stittsville native will bring plenty of size and toughness to Kingston. The 18-year-old is 6'2", 212 lbs and has amassed a team leading 62 penalty minutes.
Sarnia is a team that will challenge for the championship this season. Lead by  Nail Yakupov, the Sting hope to go all the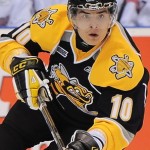 way to the Memorial Cup. Yakupov is ranked number one by the Central Scouting Bureau for the upcoming NHL entry draft. In 26 games this season, Yakupov has 21 goals and 53 points. Yakupov injured his knee in the Gold medal game of the World Junior Championships with Russia where he had nine points. Yakupov has not played since winning the Silver medal but is expected to play in Kingston.
While the Frontenacs have struggled to win and fill the K-Rock center this season, Sunday's game will provide plenty of story lines, emotion, and goals. It is without question, the marquee game of the season in Kingston.