The New York Islanders have an interesting group of prospects that are in their developmental stages and trying to earn a promotion to the professional level in the near future. While some Islander prospects are further along in their development than others, players such as Brenden Kichton, Andrei(y) Pedan, and John Persson seem to be figuring into the long-term plans of the New York Islanders. Even though Pedan and Kichton did not get a chance to represent their countries at the World Junior Hockey Championships, Ryan Strome and Johan Sundstrom have displayed their hockey skills as Team Canada (Bronze) and Team Sweden (Gold) battled to earn their medals.
Here's a bit of a breakdown of both players and their contributions during this year's WJC:
1.) Ryan Strome (1st Round, 5th Overall Draft Pick at 2011 NHL Entry Draft):
With the fifth overall selection at the 2011 NHL Entry Draft, Garth Snow decided to pick Ryan Strome even though names such as Sean Couturier, Mika Zibanejad, and Dougie Hamilton were still available. Snow's decision to select Strome could have been aided by the center's spectacular 2010-2011 season with the Niagra IceDogs, but the WJC is providing Islanders fans and brass with a snippet of the forward's potential and skill sets. Strome's 9 points (3 Goals, 6 Assists) in 6 games for Team Canada contributed to the team's success at the tournament and the forward finished second in terms of team points, trailing fellow teammate Mark Stone by only one point. Even though the gold medal round eluded Team Canada, they finished this year's WJC with a very respectable bronze medal and many players such as Strome illustrated that they had a positive outlook on things despite suffering a heartbreaking 6-5 loss to Team Russia:
"It's obviously not what we wanted," said Canadian centreman Ryan Strome. "We wanted to play for a gold-medal game…But we talked last night; we have something to play for still. We can go out here with a win and that's a positive. I'm really proud of this group. We've come so close and it's not good to quit now. There's so much to play for still. We're going to do our very best (today)."
Strome recorded a point in every game at the WJC except for Team Canada's last contest against Team Finland, but his dedication to his team and desire to finish the tournament on a high note spoke volumes about his character. Strome has a winning mentality and a good set of hockey skills, but there are some knocks against the center. Since Strome only weighs about 183 pounds, he will be expected to bulk up so that his 6'1″ frame is not knocked off of the puck very easily. While the centreman will have time to gain weight and adjust to playing with a couple of extra pounds, Strome's face-off percentages were not consistent at the WJC. Strome did not fare well in the face-off circle against Finland (1st match-up), USA, and Russia, but won more than 50% of his draws against Team Czech Republic, Team Denmark, and his second match-up against Team Finland (statistics are provided by iihf.com).
Like any prospect, Strome has some work to do. However, his totals with the Niagra IceDogs from this season (33 points in 24 games) suggest that the center should be ready for NHL play within the next couple of years. Garth Snow's rebuilding process is starting to turn a corner and Strome prominently figures into the plans of an organization that has much talent stockpiled and ready to blossom. Even though Strome did not record a point in Team Canada's bronze medal winning effort against Team Finland, the speedy and creative forward has dazzled many before his trip to the WJC.
Here's a clip of Strome putting on a display of his skills at training camp for the New York Islanders:
Strome can skate, he can shoot, and as evidenced in the highlight above, the center can definitely move well with the puck. Along with prospects such as Nino Niederreiter, Strome will be depended on for a good chunk of minutes once he makes his debut and becomes a mainstay in the NHL. While Strome can center a second line, the combination of John Tavares and Ryan Strome on one line can be lethal as both of the aforementioned players have great hockey IQs and an excellent sense of awareness on the ice.
Only time will tell what Ryan Strome's role will be once he makes it to the professional level. However, Garth Snow's intuition seems to be paying off as Strome used the WJC to show that he is a dedicated and talented player who will work hard when his number is called upon.
2.) Johan Sundstrom (2nd Round, 50th Overall Draft Pick at 2011 NHL Entry Draft):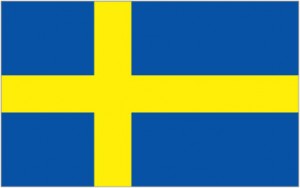 The other New York Islanders prospect at the WJC this year is a 6'3″ Swede by the name of Johan Sundstrom. Sundstrom is a versatile forward that can play both center and right wing and his 201 pounds will definitely help him stay strong on the puck. The Swede has also been praised for his all-around game, but there are some consistency issues surrounding the forward. However, Sundstrom tallied 5 points (1 Goal, 4 Assists) in 6 games played for team Sweden and was even branded as an alternate captain for his country.
While some might look at Sundstrom's statistics from the SEL league and be thoroughly unimpressed, the forward has shown that he is a reliable option when given ice time and responsibility. Team Sweden definitely enjoyed their stay at the WJC and many of the team's components (Max Friberg, Erik Thorell, Sebastian Collberg, and Johan Larsson to name a few) played at a high level throughout the tournament. More recently, Friberg and Sundstrom were part of some late heroics against Team Finland as Sundstrom picked off a clearing attempt by Finnish goalie Sami Aittokallio and fed the puck to an open Friberg who promptly tied the game in its late stages.
Sundstrom might not be the most spectacular or flashy player on the ice for Team Sweden, but he is an intelligent hockey player that can perform admirably in almost any aspect of the game. With the Islanders investing their future into young talent, it wouldn't be surprising to see Sundstrom wearing an Islander uniform in the next few years and delivering some solid two-way play. Nobody is expecting Sundstrom to develop into a premier scorer, but for a player with good reach and a good hockey IQ it wouldn't be too farfetched to see Sundstrom delivering solid all-around play on a second or third line for the Islanders.
While Sundstrom also has time to fix his consistency issues, he was entrusted to wear the "A" on his jersey for a reason. As an alternate captain, the Swedish forward has brought his A-game to the WJC and has made himself available to the media to discuss his team's play.
Here's an interview of Sundstrom after Team Sweden easily dispatched Team Denmark (courtesy of hockeysfuture.com):
Sundstrom was not shy about laying out a game-plan against a tough Russian team (a thrilling 4-3 OT victory by the Swedes) and was not shy when describing himself as a C/RW that likes to "work hard, throw hits, and shoot the puck". While the forward did not register a point in Team Sweden's 1-0 gold medal clinching game against Team Russia, the Swedish team as a whole dominated play throughout the night against the Russians as they held a whopping 58-17 shot advantage. Even though Team Sweden needed an extra session to best the Russians, the final billing of this year's WJC did not fail to deliver in terms of entertainment.
A future full of promising prospects.
Under the direction of Garth Snow, the New York Islanders have attained quite a number of promising prospects who could make an impact in the future. While Ryan Strome and Johan Sundstrom put their talents on display at this year's WJC, there are many prospects in the Islanders' system that will probably grow with the team. Brenden Kichton and Andrei(y) Pedan were left off of Team Canada and Team Russia's rosters respectively, but the players will be given every chance to develop into NHL products. Other prospects such as Brock Nelson, John Persson, Kirill Kabanov, and Kirill Petrov are also in their developmental stages, but Garth Snow seems to have a knack for spotting young talent that can help bring the Islanders back to contention in a very tough Eastern Conference.
For the meantime, Garth Snow has locked up the core Islanders (Tavares, Moulson, Grabner) and has not mortgaged the future of the franchise. Players such as Strome and Sundstrom should be able to contribute to the Islanders sooner rather than later, but the organization also has stock invested in goalies. Anders Nilsson, Mikko Koskinen, and Kevin Poulin are young goalies in the Islanders system that can prove to be very formidable players down the line, but a little bit more time in the AHL would not hurt the netminders. Kevin Poulin seems to be the most NHL-ready out of the bunch, but Snow has given all three of his goalie prospects a taste of NHL action at one point or another.
While the New York Islanders are a young organization, Garth Snow has drafted for the future and has selected key players that can add some much needed depth on the Island. Only time will tell if Snow's intuitions were correct, but the GM has stuck to his guns many times and remains dedicated to bringing the New York Islanders back to prominence.