It has almost been a week since the Buffalo Sabres named Jason Botterill as the eighth general manager in team history. Now that the team has filled that sizeable gap in the front office, it is time to turn our focus behind the bench and take a look at another pretty large gap – the head coaching vacancy.
Whether or not you buy into the narrative that Jack Eichel needs to be handled with kid gloves, there is a clear disconnect in the locker room that needs to be mended.
Elliotte Friedman reported in his weekly 30 Thoughts column that Botterill is not shying away from coaches who don't have NHL head coaching experience.
"It's not a necessity, but I do see it as a value. You can develop as an AHL coach, but the scrutiny from fans, media and organization at the NHL level, how do you handle that? The expectation to win is much greater. That said, I'm not going to limit who we look at."
With Botterill's connections, there are a few big names that have floated to the surface through his brief coaching search.
Rick Tocchet
Currently an assistant to Pittsburgh Penguins head coach Mike Sullivan, Rick Tocchet could be back in the head coaching spotlight shortly. His track record is not pristine but Tocchet has gained a lot of support and admiration throughout the league as an assistant coach on-and-off over the last 15 years.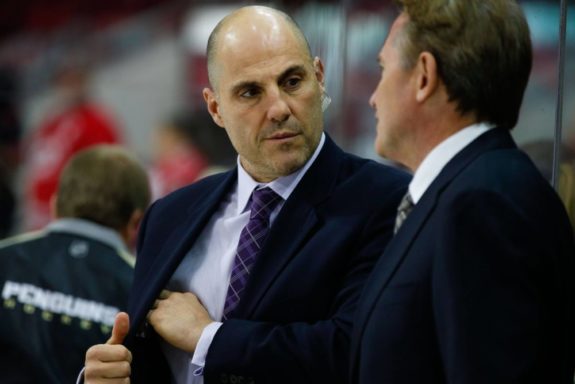 In his two head coaching stints, he amassed a 2-3-0 record with the Arizona Coyotes on an interim basis and a record of 53-69-26 with the Tampa Bay Lightning over two seasons.
Botterill worked with Tocchet in Pittsburgh and did mention to the Pittsburgh Post-Gazette that he would like to invite some old friends up to Buffalo.
"I'll certainly talk to some people. I wouldn't use the word 'raid' at all. There certainly are some people I'd like to bring up here."
The past work connections coupled with the rising star that is Tocchet's coaching career gives us a gut feeling that he'll at least be brought to Buffalo for an interview. A fun fact – Rick Tocchet finished his NHL career with 2,972 penalty minutes in 1,144 games. This puts him tenth all-time in league history.
A fun fact – Rick Tocchet finished his NHL career with 2,972 penalty minutes in 1,144 games. This puts him tenth all-time in league history.
[RELATED: Complete Sabres Salary Cap Information]
Phil Housley
There is nothing Buffalo loves more than former players returning in an important role with the team that once employed them. Remember all the long, drawn-out offseason discussions that had fans pining for the return of Jim Kelly but as the Bills head coach?
I digress.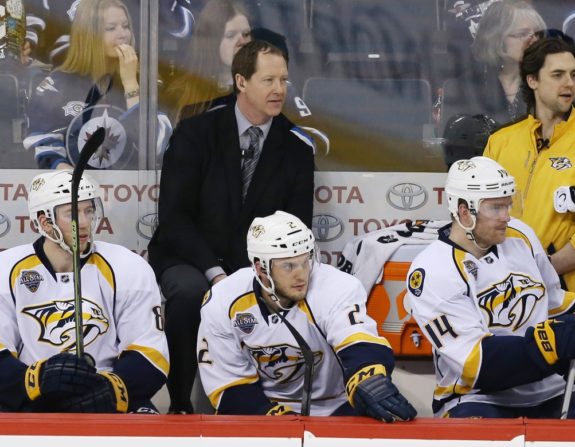 The good news here: Phil Housley is a legitimate head coaching candidate throughout the league and not just a feel-good story from the past. He was drafted by the Buffalo Sabres sixth overall in the 1982 NHL Entry Draft and played the first 608 games of his Hall of Fame career with the club.
Housley has been an assistant with the Nashville Predators since the 2013-14 season and has been racking up the rave reviews, coaching their defense over the years.
Predators defenseman Ryan Ellis raved about Housley's importance to their team's defense to Yahoo! Sports' Josh Cooper.
"Phil has been awesome. Since 'Day One' he came in here, I think for a lot of the D he was a similar player as the way he thought the game and I guess thought the game should be played. Just the little things talking with him day-in-day-out the knowledge that he brings. Obviously his numbers, his games played, his points all that stuff speak for themselves so it's easy to listen to a guy like that and take what he has to say and understand it and learn from it."
One thing Buffalo needs is a coach who understands defense, which has been evident these past few seasons. There is a lot of youth and inexperience on their blue line, which might put a defensive-minded coach at the head of the list.
Todd Reirden
Currently an associate coach for the Washington Capitals, Todd Reirden is another rising star in the NHL coaching ranks.
He has been responsible for the Capitals' defense and power play, both of which have been quite impressive during his tenure. A perfect example is shot suppression. Washington does a phenomenal job in that department, leading the league last season in suppressed shots.
He spent six years in the Penguins organization and previously coached for Wilkes-Barre/Scranton Penguins. In his time there, Reirden had 36 of his former players reach the NHL, including 15 defensemen. If you ask others, he "would be a perfect fit" for the open vacancy.
These are three of the numerous coaching candidates that will be interviewed for the vacant coaching position. There will not be a lack of talent available for the picking and it should not be very difficult for Botterill to make a splash with his first head coach hiring.