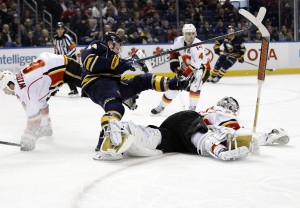 Just when you thought the Buffalo Sabres' season has hit rock bottom, it gets even worse.
On Thursday, they let the old faces of Jason Pominville and Thomas Vanek come back into town and skate all over them. A 7-0 loss to the Minnesota Wild was "embarrassing" and "disgusting," in the words of forward Nicolas Deslauriers — especially after the Wild scored just 10 goals in their previous six games (going 0-5-1).
But now they will have the chance to take the last place position in the league, in the hopes of the 1st overall draft pick in this year's draft, in more hopes of landing studs in either Connor McDavid or Jack Eichel.
The Sabres will host the Philadelphia Flyers on Saturday. A Sabres loss, paired with an Edmonton Oilers victory in Florida, would tie the Sabres and Oilers in last place, but Edmonton's nine ROW wins trump Buffalo's nine.
So, a 10th-straight loss for Buffalo wouldn't be the worst thing for its long-term future, but who wants to root for tanking? Not me, that's for sure.
Frustration Boiling
At this point, Sabres coach Ted Nolan is getting quite frustrated with his players. He's not sure what to do, because you can only change line combinations so many times before any team chemistry that exists disappears.
According to reports from Buffalo, the team had a rough practice on Friday, as Nolan made them skate — mostly without the puck — for about 40 minutes, with a stress on communication.
Maybe that will help in games, or maybe it won't, but in the end the Sabres are still the NHL's youngest team with several unproven and inexperienced players in this league.
Sabres doing breakouts with no pucks then they skate back hard. He also wants to hear loud communication.

— Paul Hamilton (@pham1717) January 16, 2015
On to Saturday 
The Flyers sit just 10 points ahead of the Sabres, but since they are in a different scenario (not in a complete rebuild), urgency has become high in that locker room with just 37 games left in the season.
Somehow, however, the Metropolitan Division's fifth-place team holds the league's top point-getter, in Jacob Voracek, who has 52 points (17 goals and 37 assists) in 45 games. Just over halfway through the season, he has scored more points than he has in any other season except last year (62 points).
The Flyers will be a team that comes into First Niagara Center angry, after a 4-0 loss to the Canucks on Thursday.