Oshawa Generals forward Scott Laughton is a player to keep an eye on this year in the Ontario Hockey League. The gritty two-way forward was selected third overall in the OHL Priority Draft, after captaining the Toronto Marlboro's Minor Midget team.
Laughton is 2012 draft eligible, and an early favorite to be a first round pick, and possibly even crack the top 15. His numbers in his first year with Oshawa didn't blow anyone away, registering just 23 points in 63 games. But despite the low production, he was still an important player for the Generals.
He possesses impressive size, which helps with his physical game. Standing at just over six feet tall, and weighing 170 lbs, he will need to bulk up slightly to fill out his frame.
Heralded as one of the tougher forwards to play against, Laughton likens his game to former Flyers captain, and current LA King Mike Richards. He is thriving in a shut down role, and his offensive game will likely follow.
He recently sat down with Dan Swallows and discussed his idol, and why he models his game after Mike Richards.
"The NHL player that I model my game after is Mike Richards because he is a leader and he does anything for his team to win. He's always there when his team needs him."
Laughton is determined, and it's incredibly impressive to see a young player valuing his leadership skills, and desire to win above all else. That doesn't mean however that those offensive skills are not there, they just haven't been the focus of his development thus far.
The offensive skills will need to be polished if he expects to be a first round pick however. He scored an impressive 55 goals while playing Minor Midget, and his offensive numbers will greatly increase during this up-coming season. He will be asked to play a bigger role, and will likely get more ice-time, being a second-year OHL player.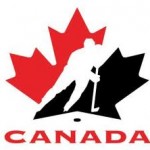 Scott Laughton was recently selected to play for Team Canada at the Ivan Hlinka tournament, where he will get to showcase his skills on the international stage. This will be a chance for him to play with some of the brightest young stars in the CHL, and will be a good indicator of what's to come this year. Generals head coach discussed what this means for Laughton.
"From a team perspective, it will be a great experience for Scott much like it was for Boone (Jenner) and Lucas (Lessio) last year when they represented Canada," he said. "He will come back with a new level of competitiveness into our camp later this month."
A reasonable expectation next year, would be a point per game for Laughton. It's unreal to think he has the kind of game that can translate into winning a scoring title, but he will stay consistently one of the toughest guys to play against in the OHL. He knows his two-way prowess will get him far, and he is not afraid to say it. Before ever joining the Generals, he knew what he wanted to bring to the team.
"What I hope to bring to the team next year is my grit, my leadership and how I play the game in both ends. I hope to contribute in any way I can whether it's winning draws or penalty killing."
Oshawa Generals forward Scott Laughton will need to take an offensive step forward in his draft year. There is no reason not to expect him to become dominant of the offensive side of the puck, and continue his strong play on the defensive side of the game.
Follow @PatrickKearns on twitter to talk prospects, and all things hockey.