Scott Laughton THW Close-Up:
Date of birth: May 30th, 1994
Place of birth: Oakville, Ontario
Ht: 6-0 Wt: 175
Shoots: Left
Position: Center
NHL Draft Eligibility: 1st time eligible in 2012
***
Click here for the live updated NHL 2012 Draft Preview Guide – The Next Ones – your quintessential draft resource.
***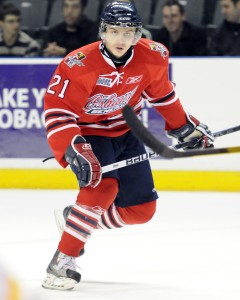 After a slow start this season, Scott Laughton, playing mostly on a line with Christian Thomas and Andy Andreoff, finished the campaign strong and is slowly turning into a quality two-way center. After a disappointing rookie season during which he recorded only 12 goals and 11 assists for 23 points in 63 games for the Oshawa Generals, Laughton finally started producing offensively in his sophomore year, just in time to make a name for himself and get the attention of NHL's scouts in light of the 2012 NHL Entry Draft. Laughton improved his numbers this season, notching 21 goals and 32 assists for 53 points in 64 games while racking 101 penalty minutes and posting a +8 plus/minus rating. Laughton was very good in the playoffs despite his team's early elimination, producing 2 goals and 3 assists for 5 points in 6 games, along with 17 penalty minutes.
While Laughton is not the most talented player of the draft, he is certainly one of the most combative and hard-working players available. Despite a relatively average frame, he plays a determined, physical and smart game while remaining valuable to his team in all situations. Laughton can also chip in offensively often enough to be a threat and garner power play time on the second unit. He is not afraid to block shots or take a big hit to clear the puck from the defensive zone.
While he certainly will never be a point-per-game player in the NHL, Laughton has good-enough offensive skills to produce on a relatively regular basis while neutralizing the opponent's best line. His shot is underrated as he tends to look too much for the pass, which is often a detriment to his offensive numbers. Laughton is not afraid to drop the gloves or deliver punishing hits in order to wake up his team or change the momentum of a game, but he could play a more disciplined game at times.
The Laughton you see now is pretty much the player you will get in a few years when he is ready to make the jump to the NHL. The two-way pivot needs to improve his skating, strengthen his upper-body and ameliorate his stick-handling as he tends to lose the puck easily.
Finally, the feisty forward could go from being picked 20 overall to being drafted in the middle of the second round.
Scout's Honour:
"A former 3rd overall pick in the 2010 OHL draft, Laughton struggled out of the gate this season as he wrestled for ice time on a deep Oshawa Generals team; even playing out of position at times to start the year. A coaching change followed by a much improved second half vaulted Laughton back onto the draft scene as he plays a character game and is extremely effective in the offensive zone. Laughton is a smart player, although slightly under-sized (he looks small on the ice) he competes hard for loose pucks, can generate and maintain a cycle and has good offensive zone positioning to make a play. Laughton has an under-stated shot and did not exercise it as much as he should have as he preferred to pass. Laughton played well in the Generals opening round playoff loss to Niagara, where he chipped in with points, but more importantly tried to assert himself physically, even engaging in a fight when his team was down 6-0 in game one; further illustrating his character and high compete level. Laughton put an exclamation point on his season as he was one of Team Canada's better players at the World U18 Championships. He played in a top six rotation and was a favourite of Coach Wallin as he played in all situations and was instrumental in helping Canada win a bronze medal. Laughton needs to get bigger and improve upon his overall explosiveness, however, he possesses many intangibles to be a good player, including superior hockey sense and high character." – McKeen's Director of Scouting David Burstyn Twitter account: @DavidBurstyn
***
"Scott Laughton may be the smartest, most competitive draft-eligible player in Ontario. His compete level, intelligence and hockey sense are without a doubt his best assets. He is the type of player who is willing to do whatever it takes to win, be it block a shot, make a strong back check or drop the gloves. He is extremely strong positionally and he shows an ability to be in the right place at the right time in all three zones. He thinks the game well both with and without the puck, and shows strong two-way play. On the offensive side, he has a strong, accurate shot that he can get off in small spaces. He reads the play well and shows some good overall offensive tools. Area's to work on are two-fold. First, he needs to continue to develop his offensive game. He reads the ice well and makes intelligent plays, however, I do wonder about his long-term offensive upside. I'm not convinced that he would be able to produce enough offensively to be a top-6 forward at the next level. Improving his individual skills, his puck handling and his ability to make crisper passes in all three zones will help. Also, he has some room to develop his overall mobility and agility. He skates well overall, however, his lateral east to west movement needs more development, along with his first few strides. He struggles with his breakaway speed, and needs to work on his ability to distance himself and break away from opposition defenders. He had a strong finish to the season, specifically at the World Under 18 Championships, where he was one of Canada?s top performers. Overall, Laughton is projected as a smart, two-way centre with the potential to be a leader at the next level. It should be expected to be a late first-round selection, but more-so a high second-round draft pick."  FutureConsiderations' Sean Lafortune Twitter account: @SeanLafortune
***
"I think Laughton is one of the more underrated prospects for this upcoming draft. He had a really solid second half of the season, but it was shrouded by the Generals disappointing season. But being one of Canada's most effective players at the Under 18's had to have really raised some eyebrows. He's a pesky guy that I'd compare favorably to Mike Richards. He does pretty much everything well. He's scrappy and fights for every inch of ice, especially on the forecheck where he's very effective. He's a good two-way player and face-off man. He sees the ice well and is an excellent distributor. He has puck skills and can make moves to beat defenders at his top speed. He has a good wrist shot which he can use in the slot or coming down the wing. Laughton is just a very solid player and I wouldn't be surprised at all if a team took him with one of their late first-round picks." OHL Prospects' Brock Otten 
***
"Scott Laughton is a good, physical two-way forward who isn't afraid to play a nasty style of game. He'll hit you, he'll fight you, he will outwork you and he'll never take a shift off. His work ethic and drive in general is outstanding. He's a solid two-way player who can produce on the powerplay and kill penalties. While his offensive abilities, and numbers, won't 'wow' you, he does have good vision and an above average skill set which should help him produce in a secondary role at the next level. He projects to be a good second-line center, or great third-line center in the NHL." The Hockey Guys' Todd Cordell Twitter account: @ToddCordell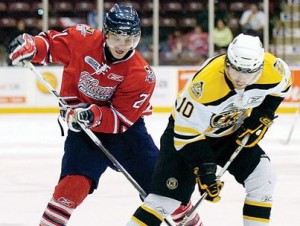 Statistics:
Bio/Interview(s)/Link(s):
• Scott Laughton on being named to be part of Team Ontario's World Under-17 Hockey Challenge Roster
International Tournaments:
2010-11 Canada, Ontario U17 – 5 games, 2 goals and 2 assists for 4 points
2011-12 IIHF World U18 Championships – 7 games, 2 goals and 5 assists for 7 points
ETA = 3-4 years
Risk-Reward Analysis:
Risk = 3/5 Reward = 4/5
NHL Potential:
Second or third line center
Strengths:
• Great two-way player
• Accurate and quick slap shot
• Feisty and combative player not afraid to hit or drop the gloves
• Excellent defensive positioning and awareness
• Extremely effective along the boards
• Intelligent player with good offensive instincts
Flaws/Aspects He Needs To Work On:
• Needs to improve his skating and first few steps
• Needs to bulk-up (add10-15 pounds) and strengthen his upper-body
• Needs to improve his face-off skills even if they are already good
• Needs to be more disciplined
Fantasy Hockey Potential:
Offensive = 7/10 Defensive = 9/10
NHL Player(s) Comparison:
– Kyle Brodziak
– Brad Marchand
Video(s):
http://youtu.be/5Jal1kRjjz8
Scott Laughton dropping the mitts against Matthew Campagna
Oshawa Generals prospect Scott Laughton speaks with Yahoo! Canada Sports
Follow Fred Poulin for all your 2012 NHL Draft prospect needs and get more information on the NHL.
THW's The Next Ones prospect profile template design architect: Chris Ralph