Sebastian Collberg THW Close-Up:
Date of birth: 2/23/1994
Place of birth:  Mariestad, SWE
Ht:  5'11″ Wt: 174
Shoots: Right
Position: RW/LW
NHL Draft Eligibility: 2012 1st year eligible
THW Ranking (May): 15th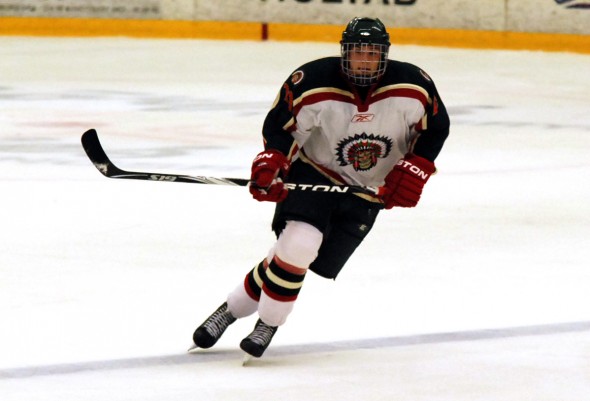 *Click here for Notes Up Front for various topics covered below in the live updated NHL 2012 Entry Draft Guide – The Next Ones home page – your quintessential draft resource.
***
Perhaps no 2012 NHL draft eligible prospect elevated his stock more with international tournament play than Sebastian Collberg. Next to Nail Yakupov, Collberg was the most effective first year eligible skater at the World Junior U20s in Calgary, outplaying his more highly touted countryman  – Filip Forsberg. At this spring's WJC 18s, he was equally up to the task, being named one of his country's three best players and was tied for fourth for the tournament's scoring league.
There is no shortage of reports on Collberg's top hockey skill – his lightning quick release and explosive shot. His release and shot might indeed be the best in this draft, although Yakupov might have something to say about that.
He is first and foremost, a goal-scorer. The Swedish sniper possesses high-end hockey instincts, able to create his own chances. Augmenting his pro-calibre shot is his speed and skating. Collberg is seemingly effortless out of the blocks and has very good top end speed. He is also quite agile on his skates.
The Collberg hockey story continues to build as to go along with the aforementioned shot and skating ability, Sebastian is a calm and collected competitor. He has good puck skills and when presented with a breakaway or shootout attempt, he has tremendous confidence in his ability to find twine. As well, Collberg has shown the ability to play at his best, the bigger the hockey stage.
If there are any concerns about Collbergs's game, it is if he will have the strength to play at the NHL level. My feeling is that the team that drafts him will have to have patience. If left to develop appropriately, Sebastian will undoubtedly find a way to make an impact in the big league. I do somewhat understand the concerns that he has to build strength. The size concerns do baffle me, however. The kid is 5'11" and simply needs to time to build his strength with an optimal training and conditioning regimen. Collberg will also have to work on his consistency.
Like any goal-scoring winger, Collberg will benefit from playing with a playmaking centre. At this point in his career, Sebastian's hockey instincts leads to him creating more offense for himself than his teammates. Nevertheless, I could also see him developing the playmaking part of his repertoire more effectively in the future.
Where will he end up in June: While I have him ranked 15th overall in my current Top 120 rankings (May, 2012), I had him landing in Calgary at 14th overall in my Memorial Cup Edition Mock Draft. He'll likely land anywhere from 11th to 20th overall.
***
In His Words:
I had the opportunity to talk with Sebastian on a couple of occasions including right after Team Sweden's historical and dramatic 2012 U20s World Junior gold medal victory. In describing how it felt to win the gold medal and watching Mika Zibanejad's brilliant championship clinching goal, Collberg let loose a series of  "It's an amazing feeling!" and "Oh my God!". Beyond that we were able to have a quick question and answer session.
CR: What was the experience of playing in Canada like for you?
SC: It was absolutely great. The smaller rinks; it's something you have to adjust to if you want to make the NHL.
CR: Would you consider the CHL as a developmental route or plan on stay in Sweden to hone your skills?
SC: No, I haven't thought so much about that. I think I'm going to stay in Sweden to develop my game.
CR: Any current or former NHLer that you pattern your game after?
SC: I would say Alexander Ovechkin. I like him very much; he's kind of my idol. I've watched his play a lot.
CR: Could you describe what you think are some of the strengths of your game.
SC: I'm a good skater out there. I have good skills with the puck and I also have a great shot.
CR: What do you need to focus on improving?
SC: My strength. I need to get heavier and stronger.
CR: Apart from hockey, what do you like to do away from the rink?
SC: I like to play golf in the summer. I used to play football [soccer] when I was younger, but not anymore.
CR: Do you know anything about Ufa, Russia [site of 2013 World Juniors]?
SC: Laughs. No. But I do want to be there in 2013!
***
Scout's Honour:
Collberg possesses a great mix of blazing speed and and incredible shot, a combination that makes him lethal coming off the rush. Despite his small frame, the Swede isn't afraid to take the puck in and out of the dirty areas. His production this year is by no means an accurate representation of his upside at the NHL level. In fact, his performance at the 2012 World Junior Championship is a better gauge of what's to come in North America for Collberg.
Aaron Vickers, Managing Editor – Future Considerations
*FC's 2012 Draft Guide now available
***
Sebastian Collberg is a very exciting player with great speed and hands. I love the way he darts into small openings in the offensive zone without hesitation.  He is very capable of creating chances on his own but can really raise the skill level of his linemates. He needs to put on some weight and improve his power to be effective at the next level.
Ross MacLean,  Head Scout – International Scouting Services
***
"Offensive forward who owns one of the quickest releases in the tournament. As soon as he has the puck on his stick in a scoring area, looks up and takes a shot. Very good shot placements, and rarely missed the net. Played a good game along the walls, but can be improved on. Will definitely need to get stronger to be successful at the higher levels. Defensively, looked very engaged and used his stick effectively. A good skater that needs to improve on his overall speed."
– Mark Edwards,  Founder and Director of Scouting at HockeyProspect.com (at the 2012 World Juniors U20s)
*Watch for their 2012 NHL Draft Black Book to be released soon.
***
"A very entertaining forward with great skills and good speed. His biggest challenge as a player is his lack of size and strength. He was very good in the WJC, but playing among strong men in the Swedish Elite League, his shortcomings became pretty evident.  Didn't score one single point in 39 games with Frolunda. He didn't have a lot of ice-time, but didn't shine when he got the chance to play. There's no denying his talent, but he is a long-term project in terms of what he needs to do to take his game to the NHL level. The good part is that the skill and talent he has is something that can't be acquired, while strength is."
– Uffe Bodin of The Hockey News and HockeySverige.se
Statistics:
Bio/Interview(s)/Link(s):
International Tournaments:
2012 World Junior U20s: While Collberg's potential was never in doubt, his ability to have such a positive impact on this tournament was surprising to most. The speedy sniper notched 4 goals and 3 assists for 7 points in 6 games. Add in two super-slick shootout goals to round out his impressive performance. Although he will be likely be drafted behind countryman Filip Forsberg come June, he definitely outplayed Forsberg on this stage. I had him ranked second in the WJC wrap-up article:  World Juniors: Top 10 2012 NHL Draft Eligible Prospect Performances.
2012 World Junior U18s: While Team Sweden could not duplicate their U20s gold medal performance, Collberg et al did come away with a silver medal. Collberg was named one of Sweden's top 3 players for the tournament. He tied for the lead in team scoring, finishing tied for 4th overall amongst the U18s' leading scorers.
ETA = 3 years
Risk-Reward Analysis:
Risk = 1.5/5   Reward = 4.5/5
NHL Potential:
1st or 2nd line winger
Strengths:
*See "THW Close-Up" section above.
Shot and quick release
Skating and agility
Puck skills
Puck Poise
Breakaway and shootout ability
Elevates his game when it matters most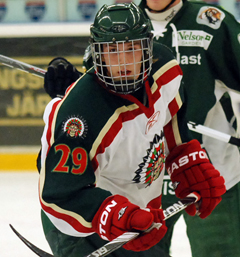 Flaws/Aspects He Needs To Work On:
Continue to train to increase strength and add mass to frame to handle the rigors of the NHL.
Continue to develop his defensive zone acumen.
Consistency
Fantasy Hockey Potential:
Offensive = 8.5/10   Defensive = 6.5/10
NHL Player(s) Comparison:
– Jeff Skinner
– Hall of Fame comparison: 5'11"; dangerous shot; right-winger; Swedish – have to toss Daniel Alfredsson's name out there
Video(s):
Off The Iron (Interesting Notes):
Sebastian was drafted #124 overall in the 5th round by Avangard Omsk in the 2011 KHL Draft.
Worth Retweeting:
Dansk, Hampus Lindholm and Collberg are the players of the tournament for Sweden.

— Hockey's Future (@HockeysFuture) April 22, 2012
***
THW's The Next Ones prospect profile template design architect: Chris Ralph
***
Christopher Ralph is THW's prospect and draft analyst as well as a managing editor.
*Follow ChrisRalphTHW on Twitter as he infiltrates, dissects & analyses all happenings of hockey prospects & the NHL entry draft.