Jim Neveau, Senior NHL Columnist
When Colin Campbell was in charge of dishing out discipline for the NHL, he was often mocked for seemingly using a random system that didn't ever satisfy anyone. The term "Wheel of Justice" was used in a condescending swipe at Campbell's inability to ensure consistent discipline, and even though he would never admit it, these criticisms probably played into his decision to step down from the office at the end of the season last year.
During the playoffs last year, former NHL star Brendan Shanahan was picked to be the new Senior Vice President of Player Safety, and there was hope throughout hockey circles that he would bring some respectability to an office that had taken more slings and arrows than anyone since Goliath. What most people failed to predict was not only the amount of suspensions he would have to level this early in his tenure, but the length of those sentences.
The first batter up to the plate against Sheriff Shanny was Calgary Flames forward Pierre-Luc Letourneau-Leblond. He was banned for hitting Matt Clackson of the Vancouver Canucks from behind, receiving a five game suspension, including one regular season game. Shanahan set a precedent that he has followed since on this hit, releasing a video explaining his rationale for the suspension. He was lauded in hockey circles for his transparency, but he was just getting warmed up.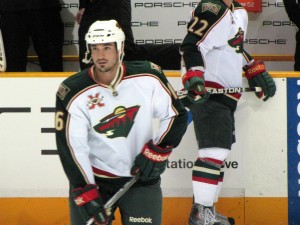 Jody Shelley of the Philadelphia Flyers was next on the firing line for Shanahan, who suspended him for 10 games (5 preseason, 5 regular season) for drilling Maple Leafs F Darryl Boyce from behind into the boards. Factoring heavily into his decision was the fact that Shelley got suspended for a similar act last season when he hit Adam McQuaid of the Bruins during a puck chase on an icing. Once again, the move was met with approval, and once again the fun didn't stop there.
Yesterday, Buffalo Sabres F Brad Boyes was given a two game suspension for hitting Joe Colborne of the Leafs in the head. Shanahan's video explained that while he believed Boyes did not deliberately target Colborne's head, the hit was a violation of the league's revised Rule 48 on headshots.
Finally, today saw the two more huge suspensions, with Brad Staubitz of the Wild receiving a ban for the rest of the preseason and the first three games of the regular season for his huge hit from behind on Columbus' Cody Bass. Bass lay on the ground for several minutes afterwards with injuries to his face, and Staubitz received a game misconduct for the play. In the same game at the end of the third period, Columbus defenseman James Wisniewski leveled Wild F Cal Clutterbuck after the buzzer with a vicious elbow to the head. Shanahan gave Wiz his harshest suspension yet, a ban for the rest of the preseason and for the first eight games of the regular season on the play.
In what has been a busy opening week for the NHL's new discipline czar, there are plenty of questions that have arisen. The one thing that cannot be questioned is that Shanahan is serious about giving out fair and tough discipline, and that above all else is something worth applauding. For many years the league has suffered from a reputation as being lacking in its ability to properly punish its players, but anyone leveling that accusation at the current regime either isn't paying attention, or they have some other agenda at play to criticize the league no matter what.
Before we get to broader questions that are going to face Shanahan moving forward, some discussion should be made of the bans that Staubitz and Wisniewski received. For your benefit, here are the videos that Shanahan released discussing the suspensions:
Here is the video of the Staubitz explanation:
And here is the video of the Wisniewski explanation:
Now that you've had an opportunity to see both plays, there are a couple of things that immediately jump out. On the Staubitz hit, you have a guy who made that play with a complete disregard for Bass' safety, and that is completely unacceptable. Staubitz clearly wanted to injure Bass, and it isn't often that you see such a foolish and blatant play as you did in that situation. While guessing intent is always an inexact science, the intent was unmistakeable there. Similar to what Matt Cooke did to Fedor Tyutin last year in Columbus, Bass' numbers were to Staubitz for so long that you can't draw any other conclusion.
On the Wisniewski play, his history of this type of reckless play has to be held against him. Obviously his suspension for an inappropriate gesture last year is irrelevant in this instance, but the play that Shanahan had to keep in mind was Wiz's attempt to separate Brent Seabrook's head from his body on a play a couple of seasons ago. He jumped into the hit and deliberately went after Seabrook's head on the play, and he got an eight game suspension as a result.
On this play, it was obvious that the whistle had blown, so there is no argument that could be made that he was trying to make some sort of hockey play. The only "excuse" that has any potential to be valid is that Wisniewski thought that Clutterbuck was trying to come after him in retaliation for an earlier play (as explained in Shanahan's video), but even in that case, Wisniewski seemed to be looking at Clutterbuck's head, and the fact that his elbow came up to make contact with the oncoming skater's head does not bode well for him in the eyes of the league. Wisniewski has a history of attempting to injure opponents that have sinned against him in some way, and this definitely seems like another one of those instances.
As for the lengths of the suspensions, they are both tougher than we're used to, but both are fair. If anything, Staubitz could have been suspended for another game or two and there wouldn't have been a lot of opposition to it, simply because of the level of violence of the play. Wisniewski's may not have been as severe as ramming someone face-first into the boards, but even still, an elbow to the head has taken many players out and caused them to miss games, with guys like Marc Savard being one of the more serious victims.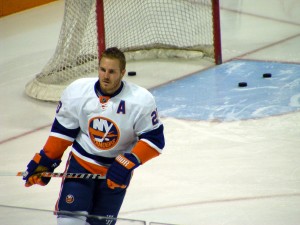 Shanahan's decision-making has been largely sound so far, and even though it would have been understandable if he had taken a little bit of time to get his feet under him, he has hit the ground running in a big way. There is still a long 82 game season yet to be played, however, and that is where other questions about the opening term of Sheriff Shanny's career come up.
Having already answered questions about how he will handle repeat offenders, how will Shanahan handle a player who has never had a problem with discipline? Is he going to rely on other factors, such as what he feels the intent was or the scale of injury suffered by the victimized player? Is he going to be significantly more lenient on guys with no track record? What if the first time player is a star like Sidney Crosby or Jonathan Toews? Is he willing to pull the trigger on banning a guy who has a way bigger impact on his team than a goon like Shelley does? Obviously we would like to believe that Shanahan will use the same measuring stick on all players, regardless of status or meaning to his team, but until he is tested in those ways, it will be the subject of much conjecture and discussion.
Another big question facing Shanahan will be what he does with guys who aren't your run of the mill repeat offenders. Guys like Matt Cooke and Trevor Gillies will undoubtedly face tighter scrutiny this season, but if one of them does the seemingly inevitable and commits an egregious offense, just how severe will Shanahan be? Of course it will depend on exactly what the player does, but if he's willing to give a now four-time offender like Wisniewski eight games off, how many will be enough for Cooke? 15 games? 20? That will be another stern test for the Sheriff, and one that has the potential to define his legacy in his first year on the job.
The old adage (are there any other kind?) goes something like "you never get a second chance to make a first impression." Brendan Shanahan seemingly has taken that advice to heart, and he has put the entire league on notice that he will not tolerate this type of behavior, and even though he will likely stay busy (both Tom Sestito and Max Talbot could be hearing from him after incidents in the Rangers-Flyers game Monday), he has aced his early tests. The real question is whether or not he can continue to live up to the lofty expectations that he is generating with his early decisions.