This is the time when a writer has to eat his own words.  I entirely bought into the Sharks fast start and called it different than the fast start of 2012-13.  If I ever offer you any advice on your stock portfolio, politely decline and slap me across the face.  The Sharks losing streak has climbed to five.  While they have earned a point in four of those games, Team Teal looks a far cry from their shimmering results in October.  But should Todd McLellan hit the panic switch? In short, no.  But he may want to keep it close at hand the Sharks losing streak continues.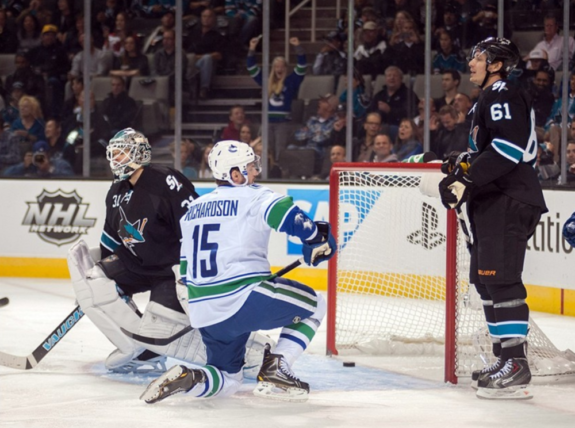 Sharks Losing Streak Follows Burns' Departure
Seven games ago, the Sharks were being called the best team in the league.  There was no contest in power rankings on who was on top.  But then, Brent Burns disappeared.  7-0-1 with him and 3-2-4 without him.  He took a puck to the mouth in a 6-3 whacking of Calgary.  He complained of sore games and sat out the next game… then the next… and every single one since.  The Sharks' brass has been quiet on what is going on and it stands to wonder if something more serious is wrong.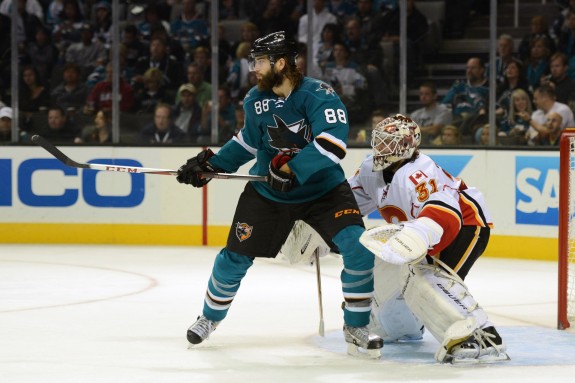 There is no doubt that the Sharks losing streak has been partly a product of the previously hairy man's absence.  His dominance with Tomas Hertl and Joe Thornton was well documented.  His game is likened to a bull in a china shop.  At 6 foot 5 and 220 pounds combined with his deadly speed, he's a heavy burden on opposing defenses.  The unique blend of passing, hitting, and scoring that the Thornton-Burns-Hertl combo created was deadly.
But his injury has left a major hole that resonates through the offensive lines as well.  With Burns down, Tommy Wingels, Matt Nieto, and Tyler Kennedy have all spent time on the second line.  This has jumbled the lines below them.  Joe Pavelski's third line has suffered without Wingels' gritty and headstrong pressure.  Nieto doesn't have a true home on a line yet as he keeps getting tossed between the scoring lines.  The inconsistency has hurt San Jose in multiple spots on the roster.
Niemi Comes Back Down to Earth
The Sharks lean heavy on their starting netminder.  And, like any athlete, he is happy to play as many games as he can.  I don't doubt that he'd play all 82 given the opportunity.  Before the Sharks losing streak, Antti Niemi was the toast of the goaltending crowd.  He earned the third star of the month of October with a 1.72 GAA and a .924 save percentage. But he suffered his first sub against the Canucks last week.
4 goals in 25:22 and McLellan is pulling Niemi for the 1st time this year. Bieksa's 68 foot unscreened blast made it 4-2 VAN. Stalock in

— Jamie Baker (@Bakes_Jamie13) November 8, 2013
While he has struggled, his coach has not bought into any of the "tired talk."
"The interesting part about Nemo is the most rest he's had, has been in the last 10 days, and he hasn't been as sharp. As soon as Alex [Stalock] played (on Oct. 27 in Ottawa), Nemo had a couple days off, [we] come back into LA, not as sharp. We haven't been playing every second day, so I think the exact opposite of what you're suggesting. Exact opposite." –Todd McLellan
Whatever is going on with Nemo, he has not been sharp.  He has given up four goals in four of the last five games.   Six games ago, Alex Stalock impressed with a solid performance against Ottawa and won handily 5-2.  That game was the last glimpse of the confident Sharks that opened the season on fire.  While the Finn is a major component to this team, he must be held accountable.  Benching him may help send the message to bring the Nemo we all know and love back.
Bright Spots in the Dark Times
The play of two young forwards has been cause for hope as the Sharks continue to struggle.  Tomas Hertl and Tommy Wingels have developed a knack for finding the net and impressing their coaching staff.  While Hertl is not reeling off four goals every game, he has continued to produce at a very good pace for a rookie.  He leads all rookies in goals (10) and points (16).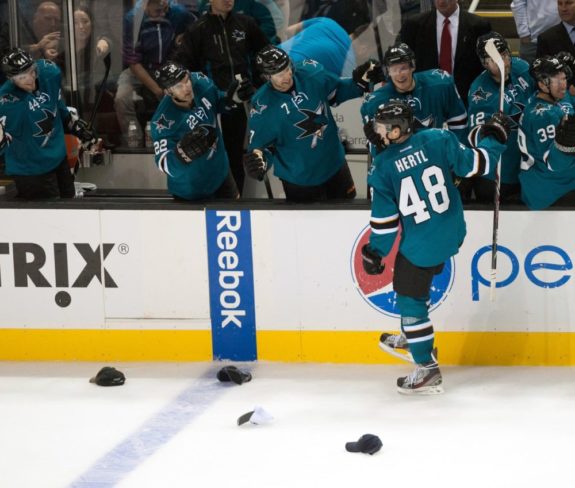 As of the 12th of November, Hertl will no longer be eligible for his "Teenage Mutant Ninja Hertl" nickname, but the kid has exceeded all expectations so far.  TSN projected him to have a 19G, 19A season.  He is already halfway to that goal mark and is only 17 games in.  The Sharks losing streak hasn't slowed his offensive output as he puts a .94 points per game clip on the board.  That has him in the top 50 for the entire league.  While offense has not been the biggest problem during the Sharks losing streak, Hertl has still found time to shine.
And, as mentioned before, the offensive production has seen a new face.  Tommy Wingels has stretched a point streak to six games!  Who?  Tommy Wingels?  Yes, the third/fourth liner of yesteryear has proven his worth this season.  5 goals and 8 assists are enough to warrant a move up to the second line with his captain.  He has been a melting pot of the Sharks stars, really.  A little of Torres' grit, a dash of Burns' speed, and a bit of Pavelski's reckless abandon have made for a very fun kid to watch.

Don't Fall Off the Fan Train Just Yet
San Jose is in dire straits right now.  But these games are indicators of how every team in the NHL is fully capable of winning against anyone else.  The Sharks losing streak is cause for worry, but not full blown panic.  When Burns returns, he will sure up some of the offensive inabilities.  The defense is far too good to allow these mistakes to continue.  And last, Niemi will bounce back, he wasn't nominated for a Vezina for nothing.  Every team is bound to hit a rough patch.  With their fantastic coaching staff, the Sharks will return to form.  And they need to in order to keep up in this deadly Pacific Division.