There isn't a doubt that Shea Weber is one of best defensemen in the NHL. He puts up a ton of points from the backend, 23 goals and 56 points isn't an easy feat for any defensemen. What makes it harder is playing in a defense-first system under Ex-Head Coach Barry Trotz. With Zdeno Chara beginning to get up there in age, I'd love to see if Weber can finally take him out in this year's hardest shot competition at the All-Star Game in Columbus, Ohio. Finally, Weber is just an overall force on the ice, he is always making huge hits, big-time defensive plays, and his leadership on and off the ice is fantastic.
https://www.youtube.com/watch?v=PoLsMjG9pTU
Norris History
Since Weber broke into the league in the 06-07, he's never won the James Norris Memorial Trophy once. Weber has been nominated three times over the course of the last three full-seasons. P.K. Subban won the Norris during the 48 game lockout-shortened season.
It raises a number of questions about why Weber hasn't been able to win the one individual award he probably should have won by now.
In 2011 when he was nominated for the first time, it was understandable why Weber lost, as Nicklas Lidstrom who ended up winning, was in the final year of his career and had a fantastic season for someone his age. In 2012, Weber was just flat-out unlucky, as I'm sure we all remember when (Now Ottawa Captain) Erik Karlsson broke out offensively that year putting up 19 goals and 78 points. Weber also had a great year as he posted a 49 point campaign, however it just wasn't enough, as Weber was once again forced to fiddle with 2nd place.
Last season, between Weber, Zdeno Chara, and Duncan Keith, probably any of them could have won the Norris and nobody would have complained. Keith ended up winning with Chara finishing in 2nd, and Weber rounding out in 3rd, as he once again wasn't voted for as the league's top defensemen.
https://www.youtube.com/watch?v=VjZhGDkKGJU
Problematic Factors
Those were the players who beat Weber out, however there are other reasons why Weber hasn't been able to bring home the hardware.
One would be that he plays in Nashville. It's not that Nashville is a bad hockey market, if anything the Preds are really starting to build a solid foundation of fans and good service to the community. The problem is trying to compete with other players who play in such big markets like Chicago and Boston for instance, where they get so many more prime-time games, and media service. It's not like people around the hockey world don't know who Shea Weber is, it's just natural that when you see a certain player more, then you begin to notice all the little actions they blend into their game. People aren't able to see all the little things with Weber because of just that reason.
The next problem is winning. As good of a player as Weber is, if the team you play on doesn't win, then you as a result won't win anything, whether it be the Stanley Cup, or an individual award. A couple of seasons ago, Nashville was winning, as for two years in a row, they won their first ever playoff series against the Anaheim Ducks in 2011, and then against the Detroit Red Wings in 2012. Coincidently, those were the years where Weber finished 2nd in the Norris race. If Nashville can get themselves back into the playoffs, and Weber is the main cog that gets them there, he easily becomes a surefire contender for the Norris.
https://www.youtube.com/watch?v=ejTaoeOuqOQ
A New Defensive Partner
Now it's also fair to say that during those earlier years, Ryan Suter still played for Nashville, where he helped Weber a ton on both sides of the puck. During last season, Weber alternated with Seth Jones, and Roman Josi until later in the season, where Weber found a good mesh with Josi, and they turned into a great defensive pair for the Preds.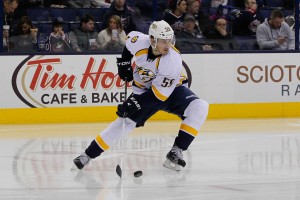 Josi is only 24-year-old and he also accounted for 40 points last season. If those two find the same chemistry out of the gate, then Weber should be in prime form for a Norris caliber season.
Weber is still going to have to fight off the likes of P.K. Subban, Drew Doughty, Duncan Keith, Erik Karlsson, and I'm sure many others to achieve the award that's escaped him for the past four seasons. Weber has had this award pointing in his direction for a long-time coming, and it's time for him to claim it.
Like/Dislike? Leave a Comment below!