The Edmonton Oilers yet again find themselves sitting and watching another edition of the NHL playoffs rather than participating.
What is unfortunately becoming all too common, the Oilers management do not find themselves preparing for an upcoming game, but rather another lottery pick in June's NHL Entry Draft.
As a team the Oilers have not enjoyed as much recent success as most had hoped, however they have managed to put together an impressive crop of young talent from recent draft lottery picks.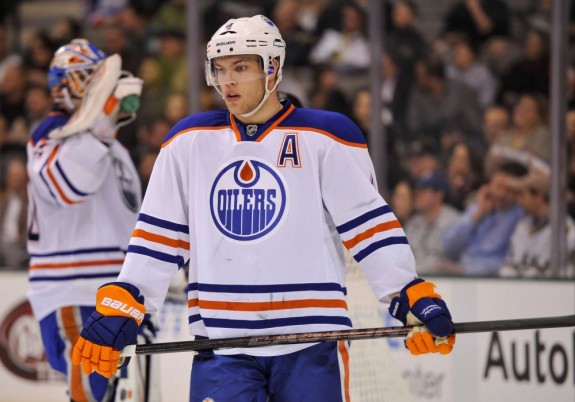 Taylor Hall – 1st overall – 2010
Ryan Nugent-Hopkins – 1st overall – 2011
Nail Yakupov – 1st overall – 2012
Darnell Nurse – 7th overall – 2013
A look back over the last four drafts and while it's too early to tell just what kind of grades the Oilers would get, early indications are for the most part they have done well with the individuals they picked.
Hall is already one of the NHL's top wingers and most dynamic players, and although Nugent-Hopkins has had some injury issues and is still progressing, he looks to have the makings of a legitimate No.1 NHL centre.
The jury is still out on Yakupov, who has underwhelmed in his two seasons, and is the question mark amongst those four names at this point.  He too has had some injury issues and has played just 111 NHL games, far too early to label a bust. Next year will be a pressure year for him, as the critiscm is starting to come that the Oilers shoud have taken Ryan Murray, who went second to Columbus two years ago and is excelling in his rookie season.
Nurse has yet to make an NHL debut, but there is nothing to suggest at this point he wasn't worthy of the Oilers #7 pick and won't be a mainstay on the blueline for years to come.
While GM Craig MacTavish appeared open to trading his 7th overall pick at last year's draft, a deal did not materialize. He is in a similar spot this year, with another high draft pick and a decision to make.
KEEP THE PICK
Should Barrie Colts defenseman Aaron Ekblad be available at the third pick, then you can stop reading right here. It's a no brainer, the Oilers should snatch him right up.
Unfortunately that is very unlikely and all indications are that he should go in one of the top two spots, but stranger things have happened. Afterall just last year Seth Jones, who was rated #1 for most of the year, slid to Nashville at 4th. However it's doubtful to happen two years in a row.
Even so, assuming Ekblad is gone, that doesn't necessarily mean there isn't a player MacT wants. He has publicly stated that they will not automatically take a defenseman with the pick, largely because they believe they are deep in prospect defenseman and have other areas of need as well.
Barring something unforeseen, Sam Gagner will likely be moved and open a spot at the No. 2 centre position. Even if he stays, he is not the long term solution there for the Oilers.
The next four rated players are all centres with that kind of upside. Sam Bennett (Kingston, OHL), Sam Reinhart (Kootenay, WHL), Leon Draisaitl (Prince Albert, WHL) and Michael Dal Colle (Oshawa, OHL) bring different skill sets, but all have the upside of a top two NHL centreman.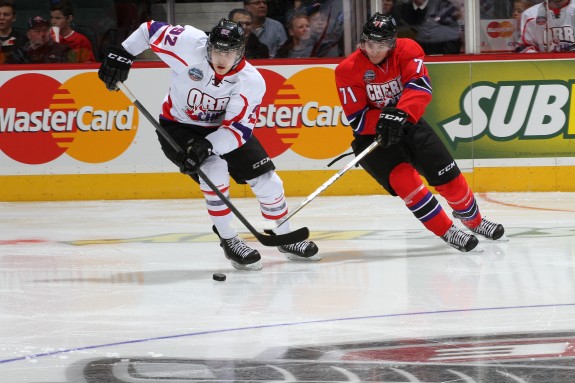 Option one would certainly be Ekblad, but if he is taken one of the aforementioned centres could fit in ideally behind Nugent-Hopkins long term.
Reinhart is the most offensively talented of the group, and his awareness is off the charts. Bennett is a skilled two way centre that plays with an edge and has been compared to Jonathan Toews. Both players though are a little on the small size.
Draisaitl has perhaps the best combination of size and skill in the draft, and Dal Colle, currently ranked 5th has the size and is one of the best finishers in the group but may be a stretch at the 3rd pick.
The two names most frequently mentioned with regard to the Oilers' first pick at the 2014 NHL Draft are those of defenceman Aaron Ekblad and centre Leon Draisaitl. Is there a case to be made that the Oilers should move their third overall pick if those players aren't around?

The short answer is 'no.'
TRADE THE PICK
As with last season, there will be a cry for MacT to trade the pick and bring in an experienced defenseman to play some top pairing minutes, and fix the biggest area of need on the team.
The Oilers feel they have solidified their goaltending with the addition of Ben Scrivens and Viktor Fasth and all attention will now turn to the blue line.
It's an idea that certainly has merit. Clearly the biggest need is on defense and the Oilers don't have one legitimate top pairing player let alone two. Justin Schultz, Andrew Ference and Jeff Petry comprise the top three currently and all are better suited to a second pairing role.
They have prospects Martin Marincin, Oscar Klefbom and Nurse who will be fighting for spots, but none of those three will be the top guy they need in the next couple of years. Nurse eventually might, but not in the immediate future.
If Oilers management can put together a package that includes the pick to bring in a legimate top pairing defender still in his prime, than it is certainly an option worth serious consideration.
It's no secret that the Oilers won't go anywhere unless their backend is drastically improved, and right now they don't need depth or prospects, they need top end talent.
MY TAKE?
If MacTavish can spin some magic and bring in a top, minute munching defenseman to play in all situations, then go ahead and move the pick. Those defenseman though, are not easy to acquire and are few and far between. Furthermore, any legitimate player of that mould will cost far more than the 3rd overall pick.
I realize patience is extremely thin in Edmonton and they need talent that can win now and in the 3-5 years, not players who won't even be ready until that time, but giving up a top three pick is a very risky game.
If Aaron Ekblad is miraculously available when they pick, as I said, no brainer. Pick him, sign him and put him in the lineup to start the season.
As MacTavish alluded to though, and rightly so, there are far more issues than the defense, albeit not as glaring. They definitely need more size up front in the top six, and a long term solution at the No. 2 centre position. There are a number of candidates that fit the bill after Ekblad, and all could fit well bringing different skill sets.
I favour a player like Leon Draisaitl from the Prince Albert Raiders. He brings good size, he can skate, has a high hockey IQ and great puck skills.
Regardless of who goes No. 1 and No.2, when the #Oilers pick at the 2014 Draft they'll get a guy who fills a need: http://t.co/e58Bu6YbDh

— Jonathan Willis (@JonathanWillis) April 23, 2014
To go the trade route and get a top defenseman exactly as he wants, MacT would have to give up the pick and likely a top player such as Jordan Eberle at least. On top of that the type of defenseman he wants, those that are elite talents and still in their prime, are rarely made available even with a package like that.
Players like Drew Doughty, Duncan Keith or Ryan McDonagh, among others of their ilk, are all signed to long term deals with their respective teams that won't see them move any time soon.
As I said, if MacT can work some magic and pry a defenseman like that away that's one thing. However moving a top three pick for a psuedo top defender is not worth the risk.
Take Ekblad if he's available, take a centre and fill a need if he's not and look to add to the blueline by moving other assets or free agency. No one is saying the defense doesn't need significant help, but don't sacrifice the 3rd pick to do it. Lower in the first round maybe, but not in the top three.
More often than not, moving a draft pick that high is only going to come back to bite you down the road. The Oilers don't need a quick fix, they need assets in place to be contenders long term.
__________________________________________________________________
Follow Carl on twitter @carlTHW and Google+ for more articles