The Pittsburgh Penguins faced the Colorado Avalanche in a nationally-televised game on Tuesday night.  A 6-3 comeback win leaves the Penguins alone in first place in the Eastern Conference with 25 points.  Slick goals by Evgeni Malkin and Matt Duchene will dominate the highlight reels for days and weeks to come.
But enough about the game, where's Sidney Crosby?
Mike Milbury asked the question to colleagues on the Versus pregame show and that murmur you hear is the entire hockey world beginning to get restless.
We live in a world that wants everything yesterday. The overpaid bum on our team who hasn't been traded yet; that 22-year-old "prospect" who somehow hasn't scored 40 goals; or even a situation like Crosby's concussion.  Patience isn't part of the equation when it comes to sports.
We also nitpick and dissect every word we can get our hands on.
Crosby's agent Pat Brisson said in an August statement on the Penguins website that his client "will play when he is symptom free."
Brisson is no medical expert, but even Dr. Micky Collins (Director of the UPMC Sports Medicine Concussion Program) emphasized in his September 'State of the Crosby' address that "in order for Sid to go back and play, he needs to be reconditioned 100 percent without having symptoms."
So the focus became those pesky, hard-to-quantify symptoms.
We're now fluent in concussions thanks to the help of Collins, Crosby, and others directly involved in the recovery.  We know about the vestibular systems in the brain and "whole-body gyroscopes" and yes, we've been told to look for symptoms.
Sid, did you have any symptoms? When did the symptoms end? When you fell skating around that cone did you have any headaches?

Day after day, the questions have focused on the physical aspects of the recovery.  We don't know exactly what stage Crosby is at, but he was cleared for contact over a month ago and seems to be doing well.  'So what's the hold up?', asks the Mike Milbury in all of us.
Maybe in our focus on the return of Sidney Crosby the hockey player, we've forgotten about Sidney Crosby the person.
We've watched him rise up through the hockey ranks and seen him in front of a camera for six NHL seasons.  He's polished, well-spoken, and his answers are thoughtful — but that's not Sidney Crosby.  That's the role model and ambassador of the game we want him to be.
Few of us really know Sidney Crosby the person, and even less know how Sidney Crosby the person is psychologically handling the most serious injury of his life.
What we do know about Crosby is he's a once-in-a-generation talent with the intense work ethic of a circa '72 Schwarzenegger.  Crosby is obsessive about hockey and probably took the same approach to his recovery, tirelessly researching treatments and reaching out to friends who have been down the same road.
Pittsburgh's Tyler Kennedy, who returned to the lineup this week after missing 11 games with a concussion, said he went to Crosby for advice on his own recovery and was impressed with how much Crosby knew.
"Sid's like a doctor when it comes to concussions right now," Kennedy said. "It's nice to talk to him, open up to him. He's got some great insight."
Boston Bruins forward Patrice Bergeron said he's also been in touch with Crosby, his former linemate with Team Canada, via text message in recent months:
"We talked through text (instead of telephone)," Bergeron said. "I know back then (after getting concussed himself) I didn't want to talk. I was just going with experience. You don't want to bother him, you just want to make sure he knows your support is there. He was open to it."
For now, Bergeron's story is a best-case scenario for Crosby's eventual return.  After missing most of the 2007-08 season with a concussion, Bergeron has returned to an elite level and was a key cog in the Bruins magical Stanley Cup run.
But one of Bergeron's close friends and teammates hasn't been as lucky.
Marc Savard suffered two concussions in a span of ten months and has been shut down for the 2011-12 season.  He recently joined Twitter and his comments lately make it hard to imagine him ever playing hockey again: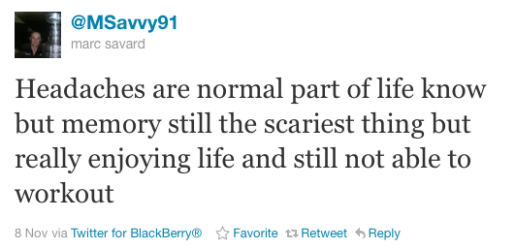 It's the cautionary tales of players like Savard and Keith Primeau that Crosby probably pays the most attention to.  Primeau was forced to retire from the NHL five years ago at the peak of his career and said he's also been in contact with Crosby, warning him not to make the same mistakes he did by rushing back too soon.
As concussions become more common — or at least more commonly recognized — it's the dreadful stories of Savard and Primeau that get the most media attention as well, not the dozens of players who suffer concussions and return to long, healthy careers.
Wondering whether the next collision could be the one that causes the long-lasting symptoms exhibited by these fallen warriors can be psychologically paralyzing.  Regardless of when Crosby returns to 100-percent physically, he'll need to "recondition" himself mentally before he can ever get back onto the ice in a game situation.
Even for a player like Kennedy, who only missed a few weeks with his recent concussion, heading into the corner for the first time next to a 230-pound defenseman made him nervous.
"It's in your head," Kennedy said on Tuesday after his return against the Avalanche, "but you just want to go out there and get that first hit in."
Hockey is a tough man's sport where players are encouraged to show off their physical wounds and suppress the mental ones.  The psychological hurdle of taking that first hit is one Crosby will likely have to quietly fight within himself.  And just like some players can return from knee injuries months ahead schedule while others take longer to return, it's impossible to predict how an individual will respond to the mental factors that accompany a concussion.
For someone like Bergeron, who spent months wondering when or if he'd ever feel healthy enough to live a normal life, the mental health of Crosby is more important than who his linemates will be or how he might impact the Penguins powerplay.
"Having gone through it I just want him to be healthy and back 100%," Bergeron said.  "Before even Sidney Crosby the hockey player, it's more about him as a person and then you go from there."
Maybe we should all adopt that perspective.
  ____________________________________________
Mike Colligan is the Pittsburgh Penguins correspondent at TheHockeyWriters.com and an NHL analyst at Forbes SportsMoney.