It's a positive step, but at this point it feels like the Dallas Stars need a big leap to get back to the level of play they demonstrated late last season.
The Stars extended their losing streak to six games (0-4-2) with a frustrating 3-2 loss in regulation to the Nashville Predators Thursday night. The Stars are now 4-5-4 this season and find themselves last in the Central Division. The 45 goals they have surrendered so far this season is third-worst in the Western Conference, and one of those teams has played two more games than Dallas.
So, what happened?
Heightened Expectations
The franchise took a big step in the right direction last season with their first playoff berth since 2008. With the additions of Jason Spezza and Ales Hemsky and a year of develop and experience for youngsters in the NHL and AHL last season, the Stars entered the season with some renewed goals.
Playoffs were no longer a dream, but rather an expectation. Talk of deep playoffs runs and contending for the Cup were no longer half-jokes. Things turned around and picked up quickly last season. So how come all of a sudden it seems like the Stars forgot how to win? With a bolstered roster, the Stars and their fans may expect a return to the playoffs, but it is not simply going to be handed to them.
What's plaguing the Stars
Just by watching the team last season, a sense of urgency, hope, faith in one another and true determination could be sensed from their play on the ice. They seemed hungry. They were dead set on making it to the playoffs finally. And they did with hard work, a pesky learning curve and a team game. All of a sudden, the team seems a little slower and more individualistic. Only a few players tend to stand out in a game or a few seem to be doing what needs to be done to earn a win.
Over passing, soft goals against and turnovers have plagued the Stars this season. As with pretty much every team, slumps and streaks will happen. The good news for the Stars is that Thursday night looked like they are finally headed in the right direction, determined to start a streak going the other way.
http://youtu.be/LTOxnjvsy2Q
Positive Steps
Turnovers were not as deadly as they had been of late. The physicality was back. Speed returned throughout the lineup. And the Stars got their chances. Oh, did they ever get their chances. They peppered Pekka Rinne with 35 shots, but the Nashville goalie showed his world-class ability with great save after great save. On most nights, Dallas' performance would have led to two points, but unfortunately, it wasn't their night.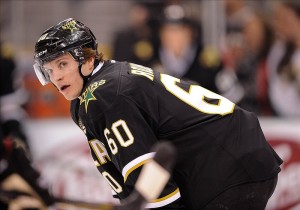 The power play didn't get much of a chance to show off the new look, but it also didn't result in debilitating short-handed chances for the Predators. Dallas is middle of the pack in terms of power play attempts and goals, but the 17% success rate should only get better with more time, chemistry and opportunities. Over the past two games, it is becoming clearer that they understand they need to stop looking for passes or cute plays and just get the puck to the net more often. Coach Lindy Ruff's decision to move Antoine Roussel to be the net presence of the top PP unit should remind Stars fans of Brenden Morrow. If Roussel can park himself in front of the opposing goalie, take a slight beating and efficiently pull off screens and deflections without taking a penalty himself, the Stars power play should see a spark sooner rather than later.
The soft goals Kari Lehtonen has been letting in is a bit of a concern, but he has gone through rough stretches before. Just remember how good he is when he is on his game. Also, once the struggling defense in front of him picks their game up and the team consistently plays like a unit, his play should only get better.
Though the Stars did not win Thursday night, the team's performance showed a bright beam of light in a dark time. Dallas finished the night with more hits, shots, faceoff wins and blocks, and they looked like the better team for most of the game. They looked better than they did through most of the losing streak, and they should carry the momentum into their next game Saturday night against their former Pacific Division rivals, the San Jose Sharks.