We've seen two dominating performances by Team Canada to open the 2012 IIHF WJHC, and barring the apocalypse another one tonight against Denmark.  It's hard to find fault with a team that has outscored its opponents 13-1, but also difficult to truly gauge the team based on three consecutive games against opponents they, to be frank, should be beating and dismantling.
Remember that this team faced more questions coming into the tournament than previous Canadian entries.  Those questions revolved mainly around offense and goaltending and both issues have, on paper at least, been put to rest.  Mark Stone has come to shine, looking like a 6th round steal with four goals in two games.  The line of Stone-Strome-Huberdeau (every play-by-play man's worst nightmare) has combined for 16 points.  Stone has also played well in his own end, blocking shots and causing turnovers.  He also is among the tournament leaders in faceoff percentage, winning 75% of his draws.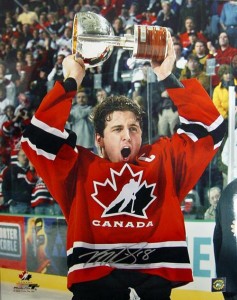 The much maligned Brett Connolly has contributed as well, scoring two goals while playing with Don Hay favourite Freddie Hamilton and fellow returnee Quinton Howden.  Tanner Pearson, who came into camp an unknown despite leading the OHL in scoring by 16 points, has garnered four assists.  With a strong performance at the tournament Pearson should cement his standing as a top-60 draft pick.  Brendan Gallagher has played quite well, as has Boone Jenner.  The forwards are backchecking and playing well in all three zones.
The defence has been equally as dominant, allowing few quality scoring chances and just one goal through two games.  It appears that Dougie Hamilton and Brandon Gormley have taken over the role of shutdown pairing, with Scott Harrington and the young Ryan Murray the second pairing.  Mark Pysyk, Nathan Beaulieu and Jamie Oleksiak have all been used sparingly, with Beaulieu spending much of his icetime on the powerplay.
Goaltending has also been near perfect, with Scott Wedgewood and Mark Visentin allowing one goal between them in two games.  The numbers are great but their first true test will come on New Years Eve against the United States, a team featuring several NHL prospects including Nick Bjugstad, Charlie Coyle and Jarred Tinordi.
If there is one area for concern for Team Canada it is the amount of penalties they have taken in the first two games.  So far opponents are 0/10 on the man advantage against the Canadians, but the need for discipline is not lost on players.  Brendan Gallagher on the nuances of international hockey:
"It's different.  They call it a little differently compared to the CHL (Canadian Hockey League), but we've got to be aware on the ice of how they're gonna call it and make smarter decisions."
There is no rest at the World Juniors; not for players, not for journalists and not for the countless volunteers that make this event happen.  Team Canada will be back on the ice on Thursday night in Edmonton at 6pm against Team Denmark.  Of note is a goaltending switch, with Mark Visentin getting the call.
The 2012 WJHC have come to THW.  Myself and Chris Ralph have been granted full media access for the duration of the tournament, including all round robin and medal games.  Together we will bring breaking news, game analysis, player interviews and stories to THW.
Follow Salim Valji on Twitter for the latest WJHC updates
Like Salim Valji on Facebook to join in on the WJHC discussion