The Washington Capitals came into Thursday night's game looking poised to get two points after a disappointing overtime loss to the Columbus Blue Jackets on Tuesday (March 21). With another "easy win" lined up for them in the Chicago Blackhawks, the Capitals were able to deliver a 6-1 win as their playoff hopes hang on by a thread.
This win gives the Capitals their 34th win of the season and improves their record to 34-31-8 (76 points). Here are three takeaways from one of the biggest games of the season so far.
---
---
John Carlson's Return Had A Massive Impact
It was very clear the team was missing their number one defenseman, and John Carlson's play Thursday night showed he hadn't missed a beat since being injured with a fractured skull and ear laceration 36 games ago. His two points led the way offensively as he was one of, if not the best player on the ice for the Capitals.
Related: Capitals Have Their Future Top Defenseman In Rasmus Sandin
---
Latest News & Highlights
---
Aside from his offensive game, the defensive side of the game for Carlson was solid as well. He finished plus-1 and even though he was matched up against a weaker opponent, he played over 20 minutes and was able to be a difference-maker away from the puck just as much as he was with it on his stick.
These two points put Carlson at nine goals and 14 assists on the year for 23 points in 31 games.
Kuemper Is A Brick Wall
Darcy Kuemper made his return after suffering a small injury, and let it be known with his performance that he was dialed into helping the Capitals squeak into a playoff spot. He faced 28 shots and stopped 27 of them, which gave him a .964 save percentage on the night. This win gave him his 22nd of the season and a 22-22-5 record.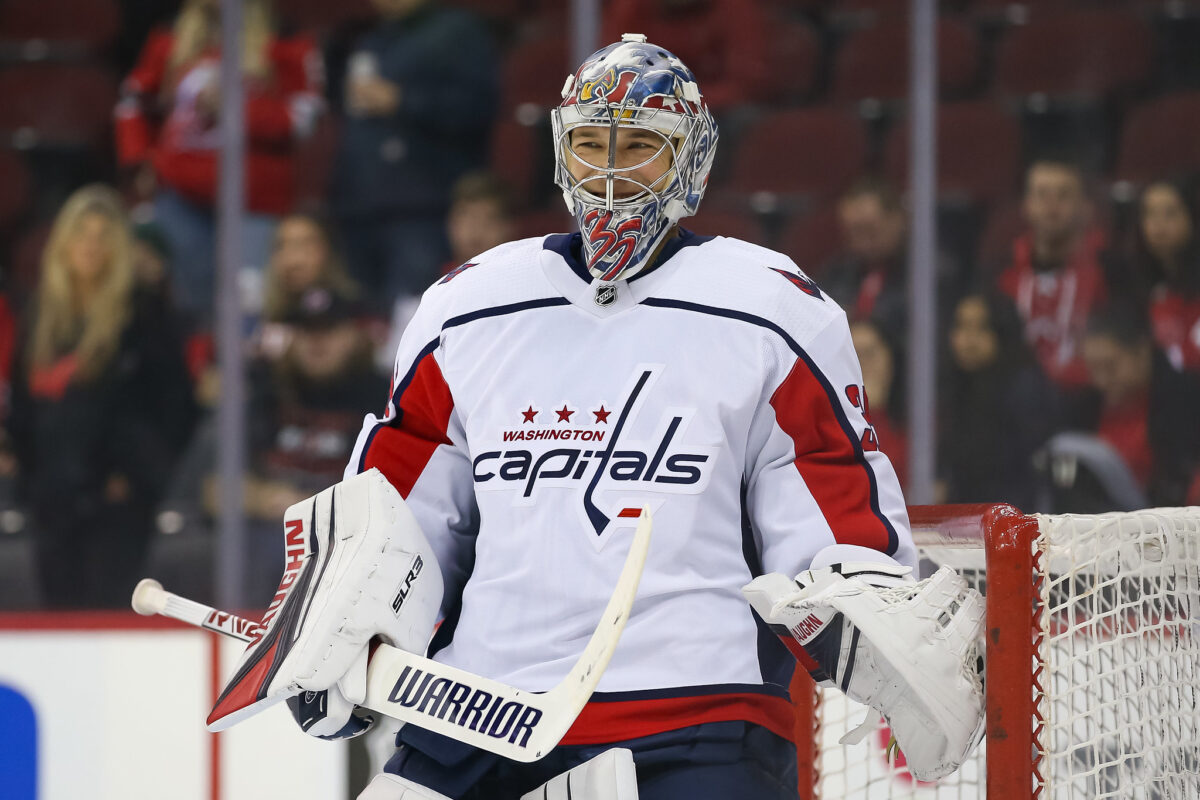 The reigning Stanley Cup champion proved yet again that he is one of the main reasons the team has success, and will be the goaltender they lean on if they're able to get into a wild card spot. This was one of Kuemper's best performances of the season, but the Capitals will need a few more from him in order to continue playing after game 82 of the regular season.
Alex Ovechkin Scores Goal Number 821
Alex Ovechkin scored his 41st goal of the season when he put the Capitals up 6-1 in the third period. This goal marks 821 of his career and he now only has 73 goals left to score in order to tie Wayne Gretzky's all-time goal record that he's been chasing.
This comes just days after Ovechkin was able to score goal number 40 on the season against the Blue Jackets, making it the 13th time he's had 40 goals in a season, surpassing the previous record held by Gretzky with 12.
What's Next For The Capitals?
The Capitals are back in action Saturday, March 25 against their division rivals, the Pittsburgh Penguins. While the goaltenders haven't been confirmed yet, both teams are expected to play their starters. So, a matchup between Kuemper and Tristan Jarry should be in order.
This is a massive game for both teams, as they currently both sit on the outside of the playoff picture looking in. They will both be looking to play the best hockey of their careers as they try to steal the last playoff spot away from the other side.
A solid game and a much-needed win were just what the Capitals needed going into Saturday against the Penguins. Every game counts, so hopefully this is the start of a nice winning streak.