Nail Yakupov has heard his name in the media quite a bit over the first few weeks of the season. The problem for the Oilers is that it's not because of his offence.
The 2012 1st overall pick has struggled early on and has yet to record a goal on the young season. He has yet to find himself in the good graces of new head coach Dallas Eakins and was even a healthy scratch for two games.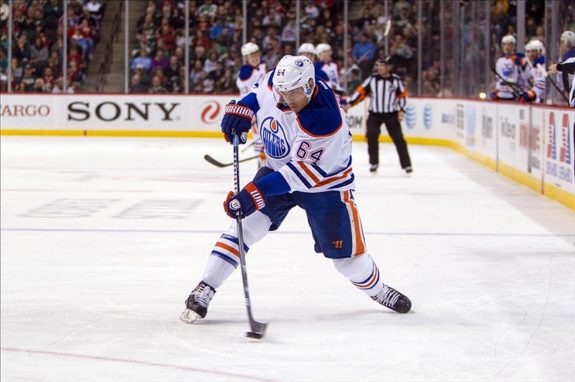 Opportunity Knocks
It appears that a recent Oilers loss could be Yakupov's gain. Taylor Hall has been sidelined with a knee injury for the next four weeks and it will be a big hole to fill for the Oilers missing arguably their best player.
One player that will be looked upon to fill the void is Nail Yakupov. Playing primarily on the third line so far this season, Yakupov hasn't found himself playing with the team's elite players all that much. That's likely going to change for the foreseeable future.
In the few games that Hall has been out Yakupov has found himself playing on the top line with Ryan Nugent-Hopkins and Jordan Eberle, with varying success so far.
It looks as though he will continue to play in an offensive top six role regardless of linemates, at least until either Hall or Sam Gagner return from injury, which will give him plenty of opportunity to prove he belongs in that role long term for the team.
Yakupov has shown flashes of his brilliant offensive ability in his 58 NHL games, but has yet to put it together consistently and has yet to be mentioned in the same conversations as Hall, Eberle and Nugent-Hopkins as untouchables on the Oiler roster. He won't get a better opportunity than he has now to do so.
Trade Rumours Swirling
Since the day he was drafted, Yakupov has found his name in the media linked to various trades. With the Oilers (and Yakupov's) early struggles, those rumours have only intensified.
Yakupov may have been the most mentioned player on twitter and social media recently that hasn't even scored a goal.
There have been rumours linking him to trades for players like James Reimer, Ryan Miller, Tyler Myers, Jake Gardiner and so on. The most popular recently has been a package of Ryan Miller and Tomas Vanek for one including Yakupov.  Little, if any are founded in fact and as a favourite past time for armchair GM's, those rumours will likely not lie down.
Trade rumours going around of Buffalo trading Ryan Miller to the Oilers for Nail Yakupov

— Tendy News® (@tendy_news) October 17, 2013
NHL Trade Rumours Roundup: #Oilers reportedly in talks to acquire Miller & Vanek from #Sabres: http://t.co/n2aQYehmfB

— Sportsnet (@Sportsnet) October 17, 2013
Report: Oilers, Sabres working on major trade (NBC Sports): Ryan Miller for Nail Yakupov? http://t.co/IyNBZRHDww

— Sports in Canada (@SportsinCanada) October 17, 2013
Normally a 1st overall pick just 20 years old would not even be thought of as a trade possibility, but few teams have ever been in the same position as the Oilers. Only the Quebec Nordiques of 1989-1991 have had three straight first overall picks (Mats Sundin, Owen Nolan, Eric Lindros) as the Oiler have.
The Oilers are in rare position of having an overabundance of young talented forwards and a significant deficiency in that area on defense and goaltending.
Yakupov is the obvious name to be in those rumours, and no one is saying the Oilers won't deal him. However, it's not going to be a knee-jerk reaction and Craig MacTavish is not going to acquire a veteran with an expiring contract in a deal for Yakupov, that's just bad business.
Take a Page from Sam Gagner
One way for Yakupov to stop continuously hearing his name as trade bait is to work harder and play better. Pretty simple solution right?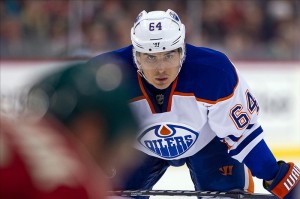 Easier said than done, but it's been no surprise that Eakins has not be happy with Yakupov's consistency or competitivenes. An increased work ethic and attention to detail will no doubt lead to increased ice time and subsequent production.
He has no further to look than teammate Sam Gagner. Constantly involved in trade rumours seemingly every week, Gagner could not escape the critiscm by fans and media alike for much of his young Oiler career.
A strong second half to the 2011-12 season and a very good 2013 lockout season, solidified Gagner in the Oilers top six and earned him a new contract. It doesn't mean he won't hear his name in trade rumours again, but the talk is more focused now on his play and future with the Oilers than the former. He was even in the conversation as the next Oilers captain.
Yakupov's fate is in his own hands. He'll have the opportunity for at least a month to prove he's a legitimate top producer for the Oilers and not someone they can deem expendable.
 ___________________________________________________________________________________
Follow Carl on twitter @maloney3383 and Google+ for more articles