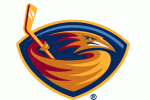 Tonight the Atlanta Thrashers host the Detroit Redwings in a Thanksgiving Eve matchup at the Phillips Arena. Fans will get their only glimpse of Detroit this season, but those of you on hand, will witness a true test for your Thrashers. The Redwings are currently in the top spot in the Western Conference with an overall record of 13-3-2.
The red hot Wings enter Atlanta tonight led by Allstar forwards Pavel Datsyuk and Henrik Zetterberg. Both players have a combined 42 points in 18 games played to lead the Western Conference Hockey Club. Allstar Defensemen Nicklas Lidstrom leads all blueliners in Detroit with three goals and 17 assists in 18 games played. Starting goaltender Jimmy Howard has an 11-1-2 record coming off a 37-15-10 record in the 2009-10 campaign.
The Thrashers enter tonight's game with a two game winning streak. Starting goaltender Ondrej Pavelec closed the door on the Southeast Division rival Washington Capitals last Friday evening by a final score of 5-0. It was Pavelec's 1st shutout of the 2010-11 season, and 3rd of his career, one of which was against tonight's opponent.
The Thrashers defeated the New York Islanders on Sunday by a final score of 2-1. Dustin Byfuglien buried a shot in Overtime, giving him his 4th game winning goal of the season. Ondrej Pavelec was excellent again in net, grabbing a 9th victory for Atlanta. Pavelec playing in his 9th consecutive hockey game, has turned aside 57-58 shots in the last two contests.
The Thrashers face the Detroit Redwings tonight for the first time since a 2-0 Thrasher shutout back in November of 2009. Ondrej Pavelec turned aside all 40 shots he faced.
This will be a great opportunity for the Atlanta Thrashers to find out exactly where they stand against the top teams in the National Hockey League. A 3rd victory in a row against an elite club, will be a great way to head into the Holiday weekend.
Most importantly however, is the response head coach Craig Ramsey is getting from his lineup on a nightly basis. The players are learning fast, and getting accustomed to Ramsey's coaching theories and techniques. Individual performances and overall team play is improving, and it's easy to recognize the communication between the players and the coaching staff.
A challenge is there tonight for this young and talented hockey club, and by the time the horn sounds at the end of regulation, we may have a better idea of how things are coming along.
Side notes for tonight's game.
Fredrik Modin who was injured on November 13th against the Pittsburgh Penguins, has not been on the ice since.