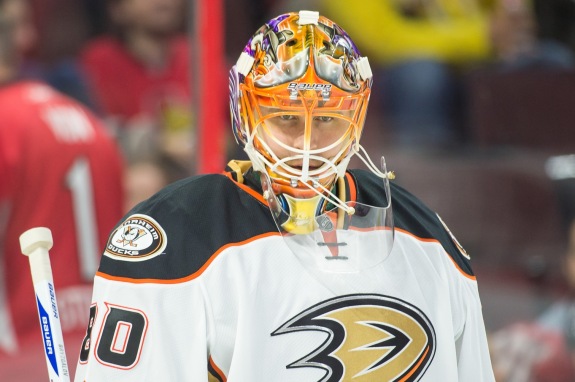 Even though NHL free agency doesn't have the same impact that it used to have prior to the implementation of the salary cap, it can still be an excellent way for teams to fill out their rosters.
The number of high-profile, big-name players to hit the free agent markets is much lower these days, but there are still plenty of veteran forwards, depth defensemen, and other role players that can be added to rosters to help make a difference.
However, for the majority of teams that were looking to add a backup goaltender for this season, things have not gone according to plan.
Ten teams, a full third of the league, signed free agent goalies either this summer or early this winter to assume backup goalie jobs, and the results have been pretty disastrous across the board.
Just how bad? Take a look at this list of the ten free agent goalies, ranking from best save percentage to the worst, along with their average annual cap hit values and current win-loss records:
Devan Dubnyk: Signed for 1 year, $800,000 AAV with Arizona (now with Minnesota) – 11-5-2, .921 save percentage
Thomas Greiss: Signed for 1 year, $1,000,000 AAV with Pittsburgh – 4-2-2 record, .919 save percentage
Martin Brodeur: Signed for 1 year, $700,000 AAV with St. Louis – 3-3 record, .899 save percentage
Al Montoya: Signed for 2 years, $1,050,000 AAV with Florida – 3-4-2 record, .887 save percentage
Ray Emery: Signed for 1 year, $1,000,000 AAV with Philadelphia – 7-8-1 record, .885 save percentage
Evgeni Nabokov: Signed for 1 year, $1,550,000 AAV with Tampa Bay – 3-7-2 record, .879 save percentage
Anders Lindback: Signed for 1 year, $925,000 AAV with Dallas – 2-7 record, .875 save percentage
Chad Johnson: Signed for 2 years, $1,300,000 AAV with the New York Islanders – 6-5 record, .870 save percentage
Justin Peters: Signed for 2 years, $950,000 AAV with Washington – 2-4-1 record, .864 save percentage
Ilya Bryzgalov: Signed for 1 year, $2,880,000 with Anaheim – 1-2 record, .854 save percentage 
Yikes.
What does it all mean? Can any bigger trends about NHL-level goaltending or the free agent process be extrapolated from this information?
Probably not. It's still very early in the season, and since so many of these goalies haven't even started 10 games yet for their new teams it's probably too small of a sample size overall to draw too many conclusions.
Still, those numbers are pretty ugly. If anything, maybe some of these teams will start relying more heavily on drafting and developing their own goaltenders instead of going the free agent route in the future.