An All Star Game Years In The Making
From the moment that the Columbus Blue Jackets entered the league as an expansion franchise in 2000, they have had a goal of being able to host the NHL's premier weekend event.  Prior to this coming year, there have been multiple attempts by Columbus to host the All Star Game.  This almost came to pass back in 2013, before the work stoppage prevented the game from happening.  As a result, Commissioner Gary Bettman indicated that he would do everything he could as quickly as he could to have the All Star Game come back to Columbus.  In about 7 weeks time, Columbus will experience this amazing reality.
After experiencing many disappointments in the 14 seasons the Blue Jackets franchise has been in existence, things have started to turn in the right direction for the franchise as a whole.  The team has had a taste of what the Stanley Cup playoffs are about.  Winning has started to become more of an expectation thanks to recent success.  Slowly but surely, Columbus is becoming known for being a great hockey city.
A press conference was held earlier on Tuesday at Nationwide Arena to announce the community plans for the All Star Game weekend.  A variety of topics were discussed, such as the plans for some of the individual activities being held on that weekend, as well as some other projects that will be announced on a later date.  In addition, they touched on the economic impact of the All Star Game on the City of Columbus.
We will summarize the list of activities available to fans at the All Star Game weekend.  We will also highlight what fans have to look forward to not only in Columbus, but also in Nationwide Arena.  By the time this is all said and done, this All Star Game will end up being the best one in the history of the league.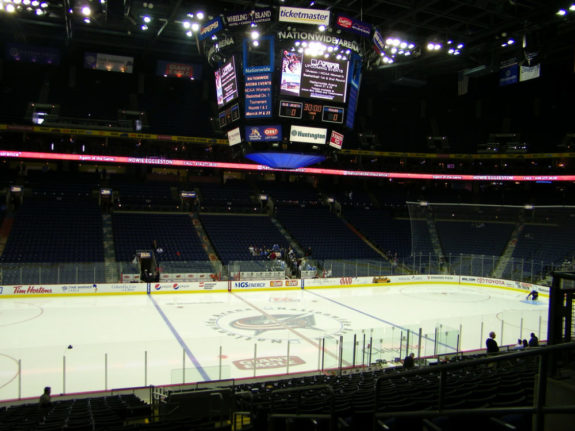 So What Activities Are There?
Well I'm glad you asked.  Fans will have plenty of activities to choose from during the All Star Game weekend.  The biggest of which is the opening of Winter Park.  Thanks to Blue Jackets majority owner John P McConnell and Worthington Industries, Winter Park will be the outdoor entertainment hub of the weekend.  Within Winter Park will be an outdoor community skating rink that is the size of a regulation NHL rink.  From January 16th-25th, a variety of activities will be available on the rink, including 50 hours of public skating, as well as youth hockey games and other group activities.
The fun, and probably the most eye opening part, will be the "Snow Slide" that will run along Marconi Blvd.  From January 22nd-25th, anyone who is interested will have their chance to go down this snow slide.  It doesn't matter if you are a novice or more advanced, the snow slide will provide all skill levels the chance to have some fun.  Heck, even the mayor of Columbus said he would give the slide a whirl.
Excited to be the first person down the slide at the NHL All-Star Game! @BlueJacketsNHL pic.twitter.com/NooSYf4RJl

— Mike Coleman (@MichaelBColeman) December 9, 2014
The above is literally just a tip of the iceberg in terms of the activities available.  Here is a list of the other activities that were announced as part of the All Star Game weekend.
A Family Friendly Kids Zone, which includes a replica locker room.
Retail Tents throughout that will have all kinds of novelties available for purchase.
Fire Pits (but of course, Columbus is cold in  January)
A Lightscape which will include 176 trees and over 350,000 LED lights on Nationwide Blvd.
A 5K Run/Walk.  Space is limited to the 1st 4,000 entrants.  You can click here for more information.
A soon to be announced project in conjunction with the Columbus Ronald McDonald house.
A historic party sponsored by the Blue Jackets Foundation, all in support for the fight against pediatric cancer.
Other activities that the NHL already has planned.
Columbus Not Short On Things To Do
I'm sure there are many who are asking, "So what is there really to do in Columbus?"  If you are from Columbus, or have been to Columbus, you already know the answer to this.  For those of you who have never been to Columbus, you are in for an eye opening experience.  Located all around Nationwide Arena is the Arena District.  No matter what you are looking for, there is something for you.  Whether it is as simple as finding a place to grab a drink, or finding something to satisfy the most demanding of taste buds, the District has you covered.  Even better, most places in the District are within steps of the front door of Nationwide Arena.  When packed, the atmosphere is electric.  For more information about the Arena District, you can click here.
We also went to social media and asked some Columbus natives what they enjoy about the city.  Here is what some of them had to say:
@CBJTherapy I always like to visit the North Market and Easton Town Center when I'm in town. Also a great place to catch live music.

— Tamsyn Oakes (@tamsynromaine) December 6, 2014
https://twitter.com/Jordan_D_Mills/status/541330852647796736
Seems that most agree that there is plenty to do.  As someone who has experienced downtown Columbus, I can tell you first hand that you will not be disappointed.  Once you have experienced your 1st trip to the District, you will be back for more.
Inside Nationwide Arena
So what about the experience inside Nationwide Arena?  Thanks to some recent upgrades, the arena now has one of the better overall experiences in the entire league.  In July, the Blue Jackets installed a new high density wi-fi system.  With 263 access points through the arena, fans can stay connected, while allowing for a greater level of interactivity.  There is nothing more frustrating than not being able to connect to social media or the internet due to numerous users accessing the system at once.  Thanks to this upgrade, everyone in the arena will be able to connect wirelessly at high speed.  With one less thing to worry about, the overall experience will be a much more positive one.
That of course is not all.  No matter where you sit in the arena, there isn't a bad seat.  Nationwide Arena offers one of the better game experiences in the league.  And the hospitality is also amongst the best in the league too.  Given how the Blue Jackets have done in recent years, not many on a national level are aware of what all Columbus has to offer.  That will drastically change as a result of All Star Game weekend.  You can view the press conference below.
The team and local officials project that there could be up to 10,000 out of area fans that come to Columbus for the festivities, not counting the fans who come from places like Pittsburgh, Detroit, Buffalo, and Toronto.  When the All Star Game was in Raleigh, it generated around $50 million for the economy.  What an opportunity Columbus has.  When the club first attempted to get the game to Columbus, they had a goal of making the city a destination.  Call it mission accomplished.  Soon, the rest of North America will know how much of a destination Columbus really is.  It will be a true coming out party for Columbus, the Blue Jackets, and all of central Ohio.  Take note, this All Star Game will be the best one that the league has ever seen.