The Dallas Stars have been an interesting team to watch over the past month or so. After all, they got off to a torrid start and have been firmly placed at the top of the league's toughest division for quite some time. Then the calendar rolled into 2016 and things have changed since then. The Stars have won just once in the new year and the Chicago Blackhawks haven't lost, leading the way for the Hawks to take control of the division.
And that is a good thing.
Coaches have a tough time getting through to players when all that team does is win. "Alright guys, I'm glad we just won again and are running away with the division, but here are a few things we did wrong". The message that comes after might not be as well received when a team can't stop winning, but the Stars had some holes in their game while they were running through the first half of their schedule.
They were turning the puck over in scary areas frequently. They were giving up a ton of quality chances to the opponent and they just were not playing a solid team defense at times throughout the start of the season. January has highlighted those issues and have caused a slump, perhaps sparking a team that somewhat forgot what it was like to go through struggles.
And that is likely all this is. A slump. Goal scorers go through them. Defenders go through them. Goalies go through them. Unfortunately for Dallas, a lot of the individuals are slumping at the same time and it is quickly reminding fans of the team they saw last season. An excellent team on paper, a struggling team on the ice. Rest assured, they are not that team.
What is Going Wrong?
You don't have to look all that hard to see what has gone wrong in the month of January for the Stars. I've talked before about how the Stars get away with giving up a league-high amount of high-danger scoring chances because they also produce a league-high amount of them. Well, they aren't making up the difference this month. At even-strength in January, they have given up 82 high-danger scoring chances, second-worst in the NHL. They have produced just 49 in that time span, only five teams in the NHL have produced less. That has led to an NHL-low -33 high-danger scoring chance differential. That puts a ton of pressure on the goaltending. How have they responded?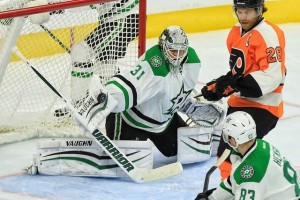 Yikes.
Only the Nashville Predators have a lower overall team save percentage this month than the Stars but they are giving up a lot less chances. The Stars have given up 26 goals in seven games. No team in the league has given up more goals this month.
"Yeah but they are the Dallas Stars they just outscore everyone anyway."
Not this time. They have scored just 16 in 2016 (how appropriate), leading to an NHL-worst -10 goal differential this month.
They also are having a tough time in the middle-frame. The Stars have a 0% even-strength shooting-% in the second period so far in 2016. That's right, they have yet to score a second-period goal at even strength. Their PDO at even-strength in the second period in 2016 is 85.7. No team is even close to that number. It does suggest a turnaround, but they have some other things to fix before they start winning all the time again.
Staying Patient
As I mentioned above, their PDO is dreadful and it does suggest at least a partial turnaround is to come. That being said, they have to get back to their brand of hockey to start winning again. Yes they give up some high-quality chances and yes they play run-and-gun hockey at times. But so far in 2016, it has been one-sided. They aren't getting a ton of scoring chances and aren't doing much with them once they get them. They have looked like they want to play a more defensive, sit-back game and that is just not how this team is built to win games.
More often than not, this team is going to win games by scoring four, five or six goals a game. They will probably give up three or so in those games. Is that a recipe for future success? A lot of experts don't think so and point out that running into a hot goalie in the playoffs can be the beginning of the end. Will they need to tighten up the defense to win a Cup? Probably, and that might be something that Jim Nill addresses at the trade deadline.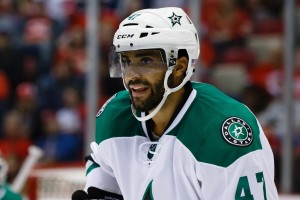 Ultimately this team needs to remain patient. This is why guys like Patrick Sharp and Johnny Oduya were brought in. Every team, even champion teams, goes through slumps like this. What the Stars have to avoid is making drastic changes to their game or their personnel in an attempt to over-correct what is happening. They are an offensive juggernaut and sticking to that identity should pull them out of this slump, as long as it comes with some tweaks to the defensive side of the game.