Christopher Ralph is a sportswriter with a focus on hockey prospects, the entry draft, as well as occasional Flames coverage here at THW.
"Full Potential" Prospect Profile:
Please "Click Here" for "Notes Up Front" and the "Legend" for various topics covered below in my "Live Updated" NHL 2010 Draft Preview article.
Jordan Weal (Click on name for up- to- date stats)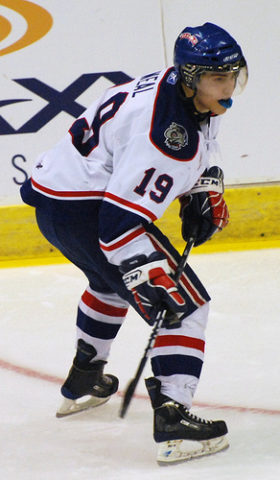 Date of birth: April 15, 1992
Place of birth: Saskatoon, Sask., Canada
Ht: 5-9.5 Wt: 162
Shoots: R
Position – C
2009-10 Team: Regina (WHL)
NHL Status: Draft Eligible 2010
One-Timer:
Weal has a good set of wheels. Given his stature many experts wish he was faster, but he is quick and elusive. Those who have followed him closely know his first couple of skating strides produce high-end acceleration. He is near the top of the crop in that aspect in this year's draft.
Only Hall and Seguin have compiled more points this season amongst draft eligible players. To accomplish this in the toughest of the three CHL leagues, the Dub (WHL) that is, is all the more impressive. In fact, Jordan Weal became the first 17-year-old player in over a decade to record 100 points in a season in the WHL (WHL.ca).
I usually reserve the "One-Timer" section for my own thoughts on the particular prospect in question, but a couple of writers have summed him up nicely, while another writer/scout doubts the potential impact of Jordan Weal at the NHL level.
The Scouting Report's take on Weal sum him up brilliantly:
"Unlike a lot of small skilled forwards that thrive at the junior level by using their speed to score off the rush, Weal prefers to do most of his damage by maintaining puck possession in the offensive zone, circling and cycling along the half wall until he finds an opening to dart into. Much like Eberle, Weal is a diminutive, shifty, intelligent player that does not possess blazing speed and prefers to slow the game down in the offensive zone where he can dissect the defense in order to generate scoring chances. Weal is predominantly a playmaker and while he doesn't have a particularly hard or accurate shot, it is effective when he uses his cunning and quick release to fool goalies.

Some detractors look to his poor showing in December when Eberle was away at the World Juniors, but the team was missing much more than just him. Among the other players away or injured were standout defenseman Colten Teubert, starting goalie Damien Ketlo, and defenseman Brandon Davidson. On a very poor Regina team where the top players had to carry the team the entire season, the team struggled to a 1-7 record over that period as they were simply overmatched without the majority of their key players. Still, Weal had a respectable 7 points in the 8 games with literally next to no help at all. This poor stretch did however expose Weal's defensive play and he has been working at improving that aspect of his game ever since."
The Score.com are also enamoured with the diminutive prospect:
"I've ranked Weal considerably higher than most scouting services.  He's playing in the toughest of the Canadian Junior leagues, and he's not just surviving but he's thriving, and his offensive numbers are startling – among draft eligible Major Junior players this season, only Taylor Hall and Tyler Seguin put up better point totals.  If Weal slips to the second round, as many are predicting, he'll be an absolute steal."
I feel remissed if I didn't pass along this spin on Weal by NHL Draft Notes website, written by a hockey scout:
Summary: This guy can flat out play the game. But he's just not likely to get any bigger at all. He'll struggle to become a top two line player, but my bet is he'll still contribute as a 3rd/4th line guy and maybe a power play specialist. But I wouldn't want to spend a top 45 pick on him, I'd probably not consider him until the 3rd round.

Draft Day: Kind of hard to figure, but I'd guess he's gone before the end of the 3rd round. Could even be a 2nd rounder. But you have to wonder – if Brandon Kozun lasts until the 6th round, why would this guy go so much earlier?
*The Hockey Spy's Cross-Examination: While I think NHL Draft Notes provides some interesting takes on prospects, I find these statements puzzling. I'm not sure how he can tell Weal will not get any bigger? He's 18 and has plenty of time and room to fill out. The writer also makes a comment that Brandon Kozun, who I think is a fantastic albeit undersized prospect in his own right, was drafted in the 6th round and questioning why Weal would go so much higher. Kozun was actually passed over in the draft the year before and thus it was not his first year of eligibility. While Kozun has been brilliant in the WHL, he did not post the numbers Weal has in his draft eligible year. It's like comparing apples and oranges or Mugsy Bogues to Doug Flutie, if you will.
Scout's Honor:
"Weal has the wherewithal to keep his feet moving and as a result he draws many penalties as the opposition simply cannot catch him."

– McKeen's 2010 Draft Guide

"He has been beating odds for a long time — all the way up. At 5-10, 162 lbs. one would think he's too small to play in the NHL, but they said that about the WHL, where he led Regina with 102 points. (Resembles) Jason Blake, the way he scoots around and finishes plays with great flare."
– Director of NHL Central Scouting, E.J. McGuire

"He's a smaller player but he battles like a guy who's 6-1 or 6-2. He goes in and gets knocked down and people say he's too small (but) he'll go through the wall to make a play."

– Central Scouting's Peter Sullivan with NHL.com

"He's the smallest kid out of the west, but you want to talk about compete. He battles all over the ice and he's a coach's dream. These are the kind of kids you can win with if you can find a spot."

– THN 2010 Draft Guide

Current Season:
2009-10: In 72 games for the Regina Pats, Weal scored 35 goals and added 67 assists for 102 points, placing him third overall in the WHL scoring race.  Weal also played for Team Cherry at the 2010 CHL Top Prospects Game, scoring a goal and adding an assist for the victorious Cherry squad.
Scouting Combine Performance:
7th in Aerobic Fitness: VO2max (ml/kg/min)
Tied for 8th in Musculoskeletal: 4 Jump (Mat) Mode: Ground Time (sec)
International Tournaments:
Weal won a gold medal as a member of Team Canada at the 2009 Ivan Hlinka Memorial Under-18 Tournament.
Jordan was one of Team Canada's few bright spots at the 2010 WJC-U18s. He finished the tournament 9th overall in scoring (lead all Canadian scorers by 3 points), registering 9 points (3G, 6A) and had a plus 8 rating.
ETA = 3-4 yrs
Risk-Reward Analysis: Risk = 2.75/5   Reward = 4.25/5
NHL Potential: Top 6 scoring forward
Strengths:
Elusive
Acceleration
Playmaking Ability
Hockey intelligence
Offensive Awareness
Great instincts
Exquisite creativity
Very high compete level
Outstanding work ethic
Coachable
Flaws/Aspects He Needs To Work On:
Continue to train to increase strength and mass will be all the more crucial given his frame.
Defensive zone play
Take skating and quickness to the next level.
Fantasy Hockey Potential: Offensive = 8.5/10   Defensive = 7/10
NHL Player(s) Comparison:
– At his best: Derek Roy, Pavel Datsyuk, Patrick Kane
Video(s):
Interesting Notes:  (NHL.com)
"He is only the fifth CHL player in the last ten years to record 100 points in his second season of junior eligibility — the other four were John Tavares (selected 1st overall in 2009), Steven Stamkos (selected 1st overall in 2008), Sam Gagner (selected 6th overall in 2008) and Tyler Seguin (No. 1 ranked)."
Other Rankings:

CSB: 30-NA

TSN: Honorable Mention {Bob MacKenzie – Mid-term Rankings}

McKeens: 40

THN: 41

THW:  26 (June  '10) {Christopher Ralph }
*For all the latest prospect and draft news follow me on Twitter: The Hockey Spy