With a little more than one month to go before the NHL 2012 trade deadline (February 27th, 2012 at 3PM EDT), the Montreal Canadiens are desperately trying to make the playoffs despite up and down results this season. After 48 games, the Habs hold the 11th spot in the Eastern Conference, eight points behind the Washington Capitals who hold the eight and last playoff spot with 53 points. The Canadiens have played poor hockey in their last then games, going 4-4-2.
After trading disgruntled sniper Mike Cammalleri to the Calgary Flames in exchange for rugged forward Rene Bourque on January 12th, 2012, look for GM Pierre Gauthier to continue his shopping in order to unload veterans and unrestricted free agents before the NHL trade deadline. While some fans still hope the Canadiens will be buyers this season, it would be wise for the organization to retool its depleted farm system, acquire prospects and picks to make the team younger. According to Sports Club Stats, the Canadiens have a mere 14.8% chance of making the playoffs this season.
With that in mind, let's have a look at the Canadiens' potential trade baits before or on trade deadline day:
Andrei Kostitsyn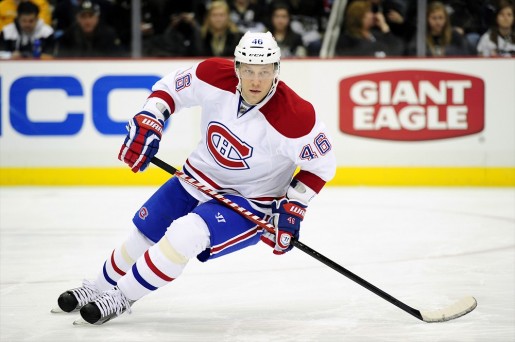 The inconsistent winger will certainly attract teams looking for an offensive boost despite his unpredictable play this season. The Russian sniper, who will turn 27 in February, will be an unrestricted free agent at season's end. AK46, who is making $3,250,000 this season, has expressed his interest to stay in Montreal, even if this would mean to take a home-town discount. The 6'0", 215 lb, has only notched 11 goals and added 11 assists for 21 points in 38 contests with Montreal. One of the streakiest players in the league, Kostitsyn has reached the 20-goal plateau three times during his career which makes him an attractive and affordable acquisition for a team looking to add depth up front. The team should really consider trading him as he would certainly get a pick and a prospect at the deadline. If he's not signed in the upcoming two or three weeks, look for AK46 to don another sweater in March.
POTENTIAL TEAMS INTERESTED: Penguins, Devils, Panthers, Predators, Wild and Kings
Chris Campoli
A few days before the season the Canadiens signed him to a $1.75-million, one-year contract as an insurance policy. Campoli, who was mainly signed because All-Star Andrei Markov had a few setbacks during his rehabilitation from off-season knee injury, sustained a hamstring injury in his first game with the Habs. A frequent healthy scratch after his return from that serious injury, Campoli never really settled in his role as a seventh defenseman. In only 13 games, the 27 year-old blue liner has only one goal and one assist. Look for Campoli to be traded for a 4th or 5th round draft pick before the deadline.
POTENTIAL TEAMS INTERESTED: Blackhawks, Sharks, Devils and Blues
Hal Gill
An experienced penalty killer, Gill has seen his ice-time dwindle under Randy Cunneyworth, but he remains a force on the man-disadvantage, as shown by the Habs 89.4% efficiency when down a man, which is good for first place in the NHL. A Stanley Cup winner, Gill is the kind of player that is in high demand come deadline day as his great playoffs experience can certainly help a team looking for a veteran presence on their bottom defensive pairing. Look for Gill to fetch a second round draft pick.
POTENTIAL TEAMS INTERESTED: Flyers, Penguins, Sharks, Panthers, Stars and Avalanche
Travis Moen
Another Stanley Cup winner, Moen is a proven veteran that offers size, grit and toughness. Moen can also chip in the occasional goal as shown by his 9 goals and 7 assists for 16 points this season. Making only $1,500,000 this year, Moen is also an adept penalty killer and a good skater. The 6'2", 217 lb left winger will be a hot commodity in the next few weeks. While the organization might be interested in re-signing the 29 year-old veteran, it would be better to maximize his value and trade him for a prospect and a 2nd or 3rd round pick.
POTENTIAL TEAMS INTERESTED: Canucks, Red Wings, Sharks, Predators and Senators
Yannick Weber
The power-play specialist has been in and out of the line-up this season after a tough start. Weber, who has scored all his four goals with the man-advantage, has also been used as the team's 12th forward during many games. Making $850,000 this season and in 2012-13, Weber doesn't seem to fit in the organization's plans any more, especially with the emergence of countryman Raphael Diaz and bruiser Alexei Emelin. The Habs will be looking for another prospect, most likely a forward, in exchange for the Swiss defender.
POTENTIAL TEAMS INTERESTED: Oilers, Islanders, Lightning and Blue Jackets
Mathieu Darche
The journeyman is having a very tough season with Montreal after scoring 12 goals and adding 14 assists for 26 points in 59 games last season. This year, Darche has been unproductive to say the least, notching only 2 goals and adding 4 helpers for 6 points in 48 games with the Bleu Blanc Rouge. The impending UFA might interest looking for depth on the fourth line and help on the penalty kill. Darche is making only $700,000, so his salary will be easy to fit under the cap. Darche could fetch a late round pick or a disappointing prospect.
Scott Gomez
Frankly, most of the Canadiens' fans would like to see Gomez traded for a bag of pucks and a used jock-strap, but it will not happen this season. With a cap hit of $7,357,143 this season, the center from Alaska has not scored a score in more than 50 games, his last goal having been scored on February 5th, 2011. This season, he has been a major disappointment for the Habs, playing only 18 games and recording a staggering 6 assists. Gomez is also -19 over the past two campaigns in Montreal. Gomez is going nowhere.
Follow me on Twitter for more updates on the Canadiens and the NHL in general.